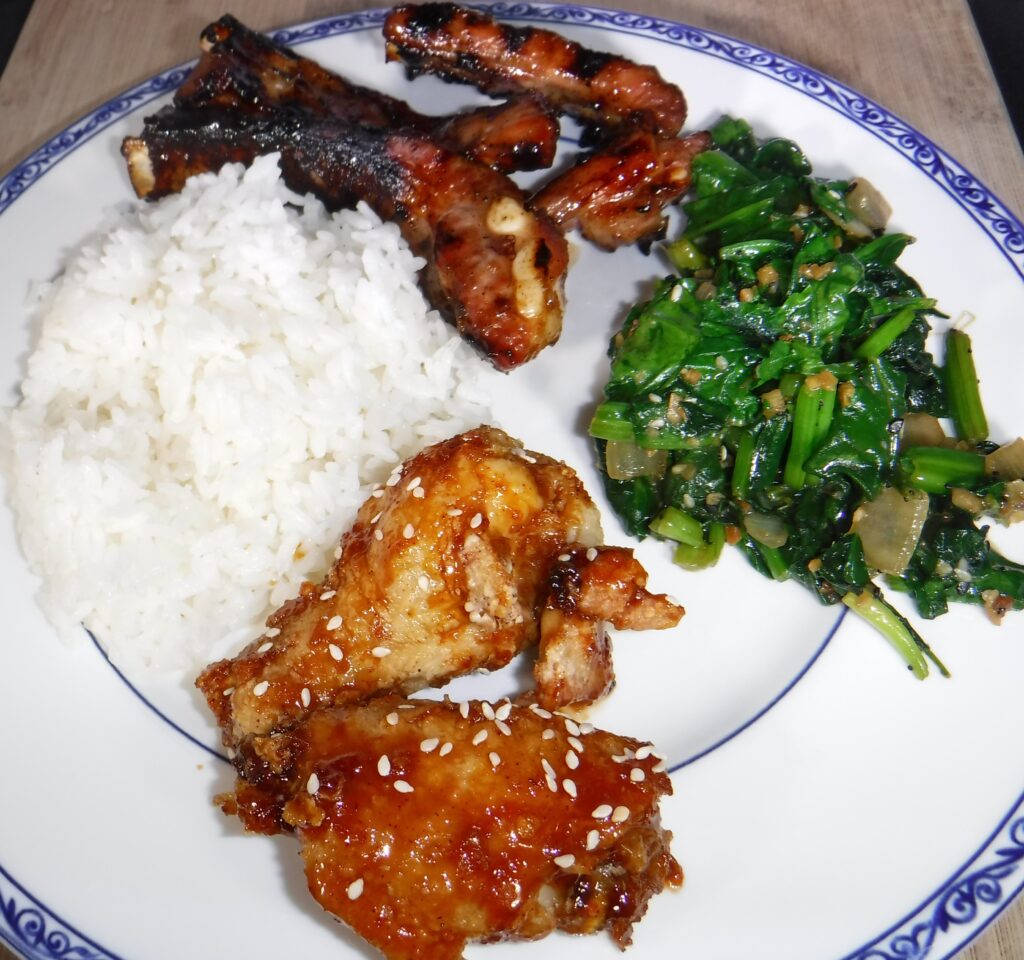 Our son Nick has been very keen on his air fryer, so we also bought one and have had good results with it.  This is an adaptation from a recipe in the Washington Post.  The wings were nicely crispy.  I thought there could have been more sauce to coat them.  I think the next time I make this I will increase the amount of sauce.  We served it with some Chinese greens with oyster sauce, some grilled ribs which had been marinated in a store-bought Korean marinade, and steamed rice.  This took about 40 minutes in total.
Wings
2 lbs. chicken wings (drumettes and flats)
¾ cup cornstarch
1 tsp. garlic powder
1 tsp. onion powder
¼ tsp. salt
Sauce
3 Tbs. honey
2 Tbs. gochujang
2 Tbs. brown sugar
1 Tbs. soy sauce
1 tsp. finely chopped or grated fresh ginger
1 tsp. finely chopped or pressed garlic
½ tsp. salt
Sliced scallions for garnish (optional)
Sesame seeds for garnish (optional)
Preheat the air fryer to 390 degrees.
Mix together the cornstarch, garlic powder, onion powder, and salt and put in a gallon ziplock baggie. Dry the chicken wings with paper towels and then coat the wings in the cornstarch mixture. Shake off any excess coating. Put the wings in a rack in the air fryer to separate them as much as possible. Mist them with cooking spray. Bake for about 30 minutes until crispy. Check every 10 minutes to see if they need to be rotated to cook evenly.
While the wings are cooking, make the sauce. In a small saucepan, combine the honey, gochujang, brown sugar, soy sauce, ginger, garlic, and salt. Bring to a boil and then reduce to a simmer and cook until slightly thickened, about 5 minutes, stirring occasionally.
When the chicken is cooked, put it on a platter or shallow bowl. Sprinkle on the sauce and the optional scallions and sesame seeds.