Text to follow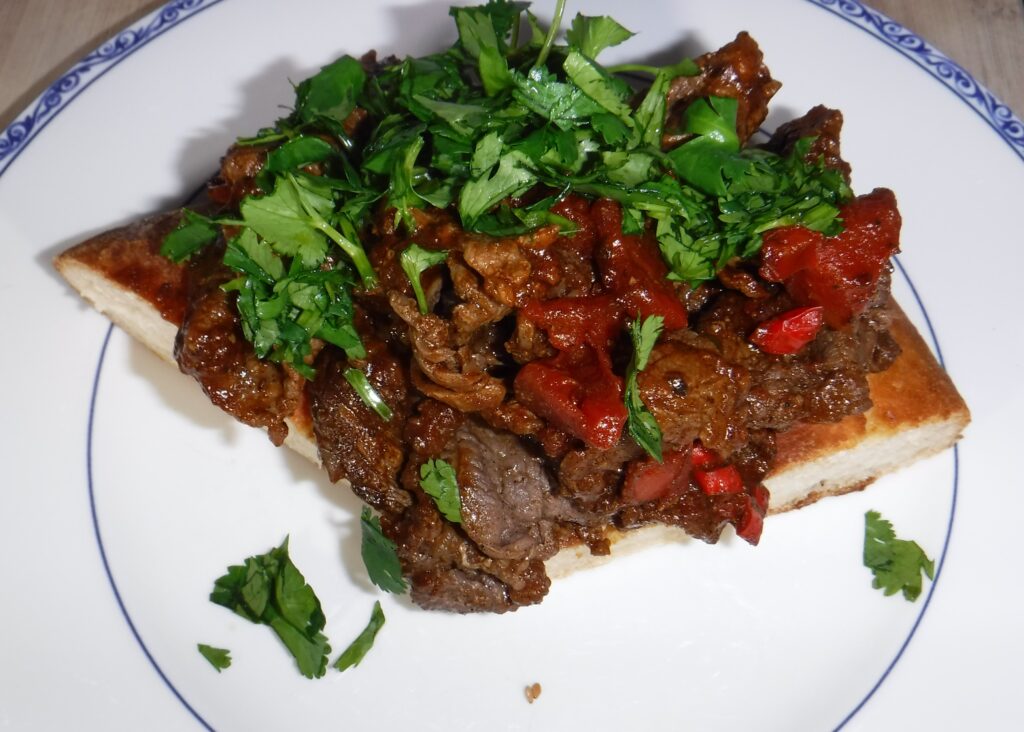 This dish of beef served over bread comes from the Dungan people, a Chinese Muslim group now mostly living in Kyrgyzstan. The beef is Chinese-influenced, with Five-Spice Powder, while the bread it is served on, Non, is Uzbek. This is adapted from Caroline Eden's Red Sands, which I am reading in preparation for a VMFA trip to Central Asia, which was rescheduled from October 2020 to October 2021. Let's hope it happens.
In Caroline's book, this looked a lot like a pizza, but in actuality it is really a beef mixture cooked separately and served over bread and then garnished. I found it easier to cut the bread into wedges to make individual servings.
This made 3 ample servings. The Non takes about 3-1/2 hours to make, while the beef takes about 20 minutes. I simplified by buying thinly cut ribeye steak from a Korean market. The alternative is to buy steak at a conventional supermarket, put it in a freezer for 30 minutes to firm it up, and then thinly slice it. I have reduced the salt a bit since I thought the original was a bit salty.
1 lb. lean steak, thinly sliced
1/2 tsp. salt
½ tsp. freshly ground pepper
1 Tbs. vegetable oil
2 tsp. Chinese five-spice powder
½ green chili finely chopped
½ red chili finely chopped
2 Tbs. tomato paste
1 Tbs. soy sauce
5 oz. canned diced tomatoes
½ cup low sodium beef broth
Cilantro to garnish
Sesame seeds to garnish
Chopped chilies to garnish
Spread the steak slices out on a cookie sheet and sprinkle with the salt and pepper.
In a large skillet, heat the oil over high heat. Add the five-spice powder and chopped chilies and cook for about a minute to become fragrant. Add the steak slices and flash fry until browned, adding more oil if necessary. Put the cooked steak in a bowl.
Turn the heat down to medium and fry the tomato paste for a minute, and then add the soy sauce, diced tomatoes and beef broth. Cook until the mixture has thickened. Return the meat and any juices to the skillet and stir well to coat the meat. Check seasoning. Serve over Non and garnish with cilantro, sesame seeds, and more chilies (if desired.)