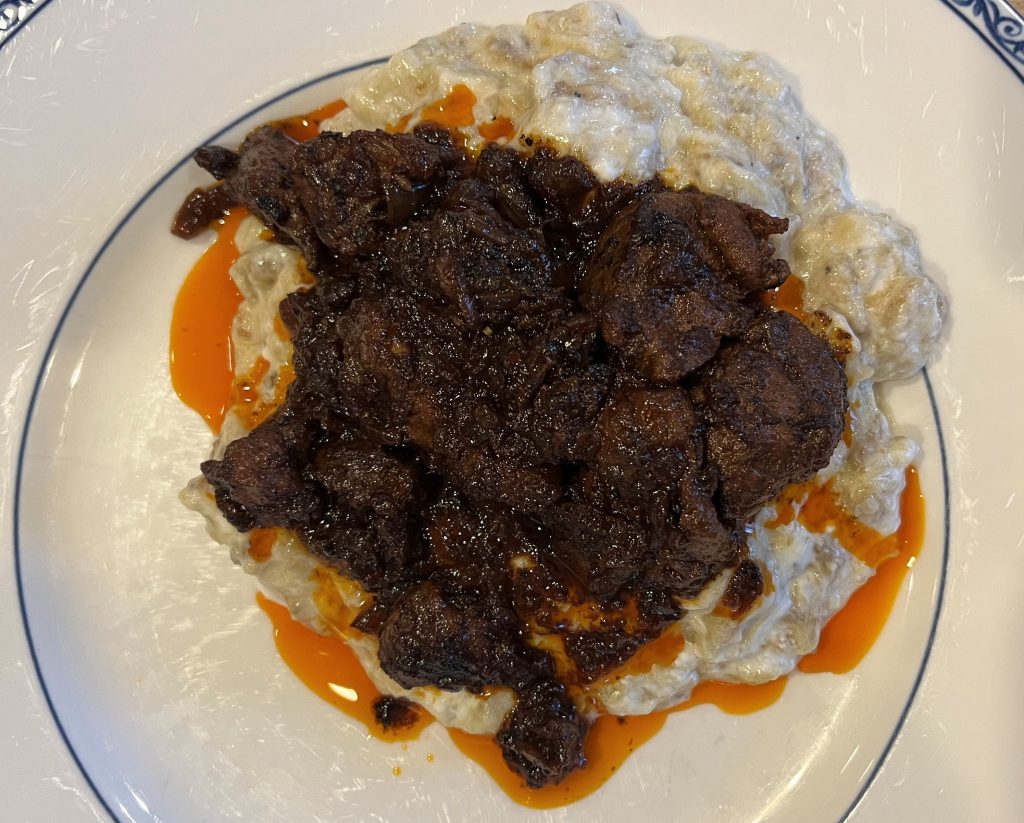 Since we went to Turkey last year, I have kept my eyes open for interesting Turkish recipes and spotted one in The Guardian which seemed promising, and was in fact very good. It consists of a spicy lamb stew on top of a creamy and garlicky base of roasted eggplant and yogurt. This will make 4 servings.
For the eggplant
3 large (or 4 medium) Italian eggplants
2 cups plain whole-milk yogurt
3 cloves garlic, finely chopped
1 Tbs. olive oil
1 tsp. salt
½ tsp. freshly ground black pepper
For the lamb
2 Tbs. butter
1 lb. lamb, cut into small cubes
1 large onion, chopped
2 Tbs. olive oil
1 Tbs. tomato paste
1 Tbs. biber salcasi (Turkish pepper paste, or harissa. I substituted 1 Tbs. of ajvar and 1 tsp. chili-garlic sauce)
1 Tbs. Aleppo pepper (or Turkish red pepper flakes or mild chilli flakes)
Begin by roasting the eggplants on a hot barbeque grill until the skin is blackened and the pulp is fully soft. Remove from the heat and allow to cool. Separate the pulp from the skin and discard the skin. Roughly chop the pulp and put it in a medium bowl. Add the yogurt, garlic, olive oil, salt and pepper and mix well. Check seasoning. Cover and keep in refrigerator until ready to serve.
In a large cast iron skillet, melt the butter over medium heat. Add the lamb and onion and cook, stirring occasionally, until the lamb is browned and the onions are translucent. Add the olive oil, tomato paste, biber salcasi, and Aleppo pepper and 3-6 Tbs. of water, enough to deglaze the pan and make a thin sauce. Bring to a boil and reduce to a simmer and cook until the lamb is tender, which can be as short as 15 minutes or as long as an hour depending on which cut of lamb is used. Stir from time to time and add water as necessary. When the lamb is tender, remove the lid and cook off any extra liquid until there is a thick sauce.
To serve, place a portion of the eggplant mixture on the plate and top it with a portion of the lamb stew. Serve steamed rice on the side.