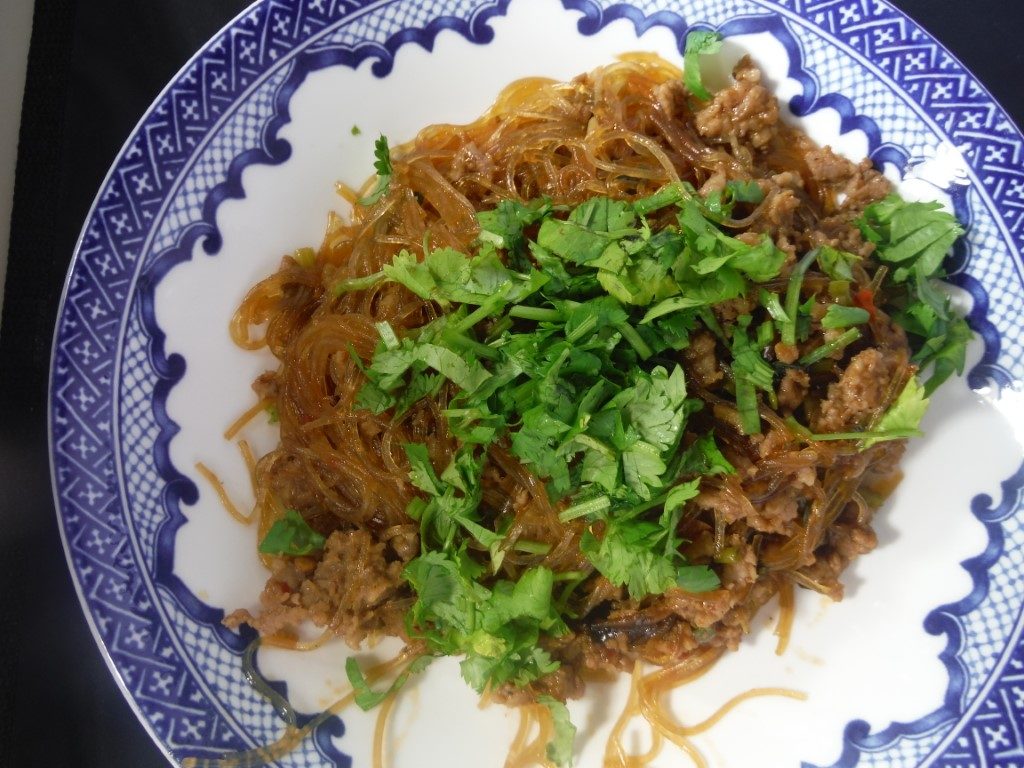 Ants Climbing a Tree is the fanciful name of a Chinese noodle dish in which bits of cooked pork scattered over dark noodles supposedly look like ants on tree branches.  I don't really see that, but it makes a good story, and the name made quite an impression on my 6 year old granddaughter.  This dish uses bean thread noodles, which are low glycemic, which is good for anyone diabetic or pre-diabetic.  (The noodles themselves are also gluten-free, for anyone concerned about gluten, although the sauce in this dish uses soy sauce, which is not gluten-free.)  This recipe was adapted from Joie Warner's A Taste of Chinatown: America's Native Chinese Cuisine, and made 2 large or 3 modest servings.
6 oz. ground pork
Marinade
1 Tbs. soy sauce
1 Tbs. dry sherry (or rice wine)
1 tsp. sesame oil
¼ tsp. freshly ground black pepper
1 tsp. cornstarch (or potato starch)
Frying Ingredients
2 Tbs. oil
4 scallions, chopped
3 cloves garlic, chopped
4 tsp. chili paste with soy beans
4 oz. bean thread noodles, soaked for 20 minutes in hot water and then drained
Seasoning Liquid (mixed together in a bowl)
2/3 cup chicken stock
1 tsp. sugar
2 tsp. dry sherry (or rice wine)
4 tsp. soy sauce
¼ tsp. sesame oil
Garnish
Chopped cilantro or green onions
Combine the pork and the marinade.  Marinate for at least 30 minutes on the kitchen counter, or as long as overnight in the refrigerator.
Heat a wok on high heat.  Add the oil.  When hot, stir fry the scallions and garlic briefly.  Then add the pork and chili paste and cook, breaking up the pork into little pieces, until the pork is cooked through.  Add the noodles, and stir to combine with the pork.  Add the seasoning liquid, and cook over high heat stirring frequently until the liquid has been absorbed by the noodles, about 3 minutes.  (Do not overcook since the noodles would become mushy.)  Garnish with cilantro and/or green onions and serve.