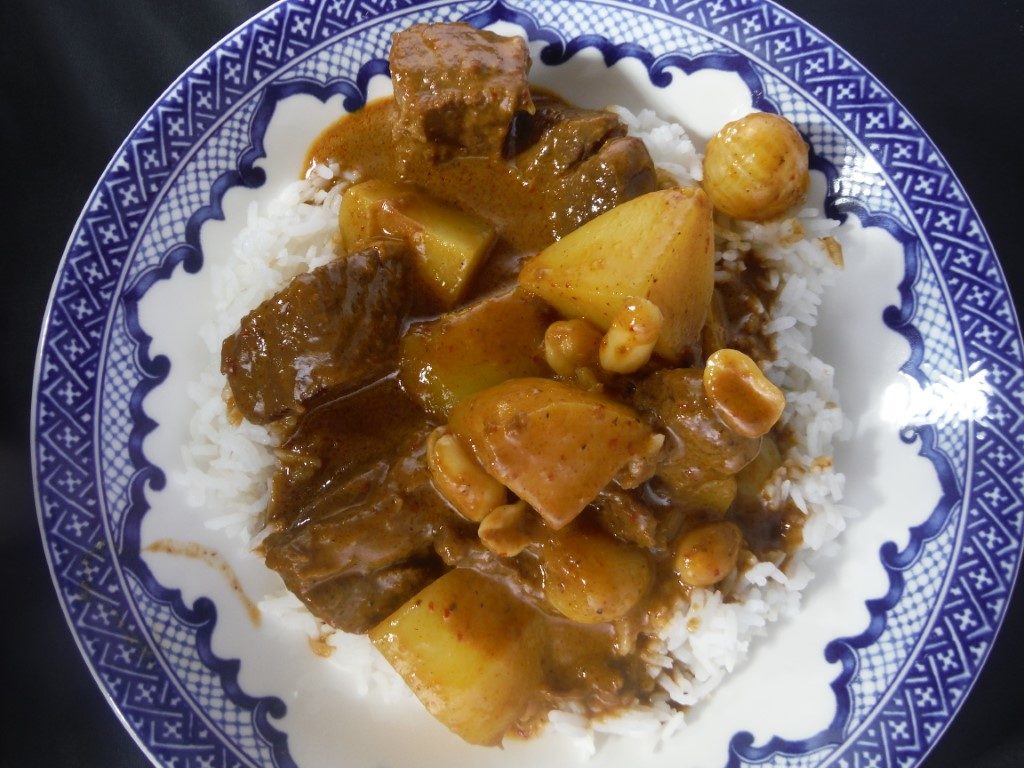 This mild and flavorful Thai curry is normally made with either beef or chicken.  It gets its name from an association with Muslims (massaman or matsaman) due to the unusual spices (for Thailand) included in the spice paste.  The first time I had massaman  curry I was very surprised to find large chunks of potatoes in the curry as well as the meat.  I thought the restaurant was being cheap and stretching out the meat.  Of course, I was wrong, and potatoes are an integral part of the dish.  This recipe is adapted from Leela Punyaratabandhu's recent book Simple Thai Food.  Her original recipe called for beef shank, which she said would take about 3 hours to cook.  I actually used a beef chuck roast (much easier to find), which took about 1-1/2 hours.  The recipe calls for Thai cardamom pods, which I left out since I did not have any.  Her recipe also called for a mixture of 1/2 cup coconut cream and 1-1/2 cups coconut milk.  The cans which I had available (Mae Ploy brand) do not seem that different based on the calorie information, and to make it easier, I just used one can of the cream and no milk.
½ cup massaman curry paste
1 Tbs. vegetable oil
19 oz. can coconut cream (Mae Ploy brand)
2 lb. chuck or round roast, cut into 1 inch cubes with chunks of fat removed
1 lb. waxy potatoes (like Yukon Gold), cut into 1 inch cubes
½ tsp. salt
2 inch cinnamon stick
3 Thai cardamom pods
2 star anise pods
2 Tbs. tamarind pulp
3 Tbs. fish sauce
¼ cup light brown sugar (or 1/3 cup palm sugar)
8 oz. pearl onions
2 lbs. bay leaves
¼ cup roasted peanuts
Heat the oil in a Dutch oven.  Add the creamiest part of the coconut cream and the massaman curry paste, and fry until the paste is fragrant, about 2 minutes.  Add the beef, the rest of the coconut cream, and enough water to cover the beef.  Bring to a boil and then reduce to a simmer and cook until the beef is tender, about 1-1/2 hours.  Check periodically, stir, and add additional water if necessary.
While the beef is cooking, put the potatoes in another pot with enough water to cover by two inches.  Bring to a boil, add the salt, and reduce to a simmer, and cook until the potatoes are cooked through but are still firm, which will take 10-12 minutes.  Drain the potatoes and reserve them.
Also while the beef is cooking, toast the cinnamon, cardamom, and star anise in a small skillet until fragrant, about a minutes, and then put in a small bowl.
Also while the beef is cooking, peel the pearl onions.  The easiest way to do this is to cut off the two ends, put them in a bowl, and cover with boiling water for 1-2 minutes.  Drain the onions, and the skins should come off easily.
Also while the beef is cooking, make the tamarind pulp if you do not have it already prepared.  1 oz. of wet tamarind soaked in about ¼ cup of boiling water, mixed well to soften, and then pressed through a sieve will yield about the 2 Tbs. of pulp needed for this recipe.
When the meat is tender,  add the toasted spices, tamarind pulp, fish sauce, brown sugar, pearl onions, and bay leaves, and cook for about 10 minutes, until the onions are cooked.  Add the cooked potatoes and peanuts, stir and allow to heat through for about a minute, and then serve.