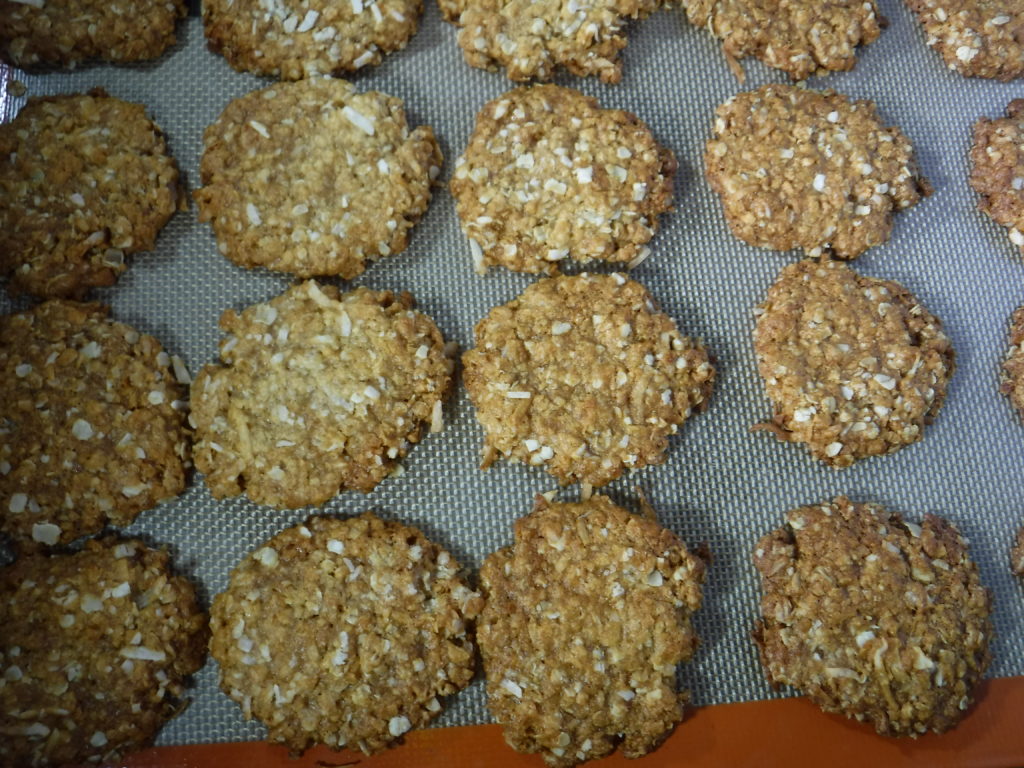 ANZAC Biscuits are a classic buttery cookie from Australia and New Zealand. They were invented during WWI as a suitable treat to ship to ANZAC (Australia and New Zealand Army Corps) troops in Europe since they were very stable and shipped well. This version is adapted from a recipe in Saveur magazine, and makes about 40 cookies.
Note that these cookies do not expand during baking, so they can be put close together on the baking sheet.
Lyle's Golden Syrup is a British form of cane syrup which I have found in most of the better supermarkets, sometimes in the international foods section. Steen's Cane Syrup is an equivalent American brand. I have not tried these with other syrups (Karo, honey, etc.)
2-1/4 cups rolled oats
2 cups unsweetened dried coconut
1-1/2 cups all purpose flour
1 cup sugar
1/3 cup boiling water
1-1/2 tsp. baking soda
10-1/2 Tbs. unsalted butter
3 Tbs. Lyle's Golden Syrup
Preheat the oven to 350 degrees.
Mix together in a large bowl the oats, coconut, flour, and sugar.
Mix together in another bowl the boiling water and baking soda.
Melt the butter and syrup in a medium saucepan. When hot and mixed, add the water/baking soda mixture and stir. The mixture will foam up quite a bit. Mix the wet ingredients into the dry ingredients in the large bowl to form a stiff dough.
Line 3 baking sheets with silicon mats or baking parchment. Using a 1 Tbs. scoop, portion the dough into individual cookies. Flatten each portion into a disk about 2 inches in diameter. Bake until golden brown, about 11-12 minutes.