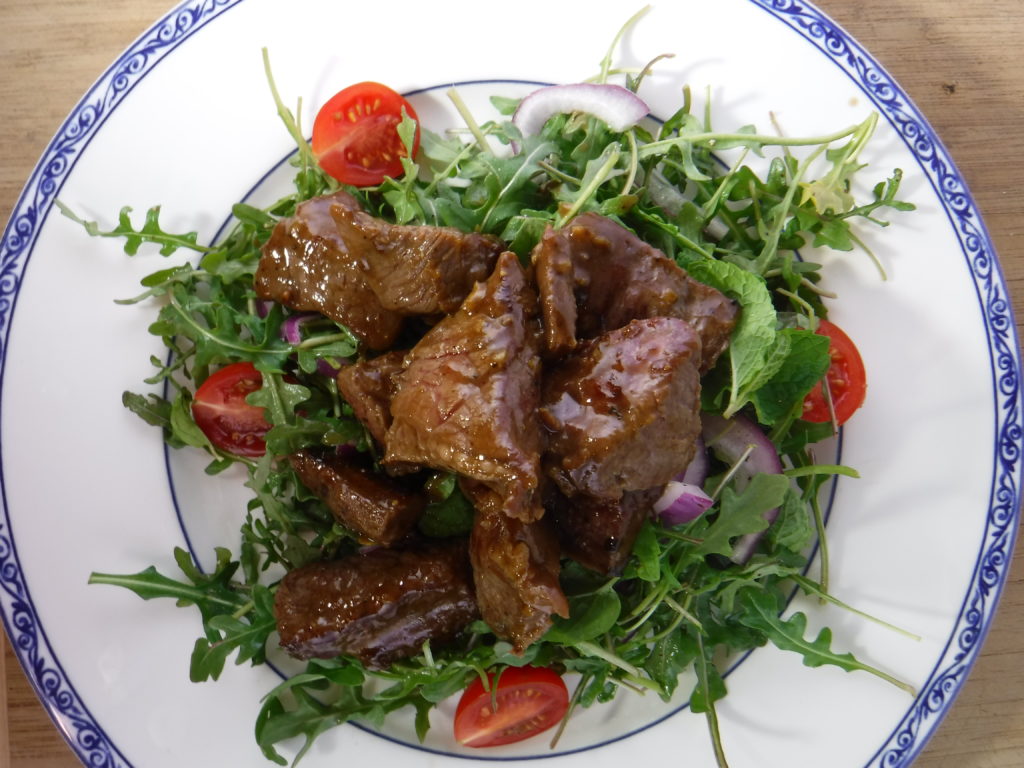 This tasty dish is popular in SF Bay area Vietnamese restaurants, according to the Mercury News. This recipe is an adaptation of recipe by Andrea Nguyen in her "Vietnamese Food Any Day: Simple Recipes for True Fresh Flavors." It consists of stir-fried beef on a bed of lightly dressed greens. Due to the very light dressing, it is important to have flavorful greens, like arugula or watercress.
This quantity will serve four. Since it is just beef and greens, I thought it needed a starch. Being transcultural, I served it with garlic bread. This is a good quick dinner since the most time-consuming step was letting the meat marinade for 20 minutes.
Beef and marinade
1-1/2 tsp. sugar
1-1/2 tsp. cornstarch
½ tsp. freshly ground black pepper
2 mashed garlic cloves
1-1/2 Tbs. oyster sauce
1 Tbs. soy sauce
1 tsp. fish sauce
1-1/2 lbs. beef steak, such as bottom sirloin (tri-tip) or NY strip, cut into ¾ inch cubes
2 Tbs. vegetable oil, for stir frying
Salad
¼ cup thinly sliced red onion or shallots
1-1/2 tsp. sugar or honey
2 pinches salt
¼ tsp. freshly ground black pepper
1-1/2 Tbs. unseasoned rice vinegar
2 Tbs. water
4 cups lightly packed arugula or watercress
¼ cup mint or basil
8 cherry tomatoes, halved
Mix together the marinade ingredients in a small bowl. Put the meat in a gallon ziplock baggie and add the marinade. Press out the air and massage the bag to distribute the marinade evenly. Marinade at room temperature for 20 minutes.
Put the onion slices and the greens in a salad spinner. Soak briefly, remove the water from the bowl, and then spin dry. Put in a bowl large enough to toss the salad.
Make the dressing by mixing the sugar, salt, pepper, vinegar, and water in a small bowl. Add the dressing to the greens, toss, and put on serving plates. Top with the mint (or basil) and cherry tomatoes.
Get a cash iron frying pan or a wok hot and add the oil.  When very hot, add the marinated beef in a single layer and saute at high heat for 3-4 minutes to medium-rare, searing all sides.  (In the restaurant, apparently the beef was tossed and shaken, giving the dish its name.  At home, I found it easier to use a spatula, turning it every 30-60 seconds.)
When done, spoon the meat on top of the prepared salads and serve immediately.