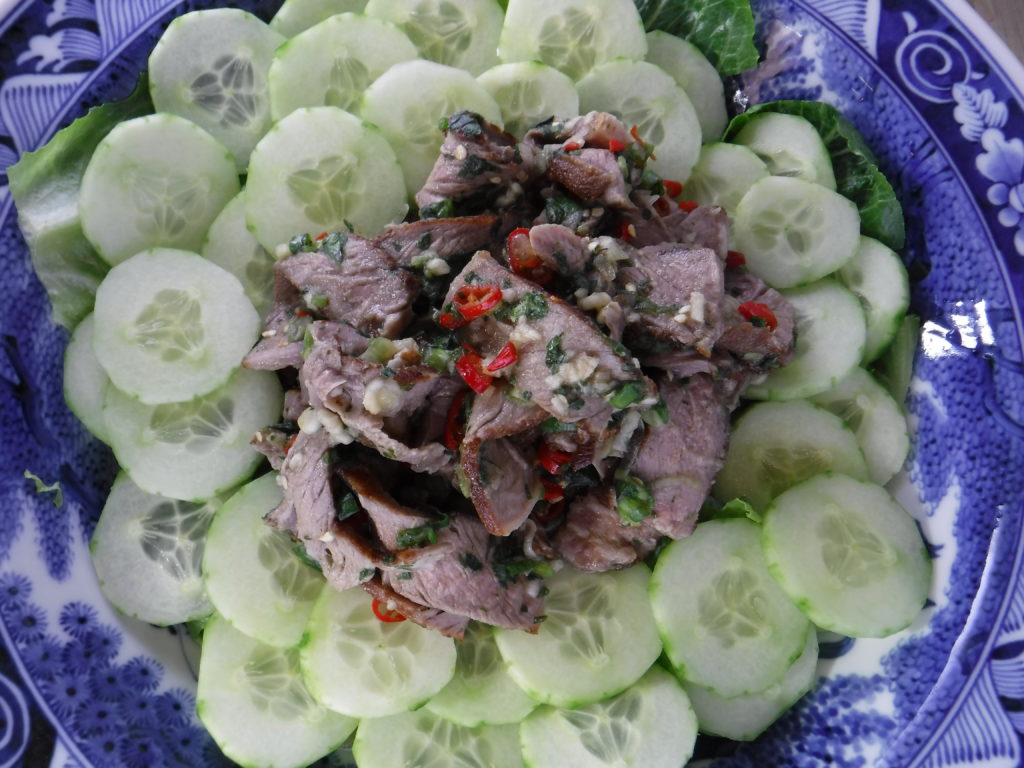 This very easy dish is one of our Thai favorites, which we have made many times over the years. For people concerned about such matters, it is notable that this dish has no oil in the dressing and almost no carbohydrates.
This is a dish in which everything is really to taste, so what I have described below is how I made it yesterday, and is just a guideline. Carol, for example, added more lime juice to her serving at the table. The origin of this version is the "A Taste of Thailand" cookbook, one of a series of booklets published by the South China Morning Post of Hong Kong in the early 1980s. I think we bought them while we were living in Thailand.
1 lb. steak, cooked to medium rare, and cooled to room temperature
2 cloves garlic, crushed
2 Tbs. chopped cilantro
1 tsp. sugar
1 Tbs. fish sauce
1 Tbs. lime juice
6 Thai chilies, finely sliced
Lettuce leaves
Cucumber, peeled and thinly sliced
Cook the steak however you like. Since it was a rainy day, I cooked it inside. I cooked a NY strip steak at 131 degrees in a sous-vide machine for two hours. Let it rest for 10 minutes and pat dry with paper towels. Heat a thin film of oil until very hot in a cast iron pan. Sear the steak for a total of 4 minutes, flipping it after each minute. Allow the steak to rest for another 5 minutes, and then thinly slice after removing any large pieces of fat, and put in a large bowl.
In a small bowl, mix together the garlic, cilantro, sugar, fish sauce, lime juice, and chilies. Add the dressing to the sliced steak in the large bowl, and mix well. Let rest for a few minutes, and then taste for seasoning.
Create a bed of lettuce and sliced cucumbers. Spoon the meat and dressing into the center of the bed and serve.