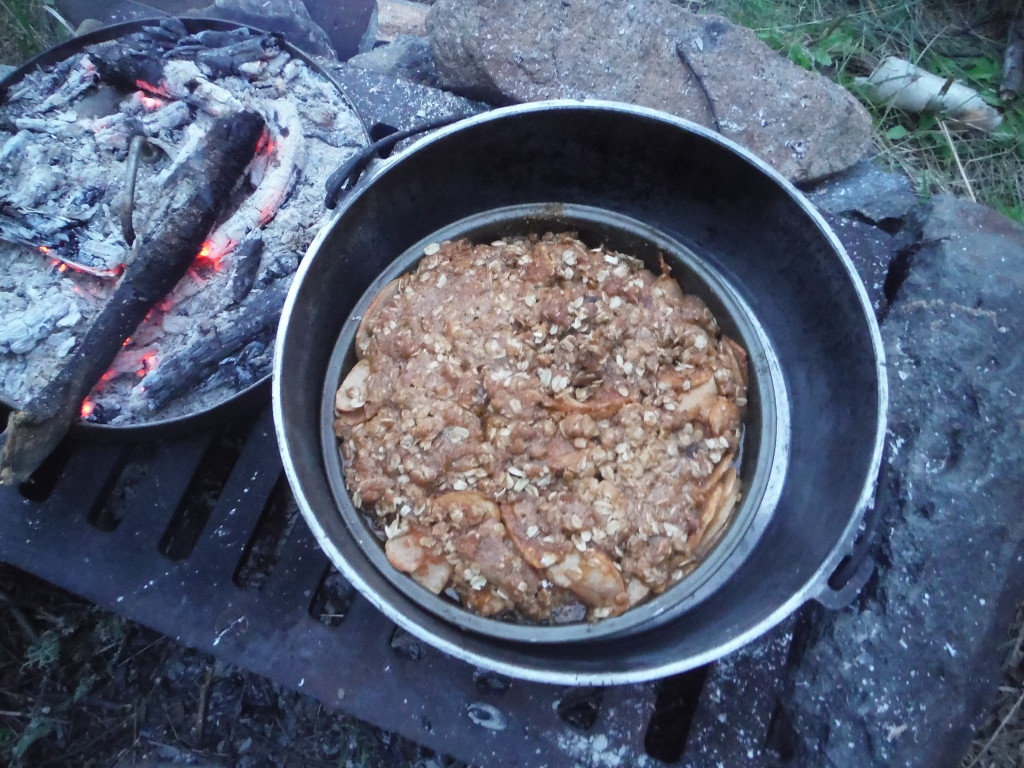 This simple apple crisp is good for camping since the ingredients are quite stable.  It was popular for dessert on a canoeing trip to the Boundary Waters in northern Minnesota last September and I will be serving it to the adults at the Henry's Farm campout this coming weekend.  This recipe will serve 8.
5 large Granny Smith Apples (more if smaller apples)
Sandwich Baggie No. 1
1 Tbs. cinnamon
Sandwich Baggie No. 2
¾ cups old fashioned oats
½ cup all purpose flour
¾ cup brown sugar
Sandwich Baggie No. 3
½ cup (1 stick) butter
1 gallon ziplock baggie
1 9-inch cake pan
Dutch oven
At home, make up the 3 baggies.
At camp, use a little of the butter to grease the cake pan.
Peel, core, and slice the apples. Place them in the gallon baggie. Add the cinnamon from Baggie No. 2, and mix together. Put the apples in the cake pan.
Mix together the contents of Baggies No. 2 and 3 into a dough, and spread on top of the apple slices.
Add aluminum foil ropes to the bottom of the Dutch oven. Put the cake pan on top of the aluminum foil ropes. Bake on a moderate fire with coals on top and bottom for about 30 minutes, or until done.