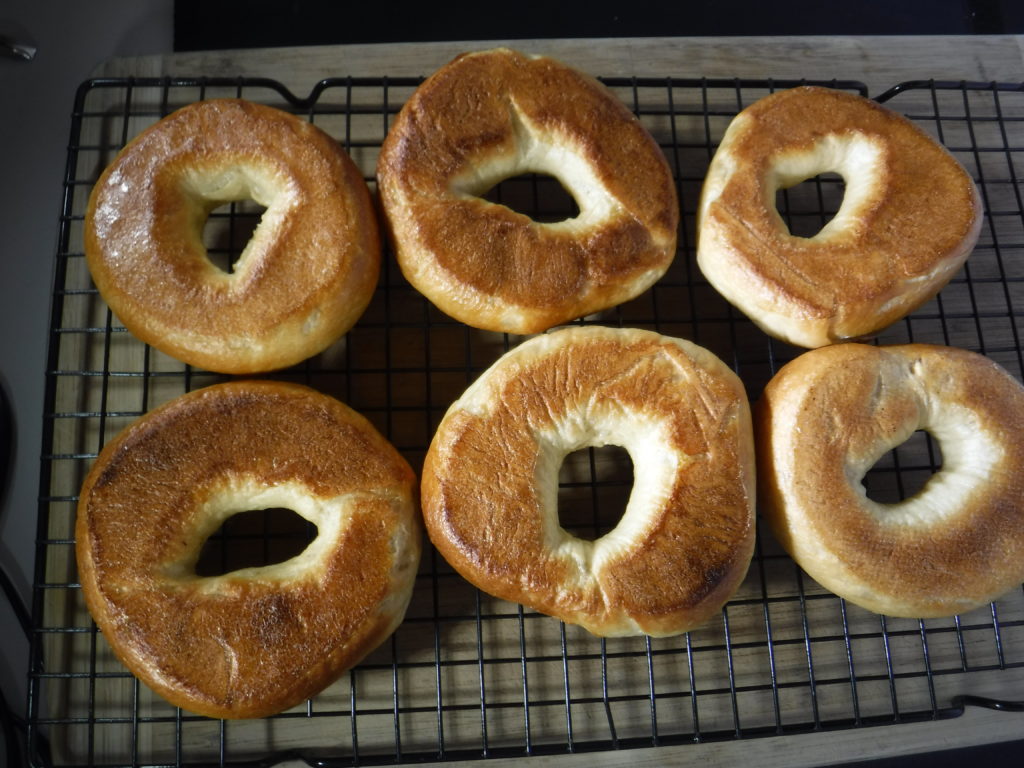 Carol and I learned how to make bagels at King Arthur Flour's baking school in Norwich, VT about 5 years ago, and this post is adapted from their recipe. Authentic bagels are not hard to make, but they do use some specialized techniques and specialized ingredients. The dough is very stiff, and if I had not seen it beaten into submission by a Kitchen Aid mixer, I would never have believed that stiff dough could turn into a tasty bagel with a good texture. The other specialized technique is to briefly boil the bagels before baking them, which contributes to their chewiness. The two specialized ingredients are high gluten flour and non-diastolic malt. King Arthur Flour sells a very high gluten flour (Sir Lancelot – higher gluten than their bread flour) for bagels, and it can be bought online.
A good kitchen scale really helps with this recipe. It is easiest to measure the flour by weight, and scale also helps portion the dough into individual bagels. (In this case, each bagel weighed ~104 g.) Last, our malt had fused into lumps, and the easiest way to use it was to weigh out some chunks and dissolve it in water.
Dough Ingredients
4 cups (18 oz.) Sir Lancelot High Gluten Flour
2 tsp. salt
1 Tbs. (8 g.) non-diastolic malt powder
1-1/2 tsp. instant yeast
1-1/4 cups (10 oz.) room temperature water
Water bath
2 quarts water
2 Tbs. (16 g.) non-diastolic malt powder
1 Tbs. sugar
Mix the dough ingredients roughly together in a mixing bowl with a dough whisk, and then knead with the dough hook of a Kitchen Aid mixer at medium-low speed until a smooth but stiff dough is formed, about 10-15 minutes.  (It can also be mixed by hand if you want an aerobic workout.)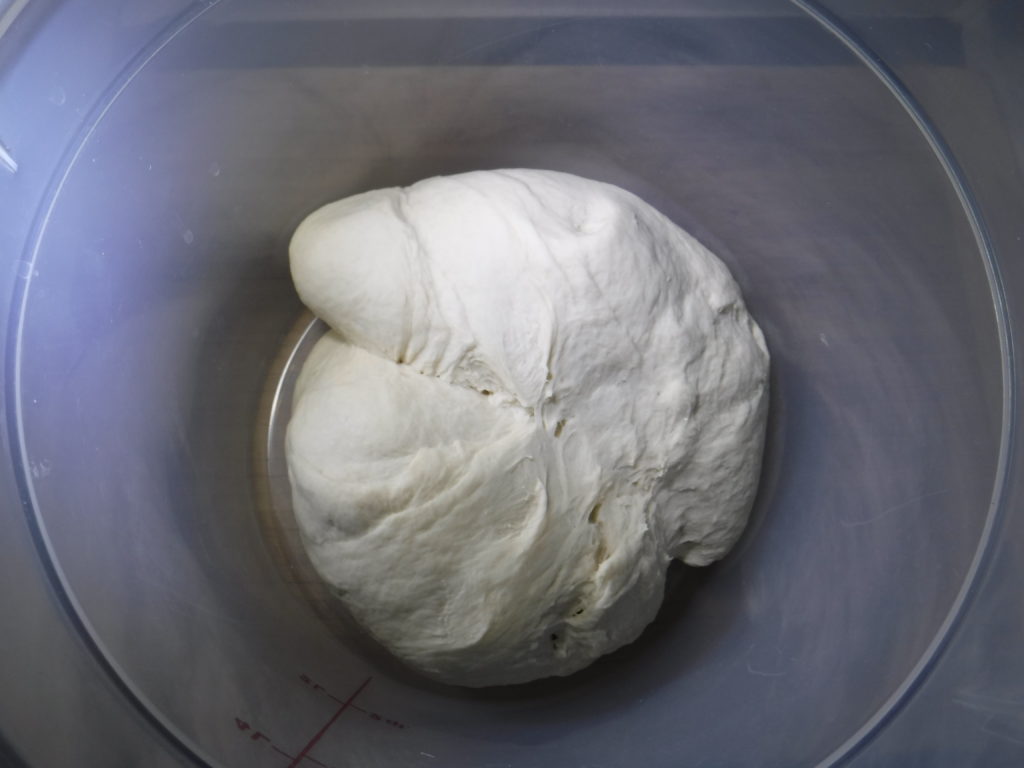 Place the smooth dough into a doubling container, coat it with a little oil, and allow it to rise for 30-40 minutes until noticeably puffy.  In the photo, you can see impressions of my fingers.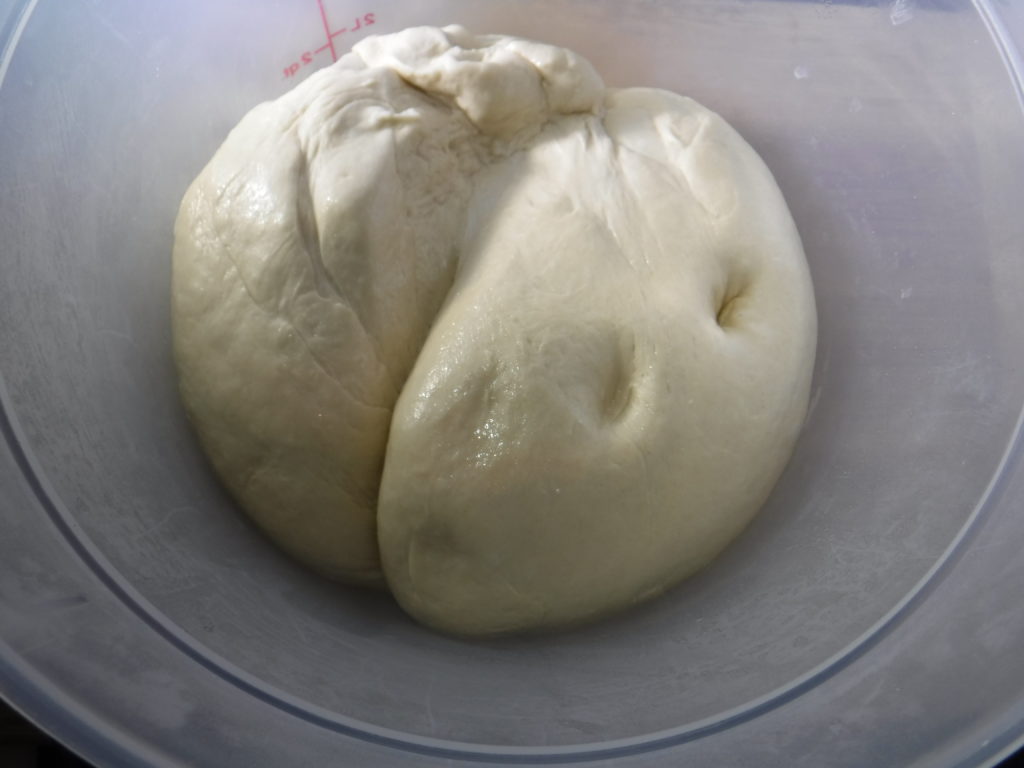 Remove the risen dough from the doubling container, and divide into 8 equal pieces.  Roll each piece into a smooth ball and put it on a baking sheet lined with baking parchment or a baking mat.  Cover with plastic wrap and allow to rest for 15-20 minutes.  The amount of care taken to get them into a smooth even ball will pay off in the final appearance of the bagels. (I should have worked harder at this.)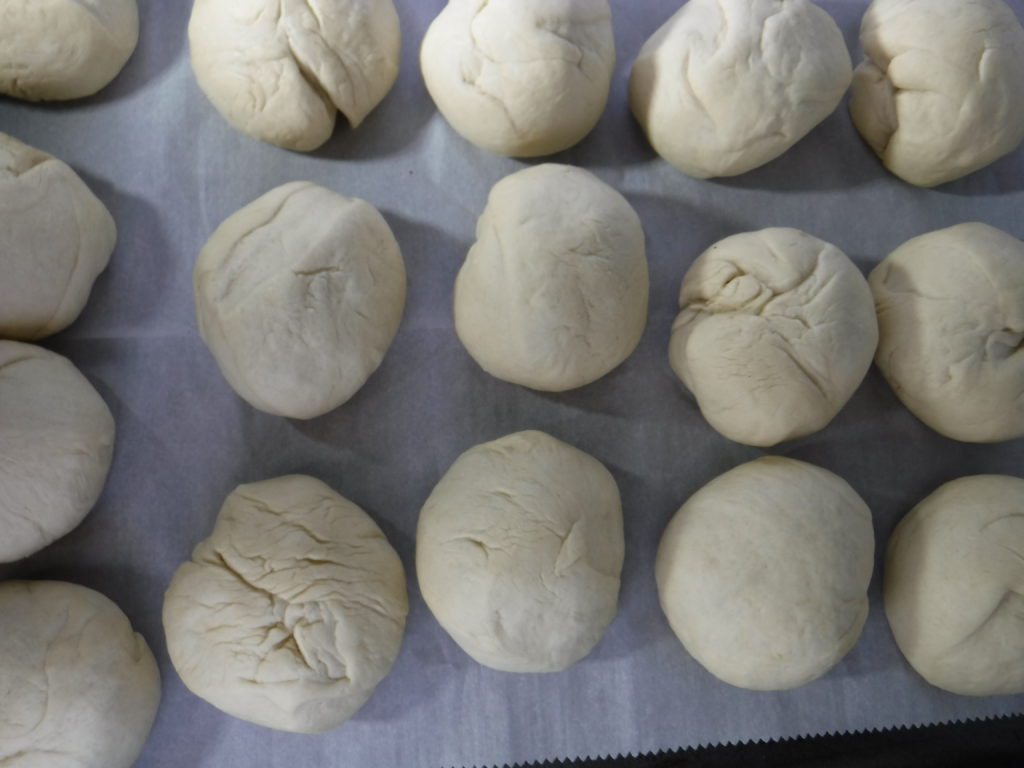 While the individual doughs are resting, preheat the oven to 425 degrees, and put the water bath ingredients into a wide pan and bring to a low boil.
Form each dough ball into a ring by punching a hole in the middle with your forefinger, and then twirling the dough ball around your finger.  Since the hole will tend to shrink as the bagel is boiled and baked, the hole should be big at this stage.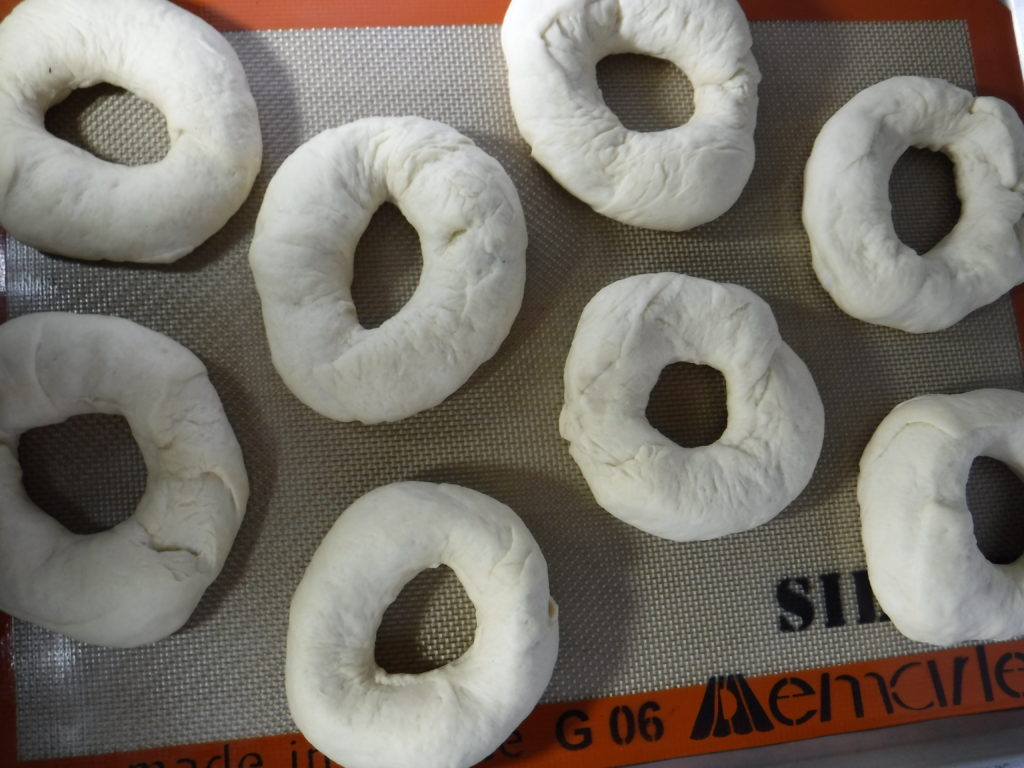 Turn the water bath down to a gentle simmer, and add the bagels in batches to the water bath.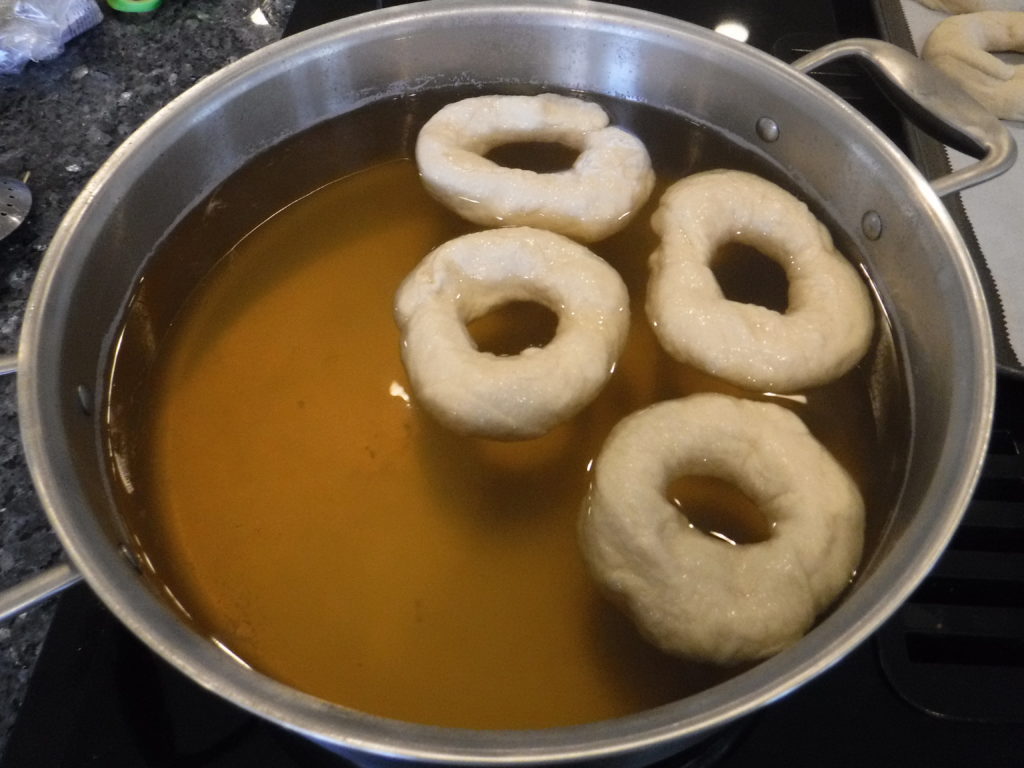 Cook them for 1 minute on each side and then remove the boiled bagels with a slotted spoon to a cookie sheet lined with baking parchment or a baking mat.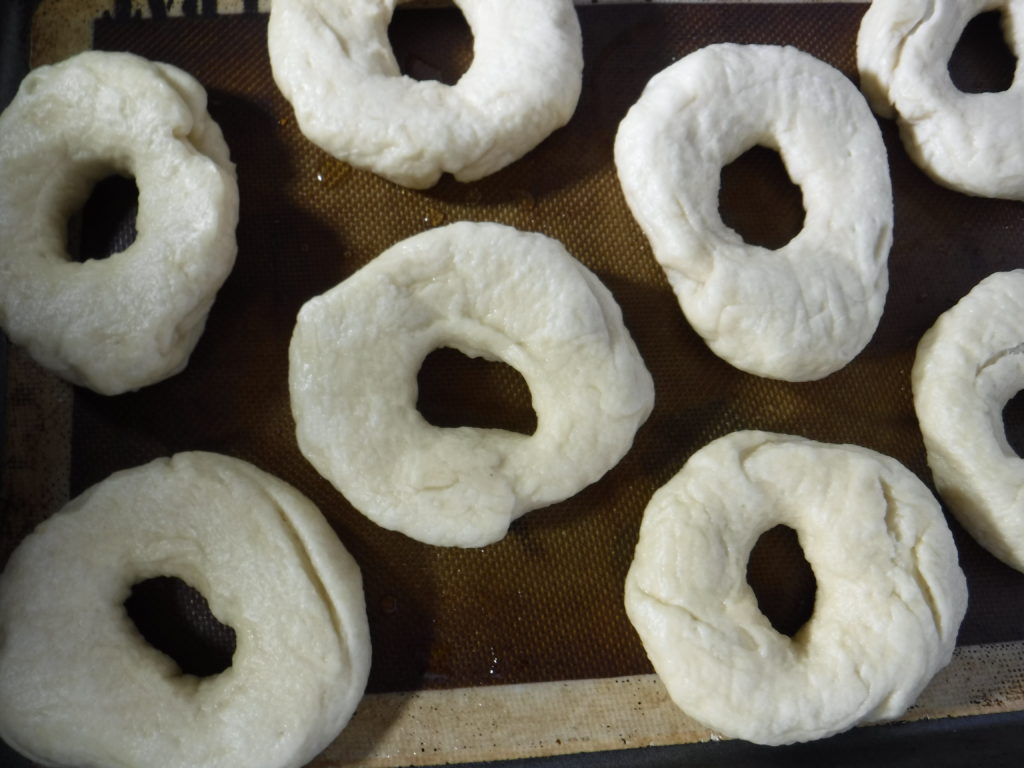 Bake the bagels for 20-25 minutes until well browned, flipping them at the 15 minute mark to help them brown evenly and keep their ring shape.