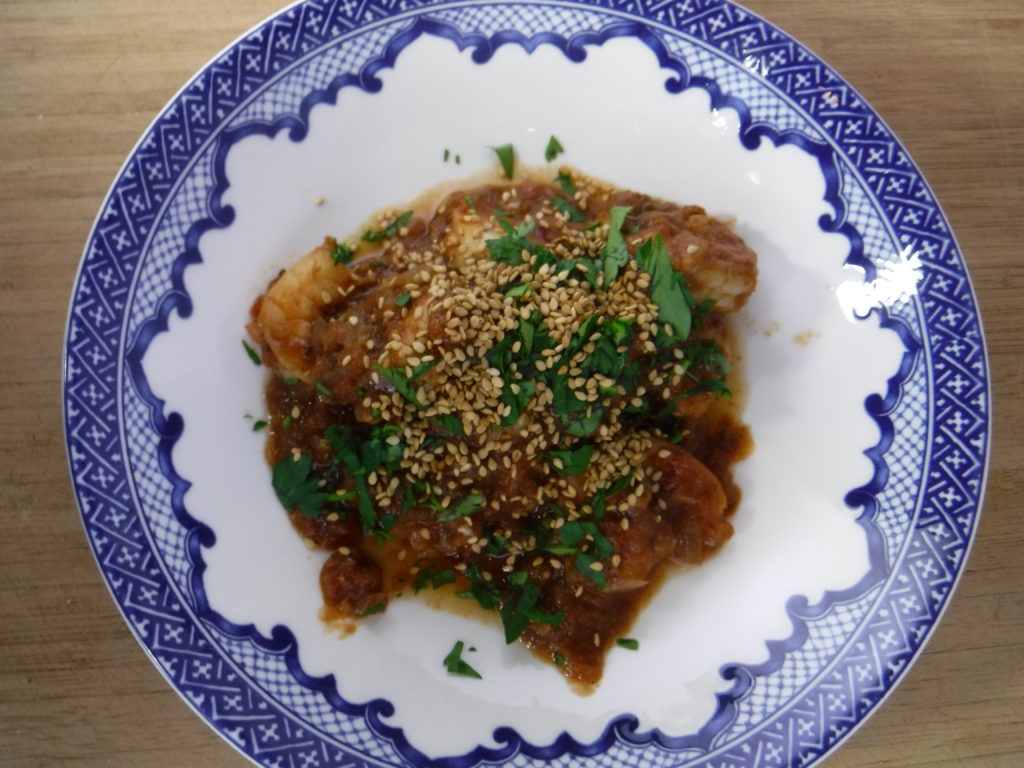 This shrimp stew is from Gaza, and is adapted from a recipe in the NY Times 2/6/19 taken from Yasmin Khan's book "Zaitoun: Recipes from the Palestinian Kitchen".  It is tasty and seems vaguely Indian, in the same way that Ethiopian cooking sometimes tastes vaguely Indian.  I served it with freshly made Druze Mountain Bread .  It would also have gone well with pita, naan, or steamed rice.
It is easiest to buy toasted sesame seeds, which are available in Asian food markets. Failing that, untoasted seeds can be toasted in a dry skillet, taking care not to burn them.
2 Tbs. extra virgin olive oil
1 medium red onion, finely chopped
14 oz. whole or diced tomatoes, broken up (I used an immersion blender on diced tomatoes)
1 tsp. sugar
¾ tsp. ground cumin
½ tsp. caraway seeds
¼ tsp. allspice
1 tsp. salt, divided
½ tsp. freshly ground black pepper
1 jalapeno, finely chopped
3 garlic cloves, chopped
2 Tbs. finely chopped dill
1 lbs. medium shrimp, deveined and peeled
1 Tbs. roasted sesame seeds
3 Tbs. Italian parsley, chopped
Heat the olive oil in a large skillet and saute the onions over medium heat. Cook for about 10 minutes, until the onion is soft. Add the broken tomatoes And their juices, plus the sugar, cumin, caraway, allspice, ½ tsp. salt, and the black pepper. Add 1 cup of water, bring to a simmer.
In a mortar, pound the jalapeno, garlic, dill, and ½ tsp. of salt into a paste. Crushing these ingredients will release their flavors more than chopping will. Add the paste to the sauce and simmer for 20 minutes.
When the sauce is ready, add the shrimp and cook until they have turned pink. Do not overcook the shrimp.
To serve, sprinkle the stew with the sesame seeds and parsley and eat with a flatbread or rice.