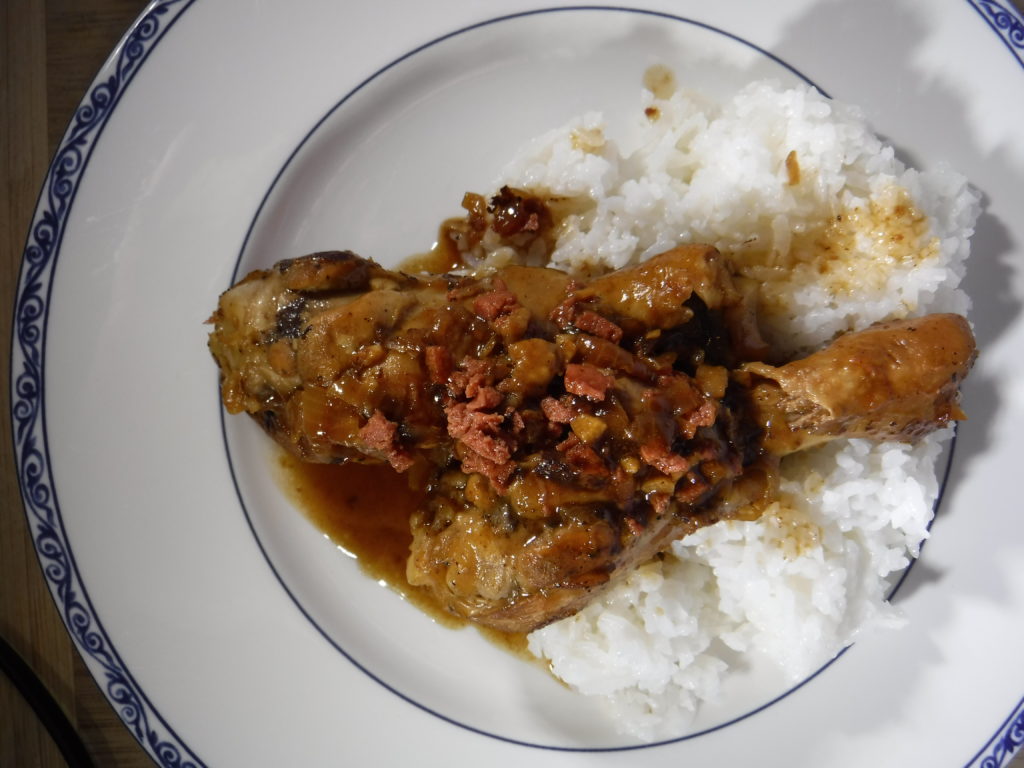 Bistek – Filipino Pan Fried Steak with Onions is a Filipino classic – steak with a savory sweet and sour sauce based on onions, soy sauce, and lemon juice (actually calamansi juice if it happens to be available). This recipe is applying the same concept to chicken drumsticks, and is adapted from an article in www.pinoyway.com, a good website for Filipino dishes.
2 lbs. chicken legs, drumsticks or thighs
1 medium onion, peeled and sliced
5 cloves garlic, peeled and chopped
4 peppercorns, cracked
Juice of 2 lemons
¼ cup soy sauce
2 Tbs. cooking oil
1 cup water
2 Tbs. liver spread (such as liverwurst)
Salt to taste.
An hour before cooking, put the chicken pieces, onion, garlic, peppercorns, lemon juice, and soy sauce in a ziplock bag and marinade for an hour. After an hour drain the chicken, onions, and garlic, reserving the marinade. (The drier the chicken and vegies, the better.)
In a large pot, heat the cooking oil, and saute the chicken, onions, and garlic until the chicken is nicely browned, 7-10 minutes. Add the reserved marinade and a cup of water, stir to deglaze the pan, bring to a boil, reduce to a simmer, and cook for 30-40 minutes, until the chicken is tender. Toward the end of the cooking time, remove the cover if the sauce is too thin so that it can be reduced. About 5 minutes before serving, cut up the liver spread and dissolve it in the sauce. It will thicken the sauce. Check the seasoning and serve with steamed rice.