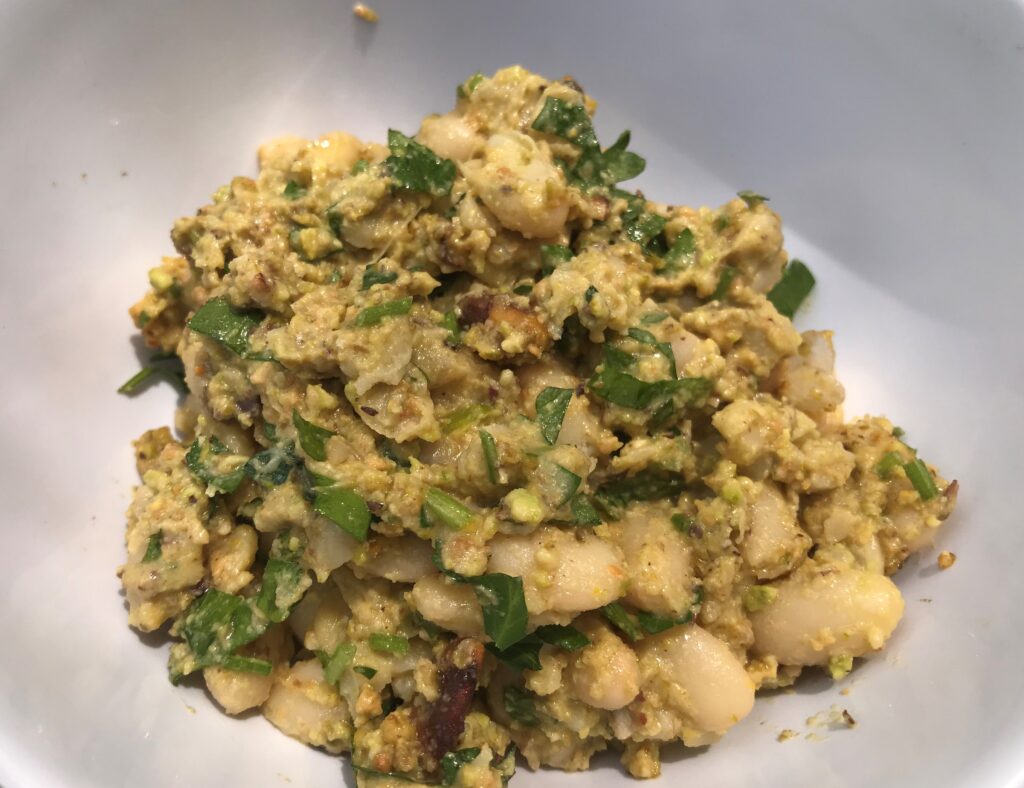 An aillade is a sauce from the Languedoc region in southern France made by pounding together nuts, garlic, wine, lemon zest and olive oil. This is a modernized food-processor version adapted from the Washington Post, which in turn adapted it from Rebekah Peppler's À Table. It was a hit at a recent family party, where it served 7 as a side dish with a little left over.
8 cloves garlic, divided
6 cups water
8 oz. dried white beans (cannellini, great Northern, Navy, etc.)
1 bay leaf
1-1/2 tsp. salt, divided
1 cup plus 2 Tbs. shelled unsalted pistachios, divided
2 Tbs. wine vinegar
1 tsp. lemon zest
½ cup extra-virgin olive oil
1 cup chopped fresh parsley
Soak the beans, either overnight in cold water, or for 2 hours in boiling water. Drain the beans.
Put the beans in a large saucepan with the 6 cups of water, 6 smashed cloves of garlic and the bay leaf. Bring to a boil and add 1 tsp. of salt, and then reduce to a simmer. Cook until the beans are tender but still intact, about 45-60 minutes. Drain the beans and discard the bay leaf. Chop up the cooked garlic or add it to the bowl of a food processor with the other sauce ingredients.
Toast the pistachios in a large skillet over medium heat for about 3 minutes. Put a cup of the toasted pistachios in the bowl of a food processor and reserve the remainder for a garnish. Chop the remaining 2 cloves of garlic and add them to the bowl of the food processor with the vinegar, lemon zest, and remaining ½ tsp. of salt. Process until the pistachios are ground into small pieces. With the processor running, slowly add the olive oil to incorporate it. Mix the sauce from the food processor with the beans in a large bowl. Check for seasoning.
Serve at room temperature. Right before serving, fold in the chopped parsley and garnish with the remaining pistachios.