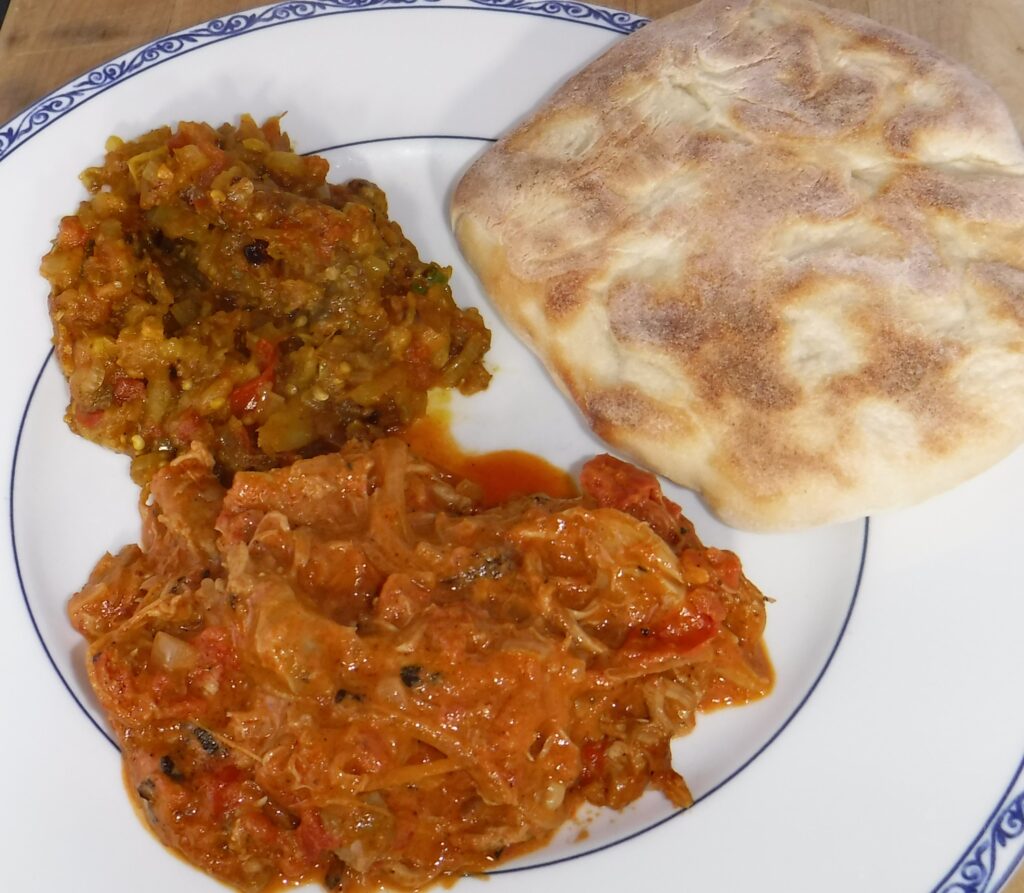 I made this originally as a filling for Butter Chicken Calzones but it does very well on its own. This is an adaptation of a recipe in Food & Wine, which is originally from the Superkhana International restaurant in Chicago. Butter Chicken is a bit of a misnomer since there is not a lot of butter in the recipe. It is really just a mild chicken curry in a creamy tomato sauce which has become very popular. This will make 6-8 servings.
This recipe uses packaged spice mixes which are available at Indian groceries, like the Laxmi Palace in Henrico. Food & Wine recommended the MDH brand, and I used the Aachi brand. (Although there were ~100 spice mix packages at the store, the MDH Butter Chicken spice mix was not one of them.)
3 Tbs. plain whole milk yogurt
1 tbs. vegetable oil
2-1/2 Tbs. Butter Chicken spice mix
1 tsp. lemon juice
1 lb. boneless, skinless chicken thighs
3 Tbs. unsalted butter, divided
1 large onion, thinly sliced
2 Tbs. tomato paste
1-1/2 cups undrained canned whole tomatoes
½ cup heavy cream
½ tsp. kosher salt
Stir together the yogurt, spice mix, oil, and lemon juice in a large bowl. Add the chicken thighs and turn to coat evenly. Marinade in the refrigerator for 1-3 hours. (Do not marinade too long of the acid in the marinade will make the meat mushy.
Heat a large skillet over medium-low heat. Shake off and reserve the excess marinade, and put the chicken thighs in the pan without any oil or butter. Cook until just cooked through, about 4 minutes per side, and then put back in the marinade bowl and shred with two forks.
Wipe out the skillet and add 2 Tbs, of butter. Over medium-low heat, cook the onions until softened and browned, about 8 minutes. Add the tomato paste, and cook for about 1 minute, until lightly caramelized. Add the tomatoes. Bring to a simmer and break up the tomato pieces. (I used a pastry cutter.) Simmer, stirring often, until the mixture is reduced to about 1-1/3 cups. Add the shredded chicken and the marinade from the bowl. Cover, reduce heat, and cook, stirring occasionally, until the chicken is tender, about 15 minutes. Stir in the cream, salt, and the remaining Tbs. of butter. Stir well, remove from the heat and serve with Naan or rice.