Text to Follow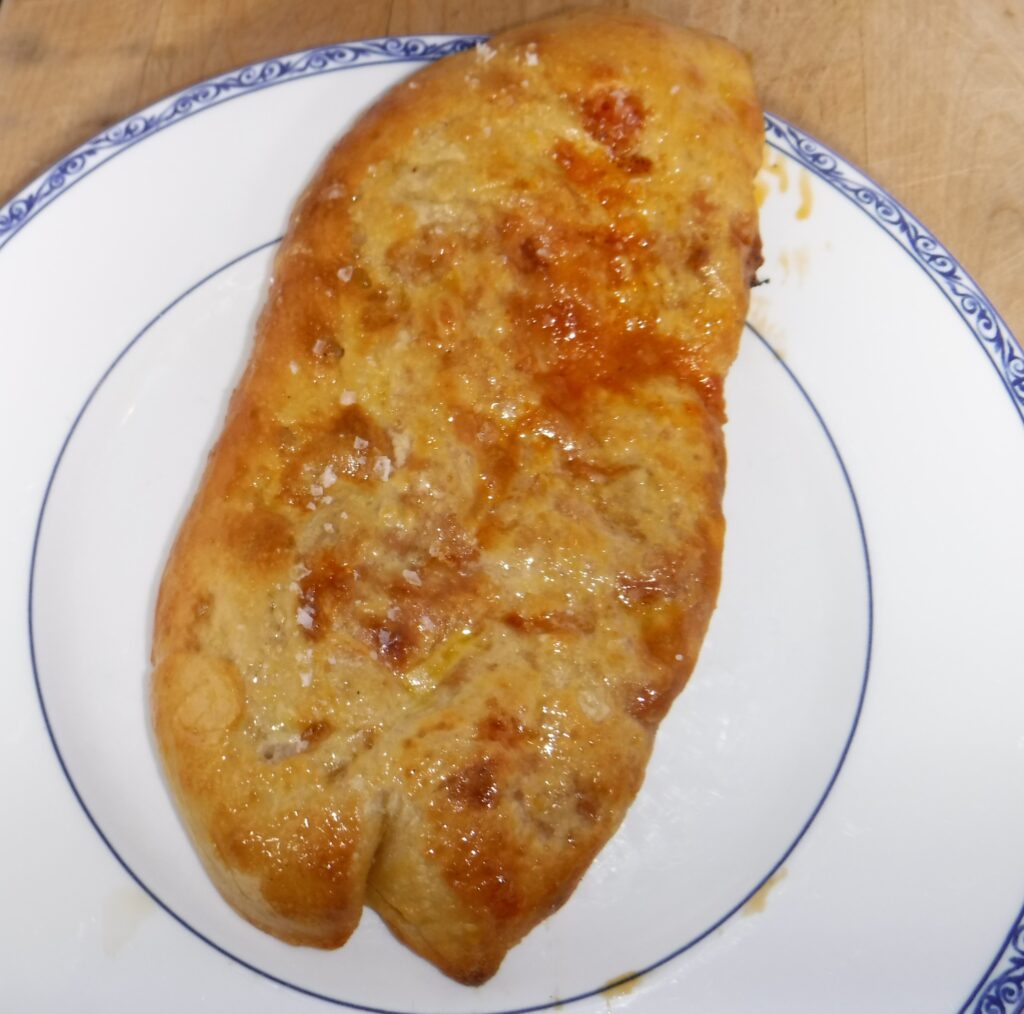 I spotted a recipe for this Indian-Italian mash-up at Food & Wine, which reported on it as a popular dish at the Superkhana International restaurant in Chicago. As expected, it was quite good. Amounts shown below are per calzone, each of which is one serving.
Amul cheese is an Indian processed cheese, like a saltier and firmer version of American cheese. I found it at the Laxmi Palace, the largest Indian grocery store in the Richmond area.
6 oz. pizza dough, such as one serving from Pizza for Many or For One
Heaping 1/3 cup Butter Chicken at room temperature
1/2 oz. Mozzarella cheese, shredded or in small pieces
½ oz. Amul cheese (or Mozzarella), shredded or in small pieces
Egg wash (1 egg beaten will be enough for ~8 calzones)
½ tsp. melted ghee (or melted butter)
Flaky sea salt, such as Maldon)
Preheat the oven to 400 degrees. Put a sheet of baking parchment in a baking sheet.
Working on a floured pastry cloth, form each pizza dough into an 8 inch circle.  Spread the butter chicken on half of the circle, avoiding the edges.  Add the Mozzarella and Amul cheese on top of the butter chicken.  Brush the edges of the dough with egg wash and fold the empty side of the dough over the filled side and press on the edges to seal them.  Brush the top with egg wash.  Using a pair of scissors, snip a few vents into the top dough. Put the filled calzones on the baking sheet.
Bake until the crust is golden brown and the dough seems cooked through, about 25-30 minutes. Remove from the oven. Brush with the ghee and sprinkle with the flaky salt. Rest for a few minutes before serving.