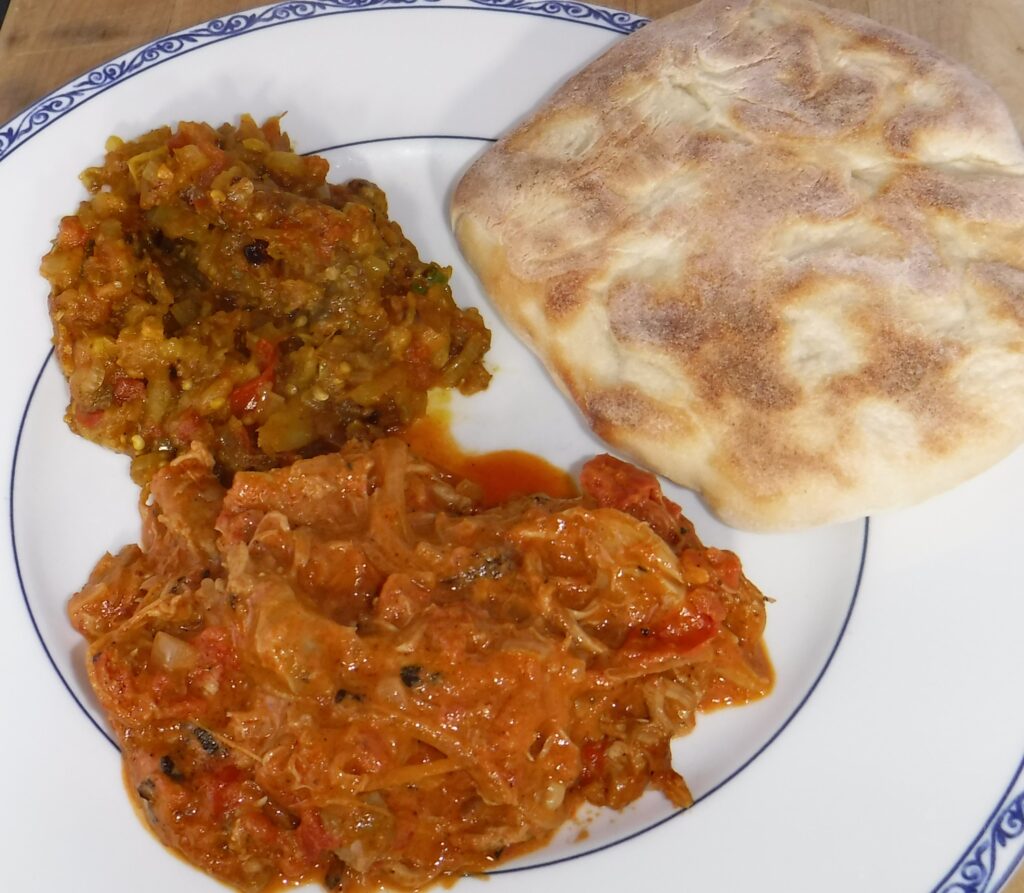 I was at the New Grand Mart and decided to buy some Indian eggplants to accompany a dish of Butter Chicken. This is what I ultimately made, based on Sharda Gopal's book Step-By-Step Indian Cooking. This will make 3-4 servings as part of a multi-course dinner. It was spicy, but not really hot.
1 lb. eggplant (either Indian or Italian)
¼ cup ghee or unsalted butter
1 onion, finely chopped
1 sprig of cilantro, chopped
1 clove garlic, chopped
1 Tbs. grated fresh ginger
½ tsp. garam masala
1 Thai green chili, finely chopped
½ tsp. turmeric
½ tsp. cumin
½ tsp. Indian chili powder (not Tex-Mex chili powder)
1 cup peeled, chopped tomatoes
1 Tbs. lemon juice
½ tsp. salt
Preheat the oven to 400 degrees. Trim the eggplants and put them on a sheet of baking parchment on a baking sheet. Roast until softened, about 40 minutes for the large Italian eggplants, less for the smaller Indian eggplants. Remove from the oven and scrape the cooked flesh from the skins and put it in a bowl.
While the eggplant is roasting, put in a bowl the onion, half the cilantro, the garlic, chili, and spices.
Heat the ghee in a large skillet over medium heat. Stir fry the onion and spice mixture until the onion is softened. Add the tomatoes, mashing them well. (I used a pastry cutter.) When the butter starts to run out from the tomato/onion/spice mixture, add the eggplant and salt, and mash and stir thoroughly. When heated through, remove from the heat, stir in the lemon juice and remaining cilantro. Check for seasoning and serve.