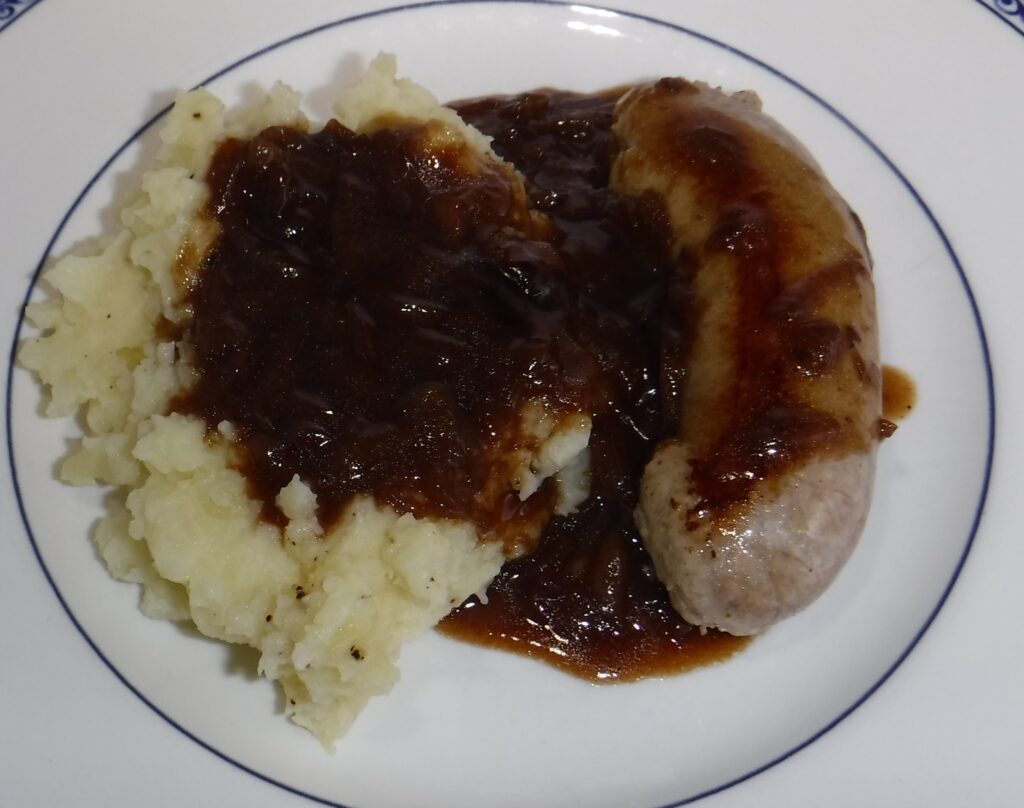 I recently bought several pounds of pork bangers from www.southafricanfoodshop.com and decided to use some of them in the English classic comfort food, bangers and mash(ed potatoes) with onion gravy. Since pan-frying sausages and making mashed potatoes are quite standard, in this recipe I will focus on the onion gravy. This version is adapted from a recipe in daringgourmet.com. It takes about an hour and makes enough gravy for 4+ servings.
6 Tbs. unsalted butter, divided
2 large yellow onions, peeled, halved, and thinly sliced
2 tsp. sugar
½ cup dry red wine
2 sprigs fresh thyme
1 sprig fresh sage
2 cups reduced sodium beef broth
1 tsp. Worcestershire sauce
¼ tsp. Marmite (optional)
½ tsp. salt
¼ tsp. freshly ground black pepper
½ tsp. yellow mustard
1 Tbs. balsamic vinegar
1 Tbs. cornstarch dissolved in 1 Tbs. water
Melt 4 Tbs. of butter in a large saucepan over medium high heat. Add the onions and stir to coat them in the butter. Cook until well caramelized, stirring occasionally, for about 30 minutes. (Watch them more closely and stir them more frequently in the late stages, to ensure they do not burn.)
Add the wine and the herbs. Deglaze the bottom of the pan. Bring to a boil and reduce to a simmer and cook uncovered until the wine is nearly all reduced, about 10 minutes. Add the beef broth, Worcestershire sauce, optional Marmite, salt, black pepper, and mustard. Bring to a boil and reduce to a simmer and cook covered for about 20 minutes. Uncover, add the balsamic vinegar and the cornstarch paste and cook, stirring frequently, for a couple of minutes until the sauce has thickened. Stir in the last 2 Tbs. of butter and check for seasoning.