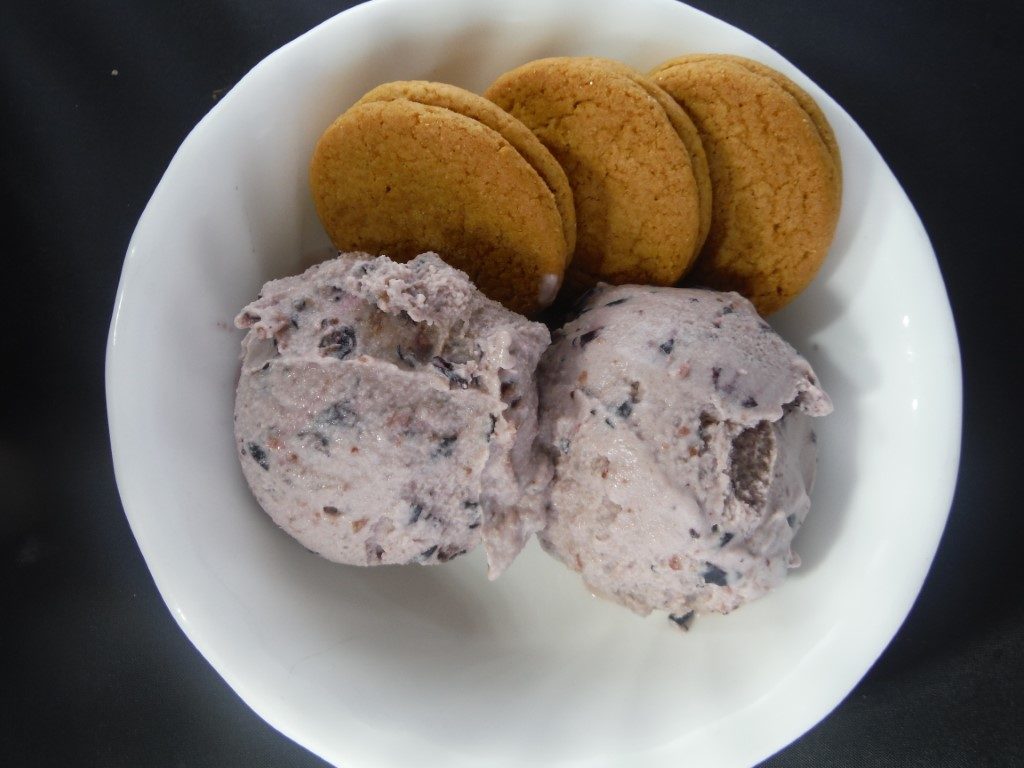 We had a zillion blueberries around the house after some blueberry picking, so Carol suggested I make blueberry ice cream.  Here is the result, which was adapted from a recipe for cherry ice cream in The Ultimate Ice Cream Book.  The key step to this is to properly make the custard base.
¾ cup sugar
3 large egg yolks
1 Tbs. all-purpose flour
1 cup half and half
¾ lb. fresh blueberries, chopped in a food processor
¼ cup blueberry pancake syrup
1-1/2 cups heavy cream
In the boil of a stand mixer, beat together the sugar and egg yolks until blended and pale yellow.  Beat in the flour.
Bring the half and half to a simmer in a medium saucepan.  When hot, slowly add it to the sugar and egg yolk mixture in the mixing bowl, mixing constantly.  The objective is the temper the eggs with the hot half and half so that the eggs do not scramble.  Put the entire mixture back in the medium saucepan, and cook over low heat, stirring constantly, until the mixture thickens, about 3 minutes.  Do not allow the mixture to boil which could produce scrambled eggs rather than a smooth custard.
Immediately remove from heat.  Pour the mixture through a sieve (to remove any unintentional scrambled eggs) into a mixing bowl.  Allow to cool, and then add the blueberries, blueberry syrup, and heavy cream.  Mix well and then chill thoroughly before freezing in an ice cream freezer.