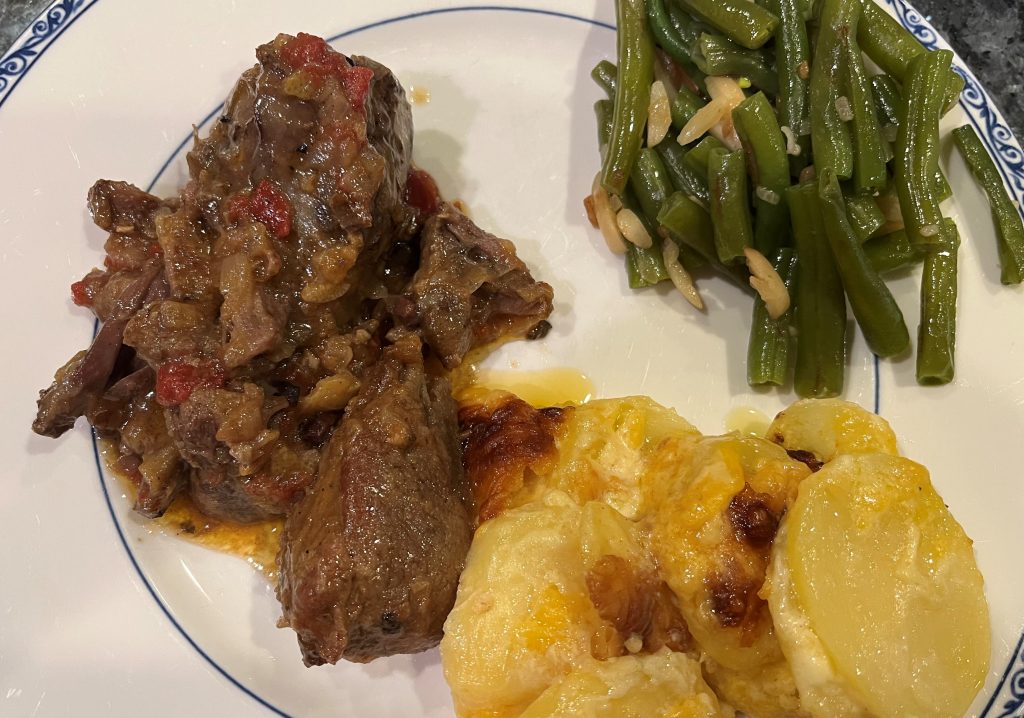 Carol frequently orders lamb shanks when they are available at a restaurant, so when I saw some at Kroger's I bought them and made this dish, based on a recipe in Molly Stevens' book All About Braising. The 2 lamb shanks were about 3 lbs. total, and I cut the meat off the bones after it was done cooking to make 4 servings. Cooking time is about 3 hours.
3 lbs. lamb shanks (2 large)
¼ cup flour
1 tsp. paprika
Salt and freshly ground black pepper
2 Tbs. olive oil
1 large yellow onion (about 8 oz.), chopped
3 garlic cloves, finely chopped
½ a 14.5 oz. can of diced tomatoes
½ cup dry white wine
½ cup chicken stock
1 lemon (zest in strips plus the juice) (I substituted a preserved lemon from my refrigerator)
1 large bay leaf
¼ cup chopped kalamata or other good olives. (original recipe called for oil cured olives)
Mix together the flour and paprika with some salt and pepper. Sprinkle the mixture over the lamb shanks covering all surfaces.
Heat the oil in a Dutch oven and brown the lamb shanks on all sides. Remove them to a plate.
Pour out an excess oil and add the onions. Sauté until translucent. Add the garlic and sauté until fragrant. Add the white wine and chicken stock and deglaze the pan. Add the tomatoes, lemon zest and juice, bay leaf, and olives. Bring to a boil and reduce to a simmer and cook covered until the meat is tender, about 2-3 hours. Stir occasionally and add water if needed.
When tender remove the meat from the bones and mix with the sauce. Check the seasoning. Serve with your favorite starch. (I served it with some leftover scalloped potatoes. Mashed potatoes would be good with this dish.)