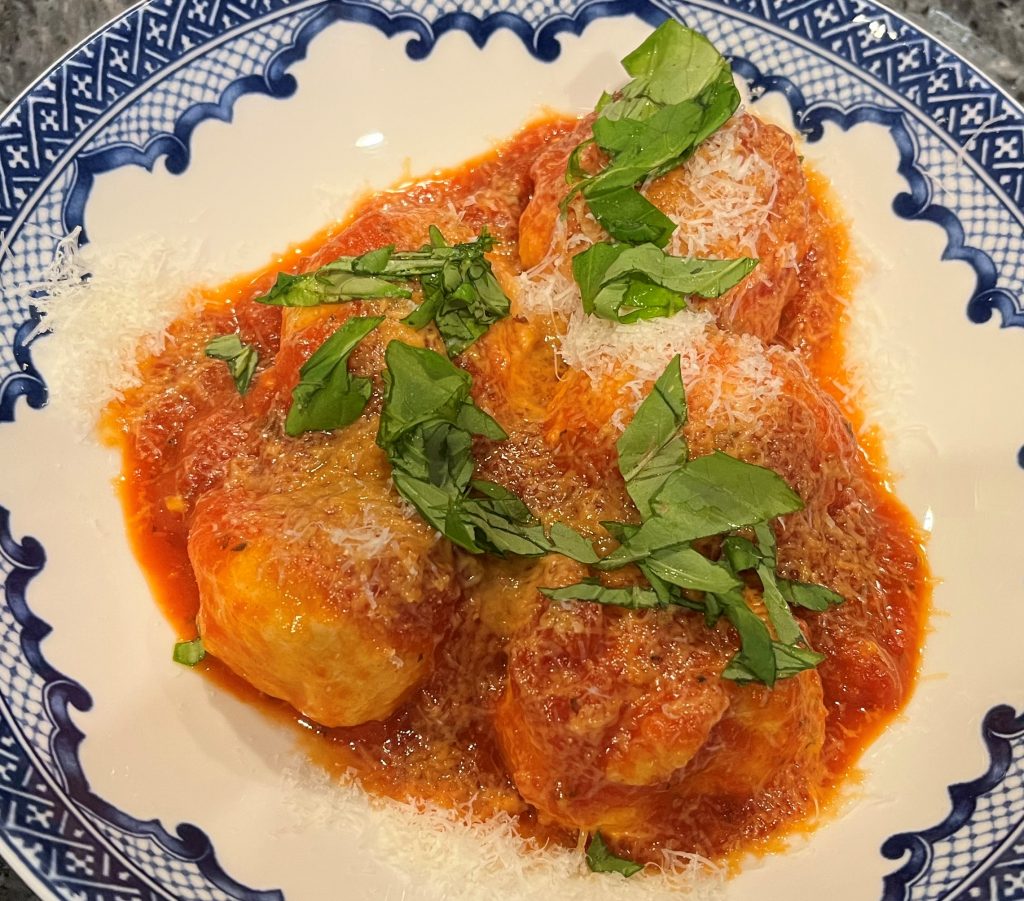 Gnudi (ricotta gnocchi) are a lighter and less-glycemic alternative to the common gnocchi made out of potatoes and flour. They are similar to the filling of a cheese ravioli.) This version is adapted from lifehacker.com. They think it makes 2 servings, but Carol and I were satisfied with 2/3 of the result. It was fairly easy (total time about an hour) and tasty. Carol thinks I should remake it with garlic and herbs in the gnudi. (Perhaps roasted garlic.)
There are 2 key insights in this version. First, the ricotta should have its moisture reduced by being pressed with paper towels. This reduces the amount of flour needed and helps keep them light. Second, the gnudi dough is easier to work with if it is chilled in the freezer. This happens in 2 brief periods.
16 oz. whole milk ricotta
1 oz. grated parmesan
1 egg, beaten
¾ tsp. salt
¼ tsp. freshly ground black pepper
½ cup all-purpose flour, plus more for dusting
Sauce of choice (The two standards are marinara (which we did) or browned butter and sage
Line a quarter-sheet pan with 3 paper towels. Spread out the ricotta evenly and put 3 more sheets on top. Put another quarter-sheet pan on top with some weights and press for a minute or two. Remove the 2 layers of wet paper towels and repeat with new paper towels.
Put the cheese in a large bowl and add the parmesan, egg, salt and pepper. Mix together and then mix in the ½ cup of flour. Spread the mixture on a quarter-sheet pan, and with a dough knife cut it into 15 squares. Cover with plastic wrap and put it in a freezer to chill for 10 minutes.
Put about a ½ cup of flour in another quarter-sheet pan. Remove the chilled ricotta mixture from the freezer. With a spoon and your hands, gently form each of the 15 squares into a ball and gently roll it in the flour, covering all the surfaces. Cover the quarter-sheet pan with plastic wrap and put the pan in the freezer to chill for 15 minutes.
While the gnudi are chilling, prepare the sauce. (In our case, this was simply warming jarred marinara.) Also bring a pot of salted water to a boil. (I found my usual Dutch oven was the right size for this batch.) When the gnudi have chilled long enough, reduce the pot of water to a gentle boil and add the gnudi, in batches if necessary. (I did not need batches with the Dutch oven.) Stir gently under the gnudi to ensure that they are not sticking to the bottom of the pot. Cook until they float, which will take 5-10 minutes. Remove from the pot with a slotted spoon and add them to the simmering sauce. Serve with the sauce, parmesan, and herbs.