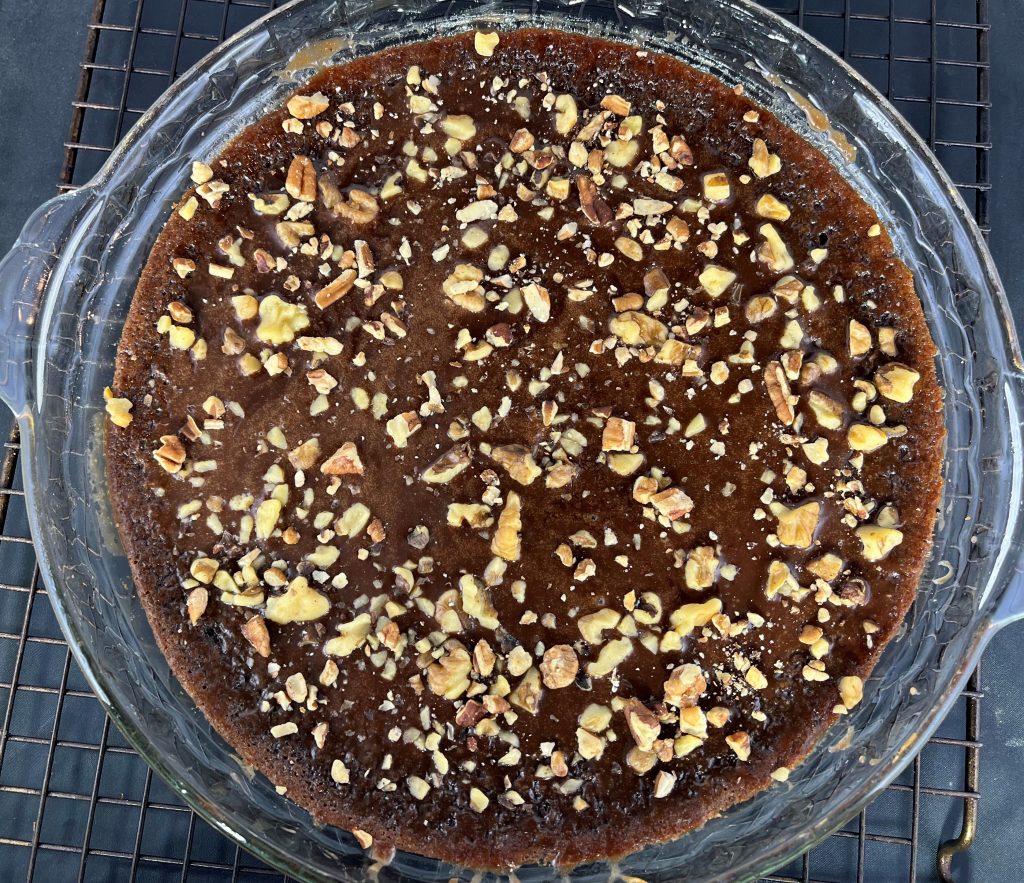 I frequently make Texas Chocolate Sheet Cake as a dessert for large groups. I recently saw on YouTube a recipe for "Texas Sheetcake for Two" on Whippoorwill Holler and decided to make it for Carol and myself. (As they confess in the actual video, this is really more of sheetcake for four.) It can be made in a 9 inch pie pan or an 8 x 8 cake pan, and takes only about 30 minutes to make.
For the cake
½ cup all-purpose flour
½ cup sugar
¼ tsp. salt
¼ tsp. baking soda
¼ tsp. vanilla
1 egg yolk
1.5 Tbs. buttermilk or milk (I used buttermilk)
¼ cup butter
1 Tbs. cocoa powder
¼ cup hot tap water
For the icing
2 Tbs. butter
1 Tbs. cocoa
1.5 Tbs. buttermilk or milk (I used buttermilk)
1 cup powdered sugar
¼ tsp. vanilla
3 Tbs. chopped pecans or walnuts
Preheat the oven to 350 degrees.
In a medium bowl, mix together the flour, sugar, and salt.
In a small bowl, mix together the baking soda, vanilla, egg yolk, and buttermilk.
In a small saucepan, mix together the butter, cocoa, and water. Heat and stir until the butter is melted and mixed with the other ingredients.
Spray a pie pan with cooking spray.
Pour the hot liquid ingredients into the bowl with the flour and stir to combine. (There is no need to wash out the saucepan since it will be used for the icing.) Then mix in the ingredients from the small bowl and pour into the pie pan. Bake 12-15 minutes until a toothpick comes out clean.
While the cake is baking, prepare the icing. Put the butter, cocoa, buttermilk, and powdered sugar into the small saucepan. Over medium heat, heat the mixture, stirring frequently, until there are small bubbles, but not a full boil. Remove from the heat and stir in the vanilla.
When the cake is done, remove it from the oven and put it on a cooling rack. Pour the hot icing over the cake and spread it evenly with a spatula. Sprinkle the chopped nuts on the top and lightly press them in. Serve warm or at room temperature, plain or with vanilla ice cream.