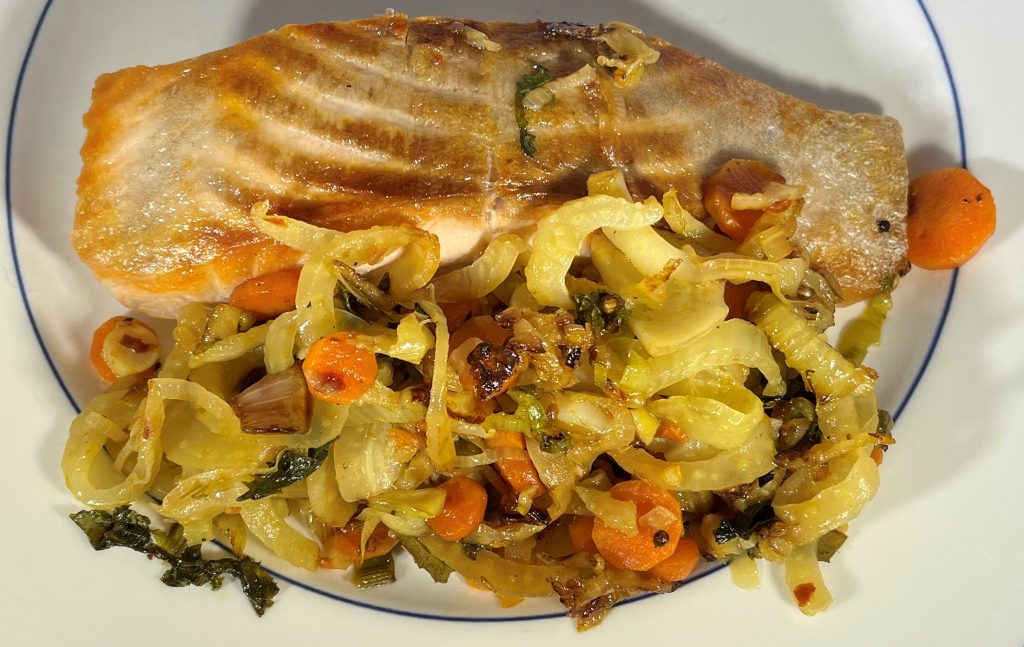 A couple of years ago, in their "Slow Food Fast" series, the Wall St. Journal published a British version of "fish en excabeche", "Seared Mackerel With Soused Vegetables", with the oily fish mackerel balanced off by lightly pickled root vegetables and a bitter leafy vegetable.  I made three substitutions due to ingredient availability.  For mackerel, I substituted salmon, the oiliest fish I saw in Wegman's.  For the bitter green Treviso, I substituted curly endive, which was the bitterest leafy vegetable available.  Finally, I substituted dry white wine for fish stock.  This is a quick dish suitable for weeknights.  This version will make 2 large servings.  We ate it with fresh bread.
2 (6 oz. ) salmon filets
Kosher salt
2 Tbs. olive oil, divided
1 fennel bulb, thinly sliced
½ carrot, peeled and thinly sliced
1 shallot, thinly sliced
¼ stalk of celery, thinly sliced
1 large clove garlic, chopped
½ bay leaf
2 Tbs. dry white wine
½ tsp. honey
¼ tsp. coriander seeds
¼ tsp. Aleppo pepper or red pepper flakes
1-1/2 Tbs. apple cider vinegar
Zest of 1/8 of an orange, finely grated
¼ cup thinly sliced curly endive or Treviso
Put the salmon filets on a plate and salt them.
Put 1.5 Tbs of olive oil in a large saucepan and heat over medium heat. Add the fennel, carrot, shallot, and garlic. Sweat the vegetables for about 6 minutes, stirring occasionally, but do not let them brown. Add the bay leaf, white wine, honey, coriander, Aleppo pepper, vinegar, and orange zest, and cook until the vegetables are soft, about 10 minutes. Add more wine from time to time if the mixture seems too dry. After 10 minutes, taste the vegetables. The target is a mild pickled taste. Add a little more vinegar if necessary. Check for seasoning
When the vegetables are nearly done, heat the remaining 0.5 Tbs. of olive oil in a skillet large enough to contain the fish fillets. Cook the filets skin side down (if they have a skin) to until the skin is crispy. (If no skin, until browned.) Cook for about three minutes.
When the vegetable mixture is done, stir in the sliced endive. Nestle the fish fillets in the vegetable mixture, browned side up, and cook until the fish is cooked through. Serve with sliced bread or another starch.