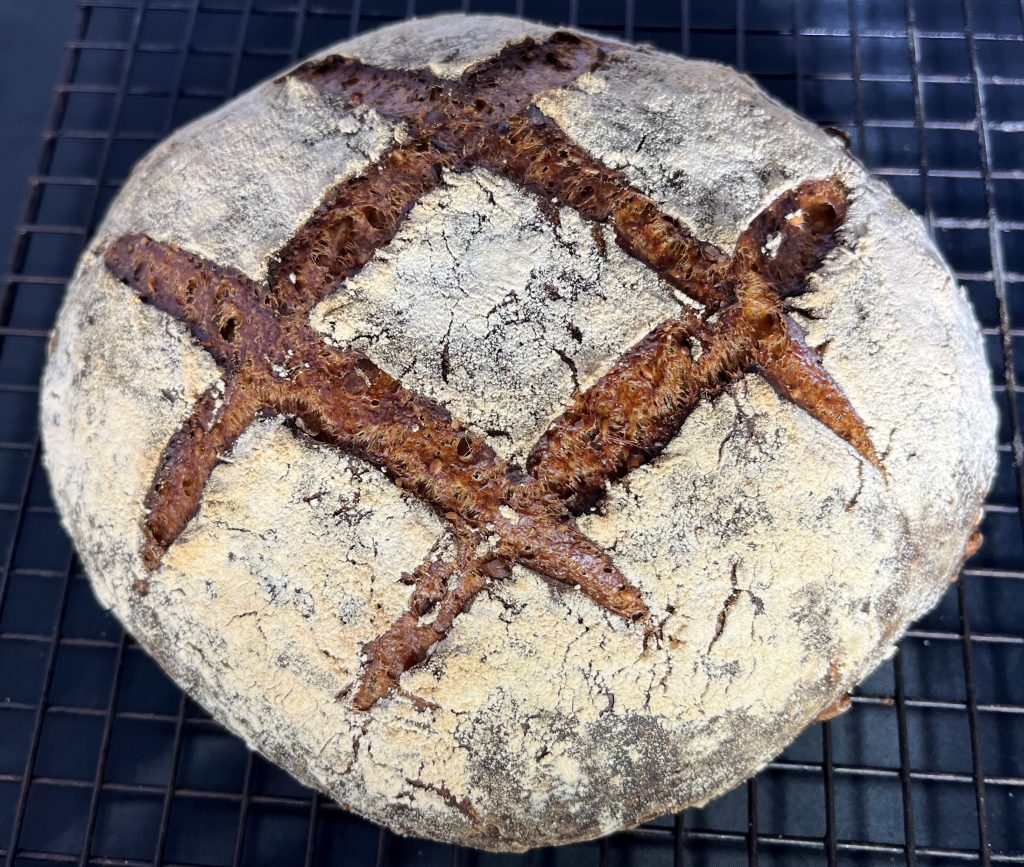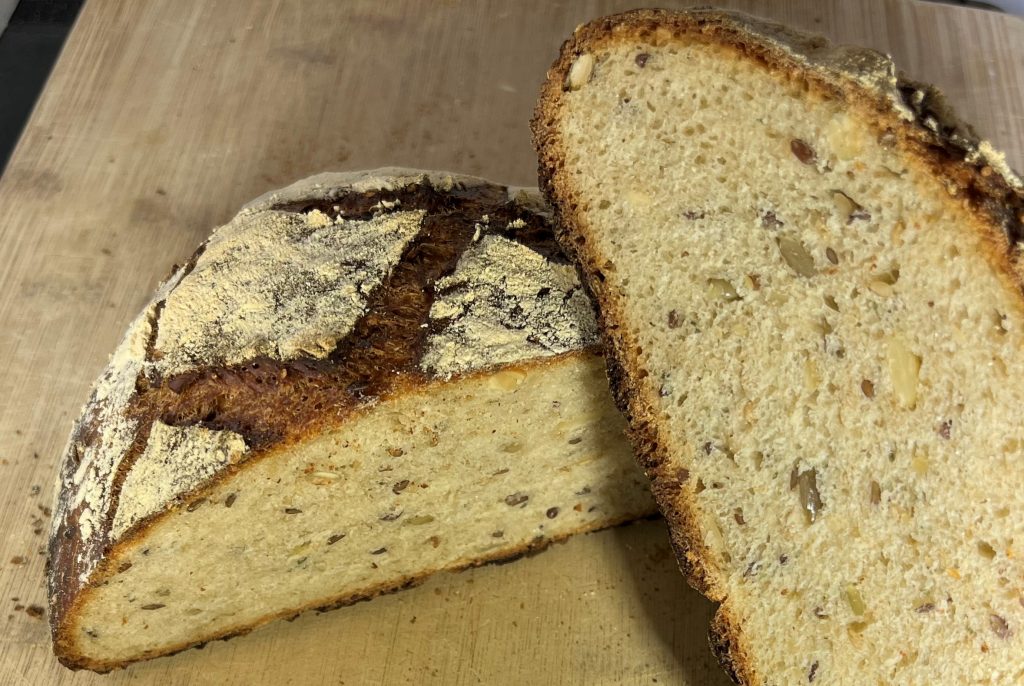 On a recent trip to Germany, Carol very much enjoyed German breads made with lots of seeds, so I baked a loaf for her based on a recipe in Peter Reinhart's Artisan Breads Every Day. The quantities below are enough to make 2 boules of the size shown in the photos. (710 g. unbaked and 617 g. after baking. Or it could make two 4.5 x 8 inch loaves.) Because of the need to hydrate (soften) the seeds, this is a bread which is best if the dough is mixed one day, and the bread is based the next day. In each of the mixing and kneading steps, only add flour to the extent necessary to be able to handle the dough. You want the dough to be sticky since some of the moisture in the dough will be used to hydrate the seeds which would otherwise be too hard. This bread is similar to Mehrkorn bread.
638 g. bread flour
85 g. whole wheat (or rye) flour
56.5 g. sesame seeds (preferably unhulled)
28.5 g. sunflower seeds, lightly toasted
28.5 g. pumpkin seeds, lightly toasted
28.5 g. flaxseed
17 g. salt
14 y. instant yeast
56.5 g. honey
340 g. lukewarm water
170 g. lukewarm buttermilk
Put all the ingredients into the bowl of a stand mixer. Roughly mix with a dough whisk and then mix with the paddle attachment on the lowest speed for 2 minutes. Let the dough rest for 5 minutes covered. Switch to the dough hook and knead for 3-4 minutes on medium-low speed. Transfer the dough to a lightly floured surface and knead by hand for about 3 minutes. Put the dough in a doubling container, lightly coat with oil, cover, and put it in the refrigerator overnight.
The next day, about 2 hours before baking, remove the dough from the refrigerator and divide into 2 equal pieces, about 710 g. each. (I put one of the 2 pieces back in the refrigerator in a smaller doubling container to bake a few days later.) Form one of the halves into a ball and put it into a lined and floured banneton. Place the banneton into a plastic bread bag. Allow to rise on the counter until nearly doubled, about 1.5-2 hours.
About 45 minutes before the dough is ready, put the Lodge combo cooker in the oven and preheat to 475 degrees. Remove the banneton from the bag and sprinkle flour on the top surface. Put a 9-inch parchment round on top and then a plate, and reverse the banneton and plate. Score the top of the dough with a lame. Put it in the bottom of the combo cooker in the oven and cover with the top. Bake covered for 30 minutes and then uncovered for 15 minutes. Allow to cool on a wire rack for an hour before cutting.