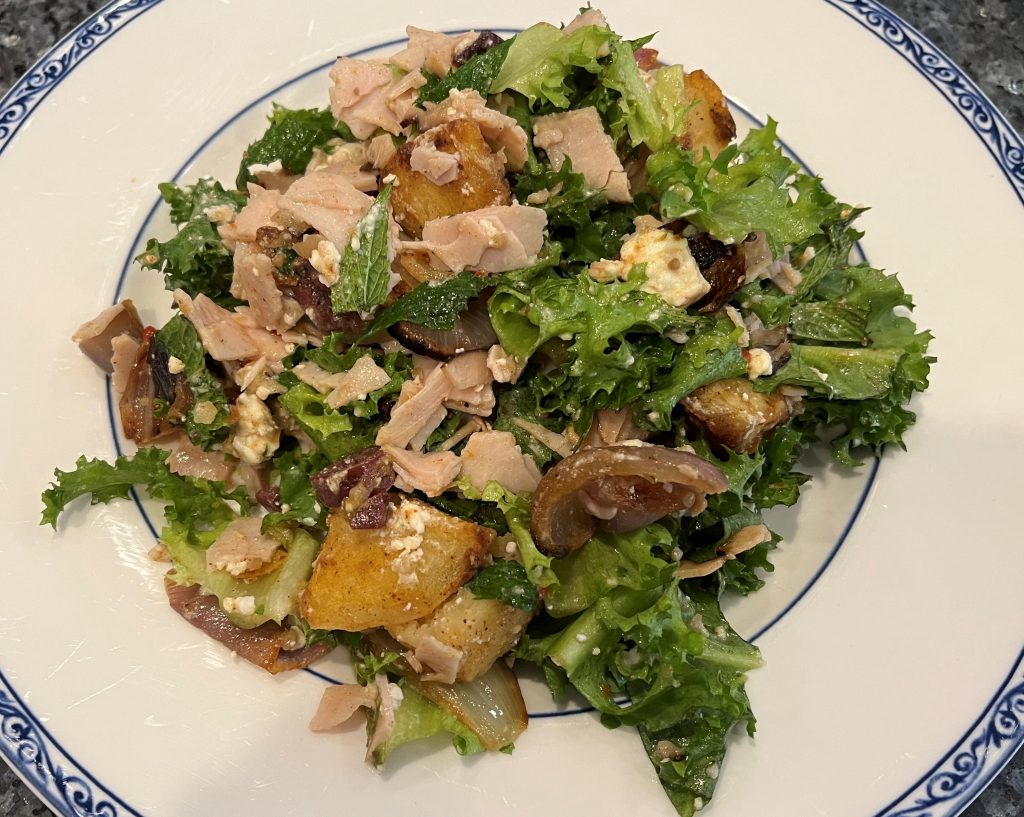 This is a variation on a "Slow Food Fast" recipe in the Wall St. Journal on May 13-14, 2023. That recipe seemed to be in general a good idea, but it also called for some ingredients I did not have. Here is how I made it for 2 people using what I did have. This is suitable for midweek since it will take less than an hour to prepare.
½ tsp. smoked paprika
¼ tsp. Mexican chili-lime seasoning
½ lb. russet potato
6 oz. shallots or onions
2 Tbs. olive oil
1-1/2 oz. feta
3 Tbs. chopped kalamata olives
1 cup curly endive, thoroughly washed and sliced into small pieces
¼ cup mint, roughly chopped
4 oz. sliced deli turkey or chicken
Vinaigrette of Italian salad dressing
Preheat the oven to 450 degrees.
Peel the potato and cut it into 1-inch chunks. Put it in a small saucepan with salted water and boil for about 6 minutes, until fork tender. Drain the potatoes and put them in a medium bowl.
Line a small sheet pan with aluminum foil.
Peel the shallots or onions and cut them into 1-inch chunks and add them to the bowl. Toss the potatoes and onions with the smoked paprika, chili-lime seasoning and olive oil. Spread them on the pan and bake until browned and completely soft. Remove from the heat and allow to cool.
Put the cooled potatoes and onions in a medium bowl with the feta, kalamata olives, curly endive, mint, turkey or chicken and salad dressing. Toss and serve immediately.