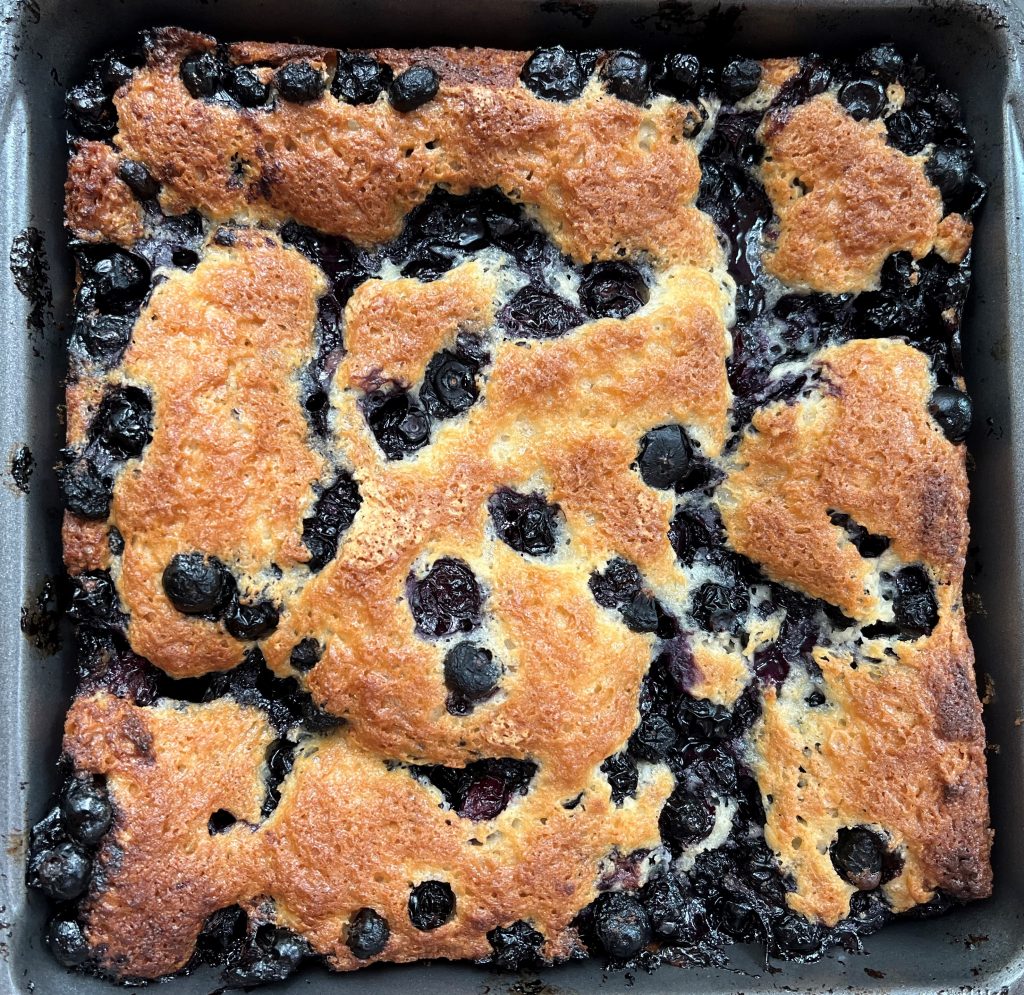 This classic dates back to the August 1998 issue of Gourmet magazine, where it was described as "Bill's Blueberry Cobbler". It is sweet and rich and has particularly tasty edges. As promised, it is also very easy. I served it for Memorial Day with vanilla ice cream. It makes 4 large or 6 adequate servings.
6 Tbs. unsalted butter
4.33 oz. (1 cup) all-purpose flour
2 tsp. baking powder
¼ tsp. salt
½ tsp. freshly grated nutmeg
1 cup sugar
2/3 cup whole milk
2 cups (~11 oz.) blueberries
Preheat the oven to 375 degrees.
Put the 6 Tbs. of unsalted butter in an 8 x 8 baking pan (or a 9 inch round pan – which is almost exactly the same size) and put it in the oven to melt the butter while the oven preheats.
In a medium bowl, whisk together the flour, baking powder, salt and grated nutmeg. Then whisk in the sugar. Stir in the milk to make a batter, but do not overmix.
When the butter in the baking pan has melted, remove it from the oven.  Pour the batter on top of the melted butter, but do not stir it in.  Then sprinkle the blueberries over the batter, but do not stir them in.  (In other words, create 3 layers – butter, topped with batter, and topped with blueberries).
Bake for 40-45 minutes until the crust is golden brown and the blueberries are oozing. Serve warm or at room temperature.