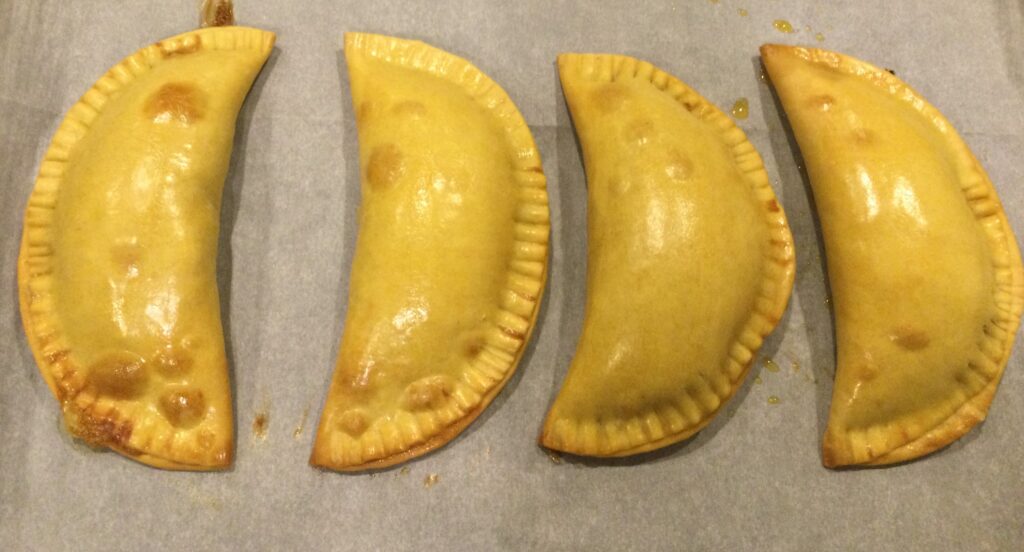 This is an adaptation of a recipe in Salon.com for an easy dish suitable for a Super Bowl party. By using rotisserie chicken and commercial empanada doughs, there is very little work for something which is quite tasty.
We used LaFe Discos Para Empanadas (available at New Grand Mart), which were very convenient and easy to handle but not particularly flavorful. 
I think the next time I would use the dough from Curried Chicken Empanadas . The recipe makes 10 6-inch empanadas.  We made 4 for the 2 of us, which was enough with cheese, paté, fresh bread, etc. for the Super Bowl.  I thought it would be better to keep the dough and filling separate until we made a second dinner out of the remaining ingredients.
Here are the dough disks we bought:
10 6-inch empanada disks (for baking not frying. Storebought (14 oz.) or home-made
2 cups chopped meat from rotisserie chicken
4 Tbs. salted butter, melted
1 Tbs. Buffalo Chicken (or other) hot sauce
2 scallions, finely sliced
4 Tbs. shredded carrot
2 oz. cream cheese, softened
4 Tbs. shredded mozarella
2 Tbs. blue cheese, crumbled
Salt and black pepper to taste
1 egg with 1 Tbs. water for egg wash
Preheat the oven to 400 degrees. Line a cookie sheet with baking parchment
Combine in a bowl the chicken, butter, hot sauce, scallions, carrot, and cheeses. Mix well. Add salt and pepper to taste.
Put the disks on a work surface.  Add about a 1.75 inch scoop (1/10th) of the filling near the center of each disk.  (Do not overfill the empanadas.).  With a finger, wet the edge of the dough disk and fold into a half circle.  Use a fork to crimp together the edges of the dough. Brush the empanadas with the egg wash
Bake for 10-12 minutes until golden. Allow to rest for 5 minutes before serving. Serve plain or with more hot sauce, ranch dressing, or blue cheese dressing.