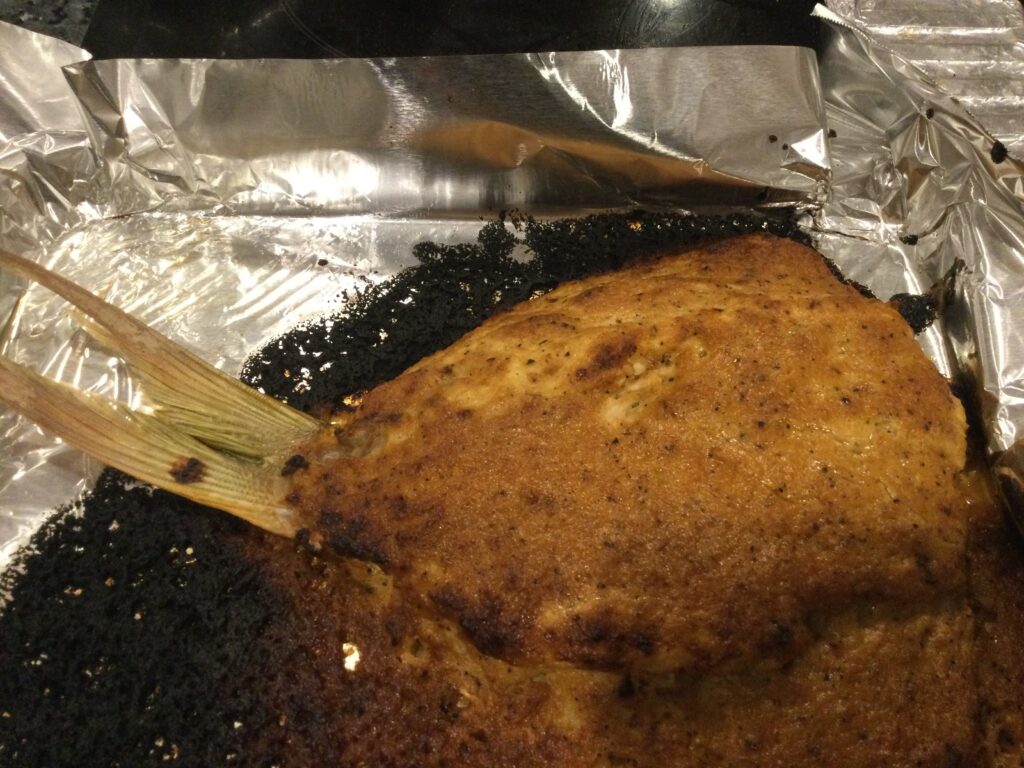 This is a style of cooking fish in Sonora and Sinaloa which was adapted to home ovens in Pati Jinich's book Treasures of the Mexican Table. The quantities below are sized for 2 persons. At Pati's suggestion, we served the fish with corn tortillas as tacos. Carol thought it did not need the tortillas and would be good with side dishes such as rice.
2 large cherry tomatoes
3 cloves garlic, unpeeled
¼ onion, peeled
1 fresh Anaheim or Hungarian wax pepper (i.e. something midly spicy)
2 Tbs. fresh lime juice
2 Tbs. mayonnaise
1 Tbs. crema, crème fraiche, or heavy cream
1-1/2 Tbs. yellow mustard
1 Tbs. soy sauce
1-1/2 tsp. Worcestershire sauce
1 Tbs. unsalted butter, softened
½ tsp. kosher salt
¼ tsp. freshly ground black pepper
Vegetable oil or cooking spray
1.75 lb. snapper, split and deboned
Preheat the broiler. Line a cookie sheet with aluminum foil and put in a rack. Broil the tomatoes, garlic, onion, and pepper until they are blistered and charred. Remove the tomatoes, garlic and onion to a plate when done. When the pepper is done, put it in a plastic bag to steam off the skin. Remove the skin when it is cool enough to work with.
Preheat the oven to 450 degrees. Line a baking sheet pan with aluminum foil. Coat the aluminum foil with vegetable oil or cooking spray. Put the split fish on top of the aluminum foil.
Put in a blender the roasted vegetables and the sauce and spice ingredients.  Blend until smooth.  Pour the sauce over the fish covering it fully.
Roast the fish for 20-30 minutes until it is cooked through and the sauce is a bit crusty.