Many years ago I clipped out a recipe (possibly from the NYT) for fluke prepared in a Venetian style (sweet and sour, like an escabeche).  This idea proved to be a good way to use 2 pieces of cod in my freezer.  Carol thought this would be a good dish for parties since it can all be made in advance and served at room temperature.  The quantities below are for 2 servings.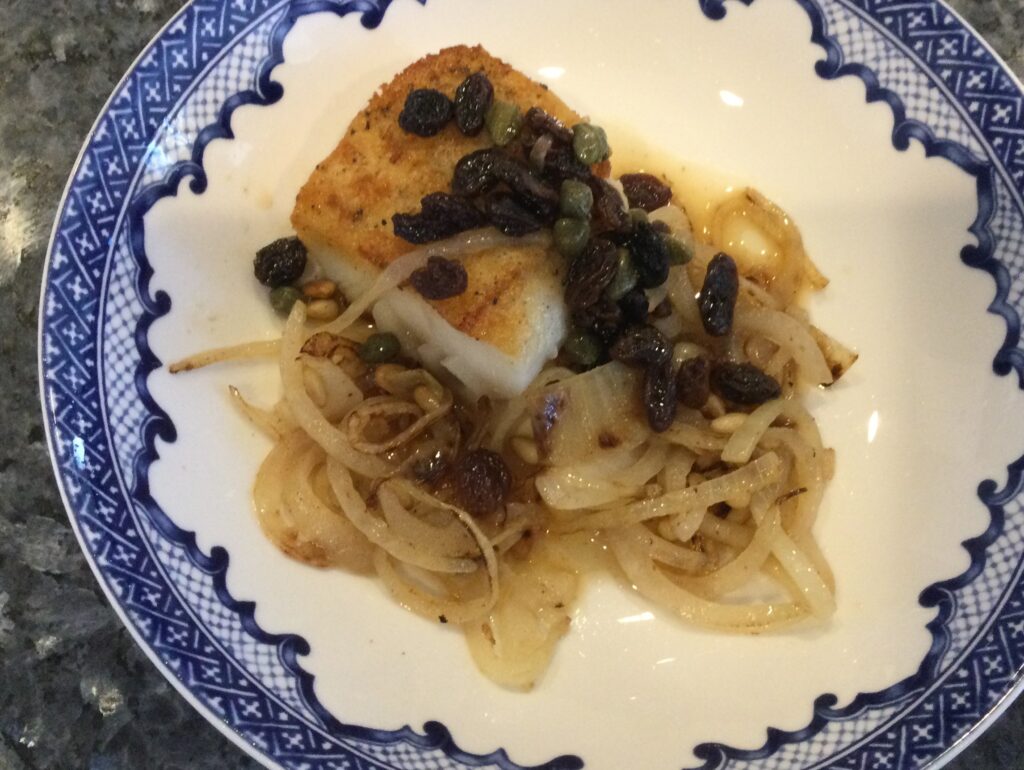 2 fish fillets, 6 oz. each
½ large onion, coarsely chopped
1 Tbs. + 1 tsp. olive oil
2 tsp. pine nuts
1/3 cup dry white wine
1-1/2 Tbs. raisins
1 tsp. capers
1 tsp. white wine vinegar
1/3 tsp. sugar
Flour, salt and pepper
Heat some water and simmer the onion in a saucepan for 10 minutes. Then drain the onions.
In a bowl place the wine, raisins, capers, white wine vinegar, and sugar.
Pat the fish fillets dry with paper towels. Coat the two sides with flour and some salt and pepper.
Heat the olive oil in a skillet. Sauté the fish for 5 minutes on each side until cooked through and golden. Put the cooked fish on serving dishes. (Yesterday I put each fillet in a shallow bowl.)
Sauté the onions and pine nuts in the skillet until the onions are softened and the nuts are browned. Put the onions and pine nuts with the fish in the serving dishes.
Empty the bowl with the wine, raisins, etc. into the skillet and cook over low heat until it has been slightly reduced. Season with salt and pepper. Pour the sauce over the fish and onions.
Allow a minimum of 30 minutes of cooldown time before serving.
This can be made well in advance and held in a refrigerator. Bring to room temperature before serving.