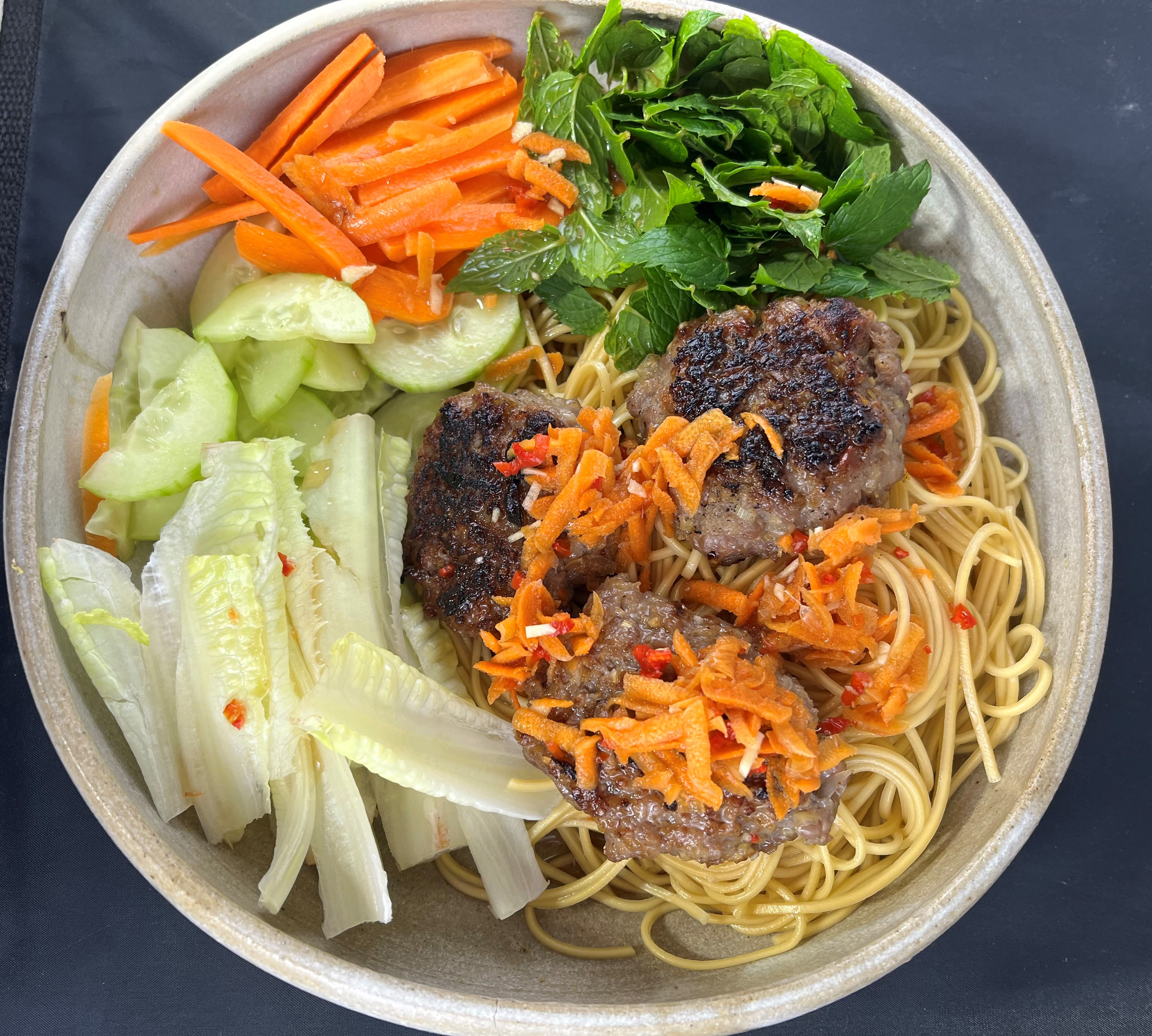 This is a good light meal for the summer and involves almost no oil or fat. It makes 4 servings and takes 2-3 hours of elapsed time, mainly for the meat mixture to rest in the refrigerator to blend the flavors. This version is adapted form a recipe in budgetbytes.com
For the meatballs
1 lb. ground pork
3 cloves garlic, finely chopped
4 Tbs. lemongrass, finely chopped (most of a large stalk, after discarding a couple of the outer leaves. Start from the bottom and chop finely.)
2 Tbs. honey
1 Tbs. fish sauce
1 tsp. salt
¼ tsp. freshly ground black pepper
To fry the meatballs
3 Tbs. vegetable oil
For the dipping sauce
¼ cup lime juice (about 2 limes)
¾ cup water
3 Tbs. fish sauce
1 Thai red bullet chili, finely chopped (or equivalent quantity in jalapeno or serrano)
1 clove garlic, finely chopped
2 Tbs. sugar
1 carrot, peeled and shredded
For the bowl
8 oz. rice vermicelli noodles (or equivalent in Asian wheat noodles or bean thread noodles
Lettuce
Fresh mint leaves
1 carrot, cut into matchsticks
½ cucumber, sliced
In a medium bowl mix together the flavorings for the meatballs and then mix in the ground pork. Do not overwork the meat. Cover and chill in the refrigerator for 1-2 hours. Remove from the refrigerator and form the meat into 1-inch meatballs using a baller or a spoon. Flatten each meatball slightly into a disk.
Mix together in a small bowl the dipping sauce ingredients.
In a large skillet, heat the oil over medium heat. Fry the meatballs until browned on both sides and cooked through, using batches if necessary to avoid crowding the pan.
Cook the noodles according to the package instructions, and then drain and cool to room temperature.
In 4 large flat bowl, put a portion of the noodles, and then a portion of the lettuce, mint leaves, carrot and cucumber. Top the noodles with the meatballs. When ready to serve, spoon the dipping sauce over everything.