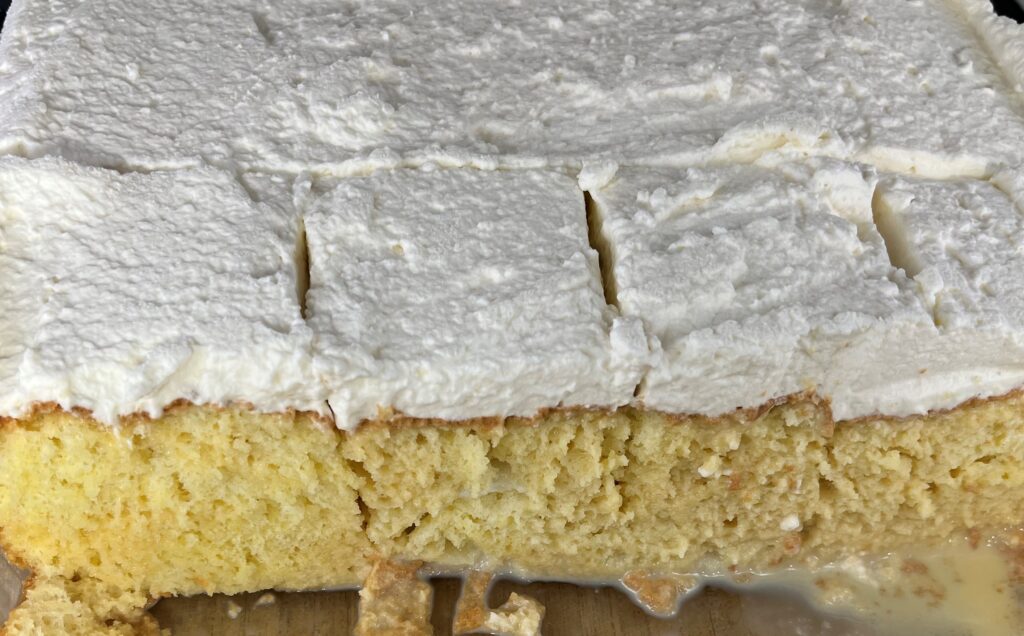 This is the version of the Texas classic which Carol has been making lately for family gatherings. It has always been well received. It is adapted from a recipe in the NY Times and will serve 12 or more, depending on the size of the slices. It should be at least 2 hours in advance (and preferably the day before) to give the three milks time to soak into the cake.
Butter to grease the pan
285 g. all-purpose flour
2.25 tsp. baking powder
0.75 tsp. kosher salt
6 eggs at room temperature, separated
225 g. (1 cup + 2 Tbs.) granulated sugar, divided
1.5 cups whole milk, divided
14 oz. can sweetened condensed milk
12 oz. can evaporated milk
1 tsp. vanilla extract
1.5 cups heavy cream
1 Tbs. confectioners' sugar
Rum, brandy or whiskey to serve (optional)
Preheat the oven to 350 degrees. Grease the bottom of a 13 x 9 inch pan, but do not grease the sides so that the cake as it bakes will climb up the sides and increase the cake's volume.
In a medium bowl, whisk together the flour, baking powder and salt.
In the bowl of a stand mixer, at medium-high speed, beat the egg yolks with 100 g. (1/2 cup) of the sugar until pale and thick, about 3 minutes. Beat in ½ cup of milk. Reduce the speed to low and beat in the flour mixture.
In another large bowl with clean beaters, whip the egg whites until foamy, about 1 minute. Mix in the remaining 125 g. (1/c cup + 2 Tbs.) sugar for about 2 minutes until there are medium-stiff peaks.
Mix a little of the egg whites into the batter and then gently fold the rest of the egg whites into the batter.
Pour the batter into the prepared pan and smooth the top surface. Bake for 25-30 minutes until a toothpick in the center comes out clean. Put the cake on a cooling rack.
While the cake is baking, mix together in a bowl the remaining 1 cup of whole milk, the sweetened condensed milk, the evaporated milk and the vanilla extract.
Poke holes at ½ inch intervals in the cake, and while still warm, slowly spoon the milk mixture over the cake, as evenly as possible. Spread about a cup at a time, waiting 5 minutes between batches. If there is a standing pool of milk on top of the cake at a certain spot, poke a hole in that area to help the milk soak in.
Cover the cake and refrigerate it at least 2 hours or overnight.
Right before serving, whip the heavy cream with the confectioner's sugar and spread it over the top of the cake.
As an option when serving, the adults may enjoy a Tbs. of so of rum, brandy, or whiskey poured over their piece of the cake.