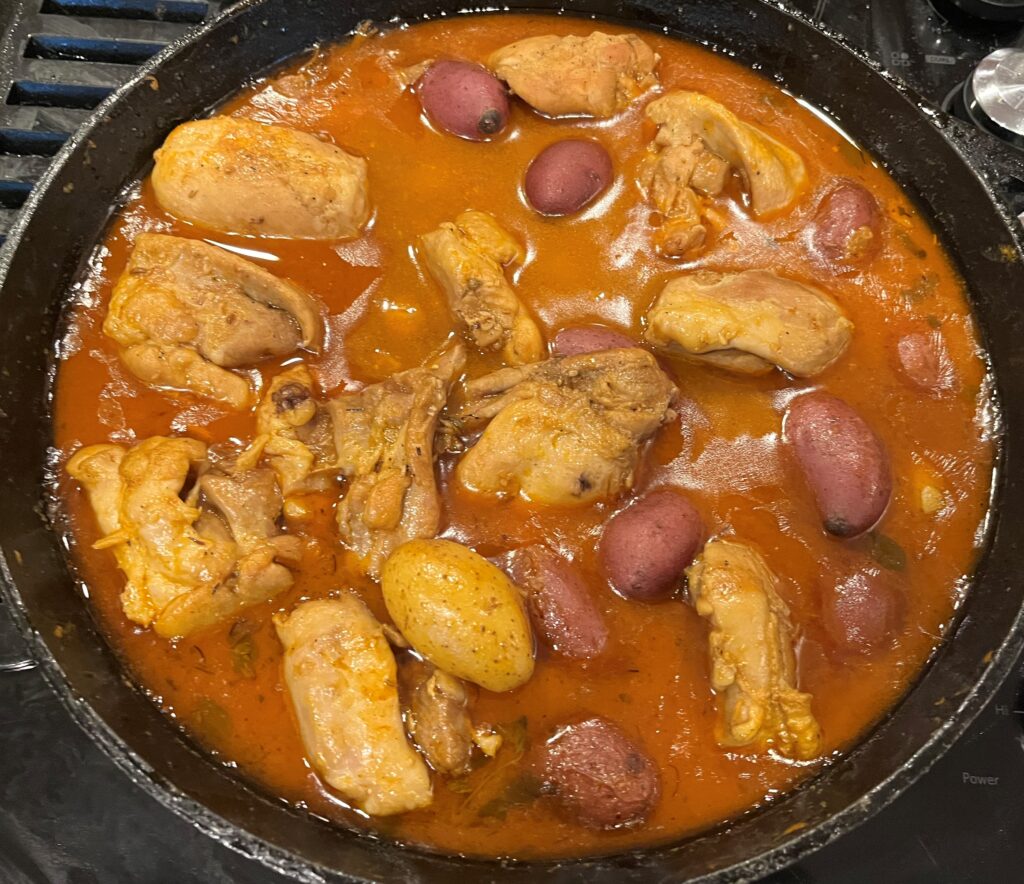 This dish is two steps removed from the normal seafood bouillabaisse, which is a Provencal classic. Patricia Wells has in her cookbook At Home in Provence a variation she calls "Monsieur Henny's Rabbit Bouillabaisse" and then notes that chicken could be substituted for the rabbit. I took her up on that idea since chicken is so much cheaper than rabbit. I made her Rouille to accompany the dish, but the emulsion broke, so the next time I make this I plan on using Two Minute Aioli , which uses an immersion blender and was quick and easy
Although bouillabaisse is a soup, Carol thought we should vary it one more dimension and thicken up the broth into a sauce. Cornstarch is probably the easiest way to do that.
This recipe makes 6-8 servings
3 lbs. boneless, skinless chicken thighs
Salt and freshly ground black pepper
3 Tbs. extra virgin olive oil
1 head garlic, separated into individual cloves and peeled
2 Tbs. tomato paste
1 cup dry white wine
3 cups water
Pinch saffron
1 tsp. fennel seeds
Sprigs of fresh thyme
4 bay leaves
2 Tbs. anise liqueur
1 lb. small potatoes
Aioli to taste
Generously salt and pepper the chicken thighs.
In a large cast iron skillet, heat the olive oil over medium-high heat. Add the chicken and reduce the heat and cover. Shake the pan periodically and cook for about 10 minutes, flipping the chicken halfway, until browned on both sides. Remove the chicken to a pan.
Add the garlic and fry for a few minutes. Add the tomato paste and fry until fragrant. Deglaze the pan with the wine and water. Add the saffron, thyme, bay leaves, and anise liqueur. Cover and simmer for 30 minutes.
Remove the bay leave and thyme sprigs, and discard. Using a slotted spoon, put the garlic from the pan into a small bowl with some of the liquid and puree it with an immersion blender. Pour the puree back into the pan. Add the chicken and potatoes in a layer and simmer gently until the chicken and potatoes are done, about 25 minutes. Check the seasoning.
Serve in shallow bowls and pass around the aioli