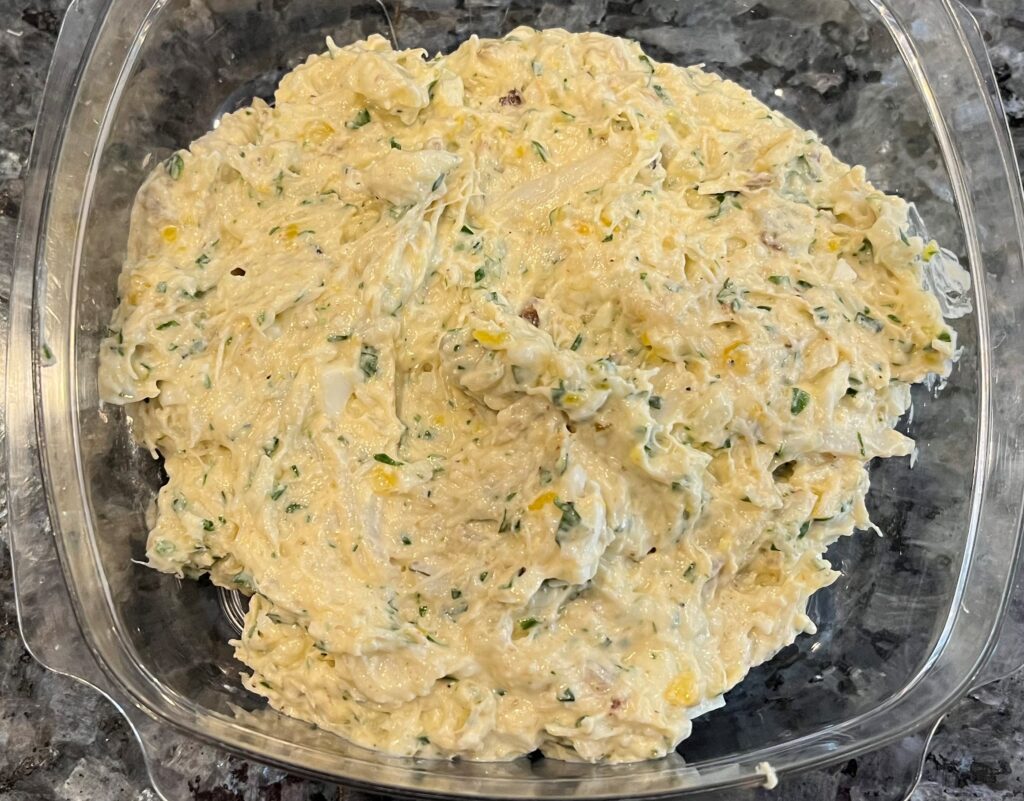 At the beach last week, we had steamed crabs to celebrate Carol's birthday. There were a few leftover crabs, which Carol picked, and I turned the picked crabmeat into a paté by adapting a recipe in an Outer Banks cookbook I found in our unit. The photo shows a 1/3 recipe (about 1 cup), based on how much crabmeat we had to use up. I did not add any salt since the crabs were steamed with Old Bay Seasoning and the paté seemed to be already salty enough. (Store-bought crabmeat might need the salt.) We enjoyed the paté on crusty home-made bread.
8 oz. crabmeat
½ cup salted butter, softened
2 Tbs. lemon juice
½ cup mayonnaise
1 Tbs. Dijon mustard
1 Tbs. prepared horseradish
3 hardboiled eggs, peeled and with yolk and white separated
½ cup freshly grated Parmesan cheese
1 tsp. finely chopped garlic
¼ cup finely chopped onion (original recipe was 3 Tbs. chopped chives or scallions)
3 Tbs. finely chopped fresh parsley
½ tsp. freshly ground black pepper
Salt to taste (original recipe suggested 1 tsp.)
In a large bowl, mix together the butter and lemon juice. Then add the mayonnaise, mustard, and horseradish.
Mash the egg yolks with a fork and add them to the mixture in the bowl. Mix in well.
Chop the egg whites and add them to the bowl with the crabmeat, Parmesan, garlic, onion, parsley, and black pepper. Mix well and check for seasoning.
Chill in the refrigerator for at least 2 hours before serving with crusty bread or crackers.