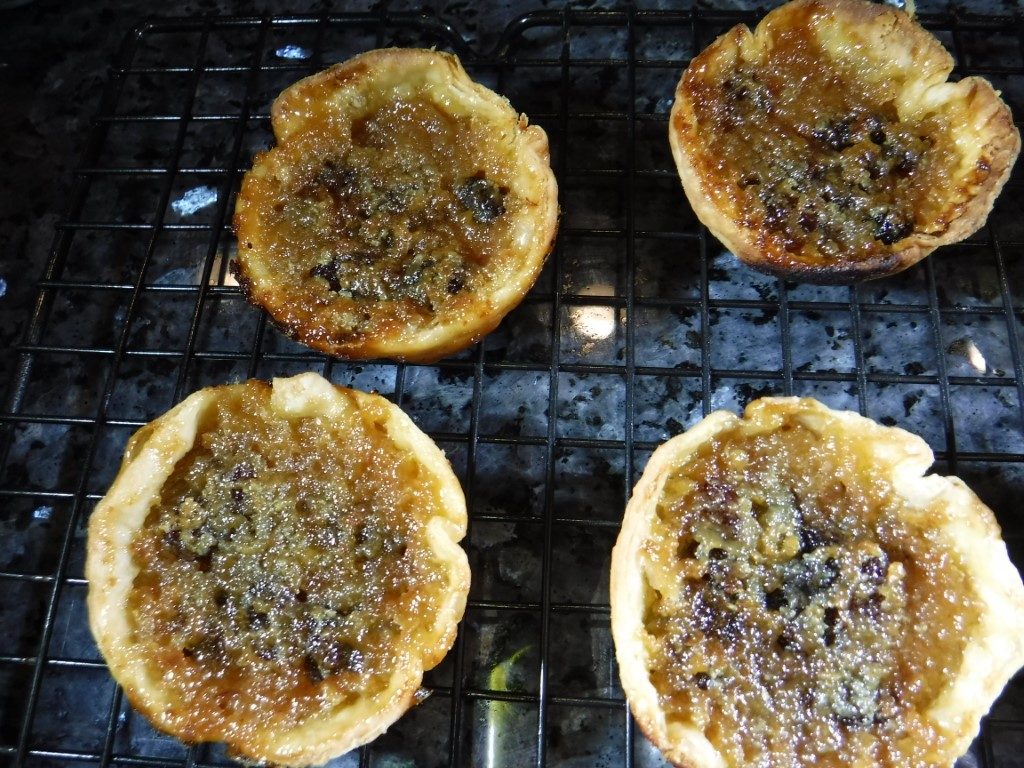 Maybe because I visited Thunder Bay, Ontario a couple of months ago on a Boy Scout trip to the Northern Tier, I have seen a number of references recently to a Canadian cousin of Pecan Pie, the Butter Tart.  I made a batch for last night's Boy Scout Court of Honor, and they were a hit.  Unlike a pecan pie, these were made in little tarts which are about the size of two or three bites.  I made them with raisins in the filling, to emphasize that I was not making little pecan pie bites, but walnuts or pecans could be used in the filling.  This particular version started off with a recipe by Elizabeth Baird, a former food editor of Canadian Living magazine, as passed through an article in tastingtable.com, and then I made my own adaptations.  One was that while the original recipe called for corn syrup, I used about 2/3 cane syrup from some open bottles I had.  Cane syrup (Lyle's Golden Syrup or Steen's Cane Syrup) is much more flavorful than corn syrup.  I also accidentally reduced the brown sugar in half from the original recipe, but the tarts were plenty sweet despite with the lower sugar.
One recipe makes 12 tarts.
Pastry
1-1/2 cups (6.5 oz.) all-purpose flour
¼ tsp. salt
½ cup cold butter, cut into small cubes
1 large egg yolk
1 Tbs. fresh  lemon juice
Ice water (to make ½ cup liquid with the yolk and lemon juice)
Filling
¼ cup light brown sugar
½ cup cane or corn syrup
1 large egg at room temperature
2 Tbs. very soft butter
1 tsp. vanilla extract
1 tsp. fresh lemon juice
Pinch of salt
¼ cup raisins, currants, chopped walnuts, or chopped pecans
To make the pastry, mix together in a large bowl the flour and salt.  Using a pastry cutter, cut in the cold butter until there are pieces the size of small peas mixed in with the flour.  (The secret to flaky pastry is to have discrete bits of butter in the pastry dough).  Mix together the egg yolk and lemon juice in a measuring cup, and add ice water sufficient to bring the total liquid volume to ½ cup.  Sprinkle the liquid over the flour/butter mixture.  With a rubber spatula, mix and press the pastry until it forms a coherent dough.  Avoid overworking the dough to avoid gluten development, which would make the pastry tough.   Form the dough into a disk, wrap it in plastic wrap, and put it into a refrigerator for at least 30 minutes.
Preheat the oven to 450 degrees and get out a 12 cup muffin tin.
In a medium bowl mix together all the filling ingredients except the raisins (or currants, walnuts, or pecans).
On a lightly floured pastry cloth, roll out the dough until it is around ¼-1/8 inch thick.  Cut 12 circles with a 3-1/2 to 4 inch pastry cutter.  Put each circle in one of the cups of a muffin tin, and press the sides as needed to form an even pastry cup out of the dough.  Scatter the raisins (or currants, walnuts, or pecans) over the cups and then distribute the liquid filling evenly.  Bake for about 12 minutes until the pastry is golden and the filling is puffed and bubbly.  Remove from the oven and allow to cool for about a minute.  Then use a butter knife to slide along the edges of each tart to separate it from the tin, and put the individual tarts on a wire rack to cool.