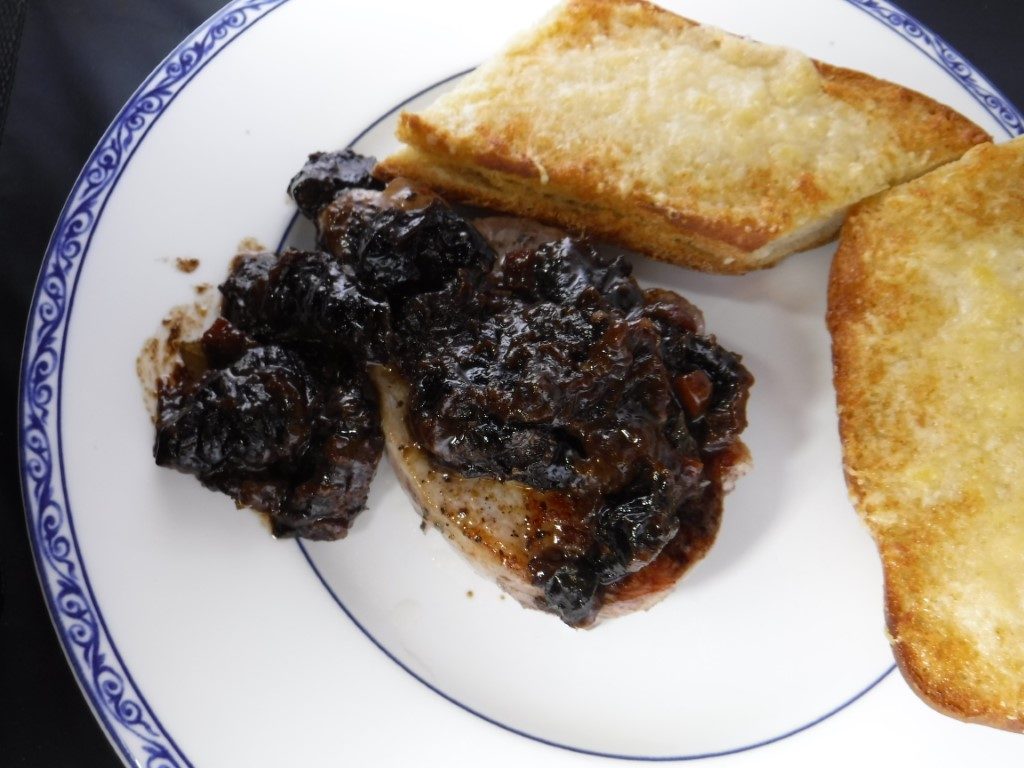 This was adapted from Mimi Thorisson's new book, French Country Cooking: Meals and Moments from a Village in the Vineyards.  The main change I made was cooking the pork sous-vide at 140 degrees rather than panfrying it.  I also forgot to soak the prunes before making the sauce, so I cooked them longer in sauce, and I think that is why the sauce turned out to be so thick.  It was all very tasty though.  This should have been served with mashed potatoes, but I made baguettes the previous day, and I decided that they would become garlic bread and would be the starch part of the meal.
2 lbs. pork loin, cut into 6 pieces
3 cloves garlic
Salt and pepper
2-1/2 Tbs. unsalted butter, divided
1 medium carrot, diced
2 shallots, finely chopped
1 bay leaf
Leaves from 3 sprigs of thyme
¾ cup red wine
2 Tbs. red wine vinegar
14 cup chicken stock
8 oz. prunes, soaked in warm water for 15 minutes
Sprinkle the pork slices with salt and pepper and seal them with the garlic in a zip lock baggie.  Cook in a sous-vide apparatus at 140 degrees for between 1 and 4 hours.  (Alternatively, pan fry in a small amount of butter and olive oil).
While the pork is cooking, make the sauce.  In a medium pan, melt 1 Tbs. of the butter, and saute the carrot and shallot for a few minutes until softened.  Add the bay and thyme leaves and then the red wine and vinegar.  Simmer for a few minutes to reduce slightly.  Add the stock, and bring to a low boil and then reduce to a simmer for 10 minutes.  Add the remaining butter and the soaked prunes, and simmer for 5 minutes to blend.
When the pork is done cooking sous-vide, remove the pork slices from the baggie and pat them dry.  Pour the juices which accumulated in the bag through a sieve and add them to the sauce.  Continue to cook the sauce until it has a nice consistency.  Check for seasoning.
In a large frying pan, heat a little oil over high heat.  Saute the pork slices for a minute or two a side to develop a nice crust.  Serve with the prune sauce.