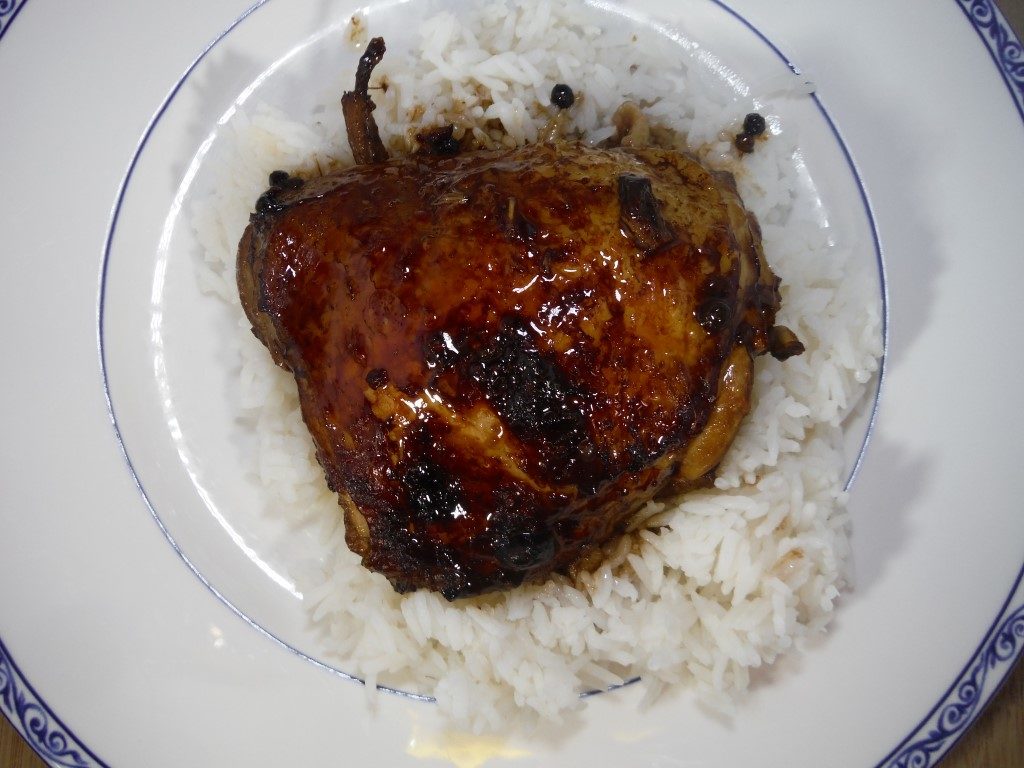 This Filipino classic is very easy to do, and was on my mind since Amanda asked for a recipe for it for a dinner party she is hosting. This version is adapted from Marvin Gapultos' The Adobo Road Cookbook. Cane Vinegar can be found in the larger international grocery stores, like New Grand Mart.
¼ cup soy sauce
½ cup cane vinegar (or white distilled vinegar)
8 cloves garlic, peeled and smashed
1 tsp. whole black peppercorns
2 bay leaves
6 skin-on and bone-in chicken thighs
Mix together the soy, vinegar, garlic, peppercorns, and bay leaves in the bottom of a non-reactive pot. Add the chicken thighs, skin side down.   Cook on high heat until the mixture comes to a boil, and then reduce to a simmer and cover for 20 minutes. Flip the chicken pieces so that they are now skin-side up, and baste them. Cover and simmer for another 10 minutes.   Remove the lid, and turn the temperature up to medium-high, and reduce the sauce, basting the chicken periodically.
While the sauce is reducing, an option (which I followed) is to put the thighs skin-side up on a foil lined cookie sheet and to broil them for 3-5 minutes to crisp up the skin.
When the sauce is reduced, spoon it over the chicken and serve with white rice.