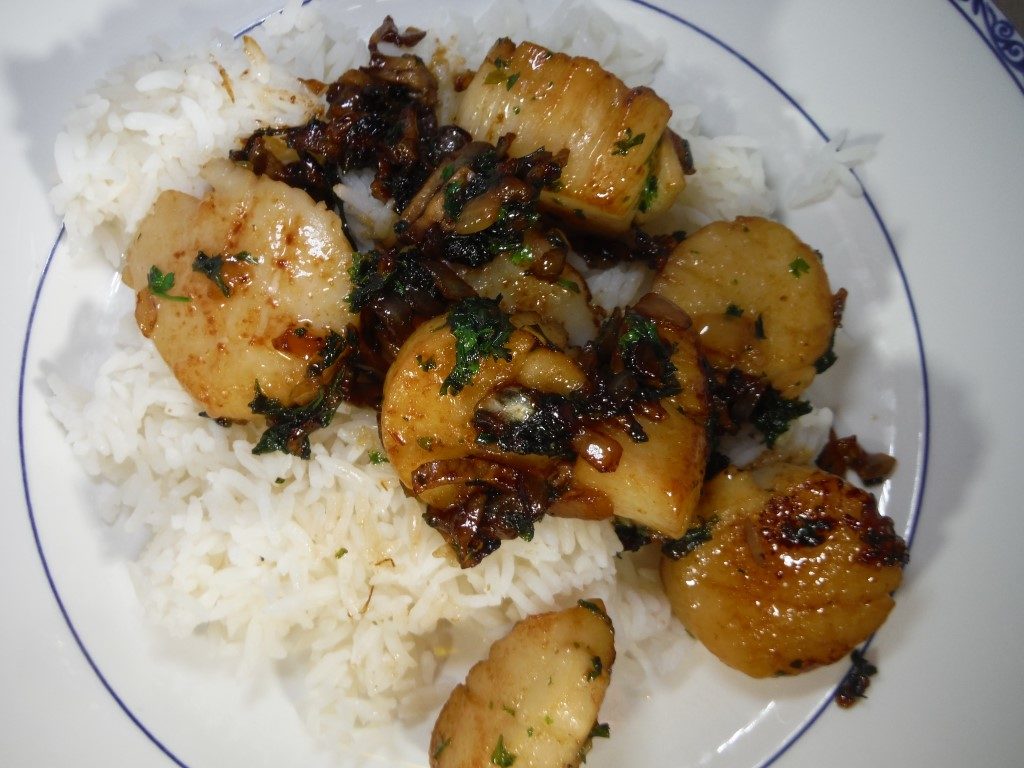 This is an adaptation of a dish served at a Galician restaurant Casa Simeon as documented in Penelope Casas's book Delicioso: The Regional Cooking of Spain. The idea is to have good quality dry-pack scallops and then to complement, but not to overwhelm, their flavor. This is how we made it for 2 persons, using some home-cured pork instead of the jamon serrano.
¾ lb. scallops
Kosher salt
2 Tbs. olive oil
¼ cup chopped onions
2 Tbs. chopped jamon serrano or prosciutto
2 Tbs. chopped parsley
A few strands of saffron
3 Tbs. dry white wine
Freshly squeezed lemon juice
Dry the surfaces of the scallops on paper towels. Sprinkle the scallops with the salt.
Heat a large frying pan with the oil. When very hot, add the scallops and quickly brown them on both sides. (Do not worry about whether they are cooked through, since there will be more cooking later.) Remove the scallops to a plate and add the onions and chopped jamon. Sauté over medium heat until the onions are translucent. Add the parsley, saffron, wine, and scallops, and cook until the scallops are cooked through. Check for seasoning. Sprinkle with fresh lemon juice and serve.