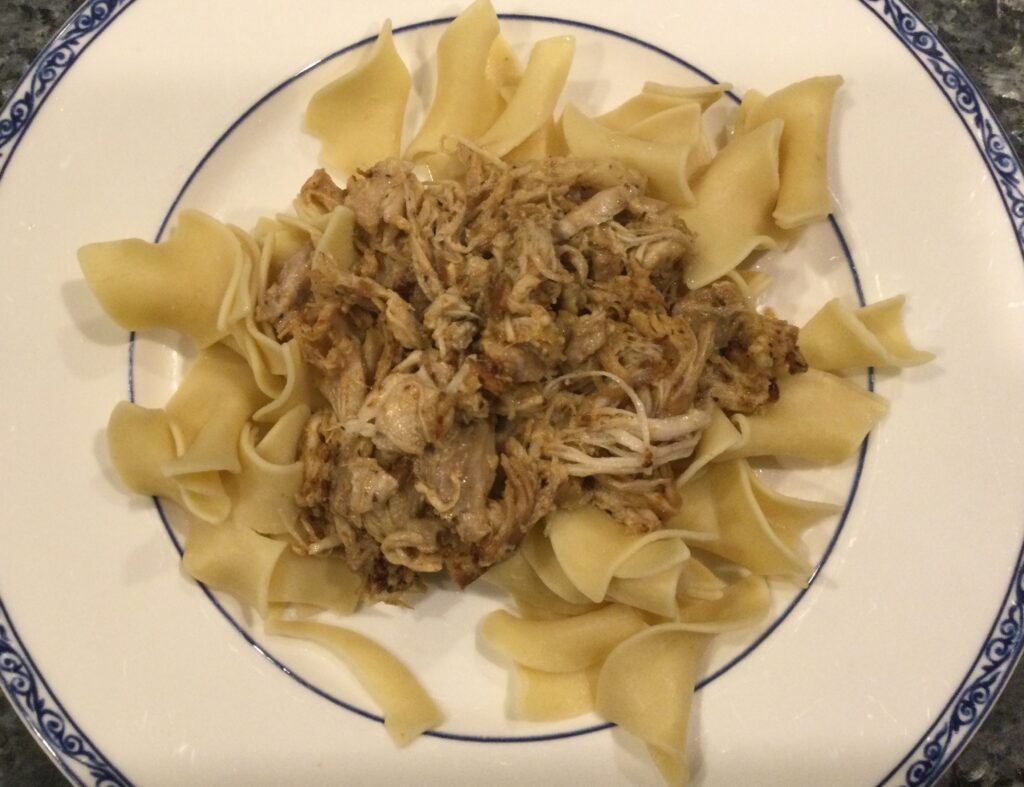 This is a variation of a rabbit dish in Aglaia Kremezi's The Foods of the Greek Islands, which I changed mainly by replacing rabbit, which is quite expensive and hard to find, with boneless chicken thighs, which are inexpensive and very easy to find. I served it with wide egg noodles. It could also have been served with mashed potatoes, pasta or rice. Carol really liked this one. It will make 6 servings and takes about an hour and a half.
1/3 cup olive oil
3 lb. boneless, skinless chicken thighs
Freshly ground black pepper
6 garlic cloves, chopped
1 cup dry white wine
1 Tbs. dried oregano
7 oz. feta, crumbled
1 cup chicken stock
3-4 Tbs. fresh lemon juice
Preheat the oven to 375. Position the racks so there is room for a covered Dutch oven.
Heat the olive oil in a Dutch oven on the stove. Grind pepper on the chicken thighs and fry them in batches until browned on both sides. Remove the first batch to a plate while frying the second batch. When the second batch is almost done, add the chopped garlic and cook until softened. Deglaze the pan with the wine and return the first batch of chicken to the pan. Add the oregano, feta, and chicken stock. Bring to a boil and then cover and put the pot in the oven for an hour. Remove the pot, add the lemon juice, and stir well to mix the oil, feta, and lemon into a sauce with the chicken. Return the pot to the oven and bake uncovered for 15 minutes. Serve with noodles, pasta or another starch.