A reading assignment for one of my granddaughters involved analyzing a recipe for Irish soda bread. We followed up the assignment by making the bread from the recipe last night, and we enjoyed the bread very much for breakfast this morning. Like most quick breads, it benefits from little handling, so that it is tender, and is best soon after it is made. This will make one large round loaf.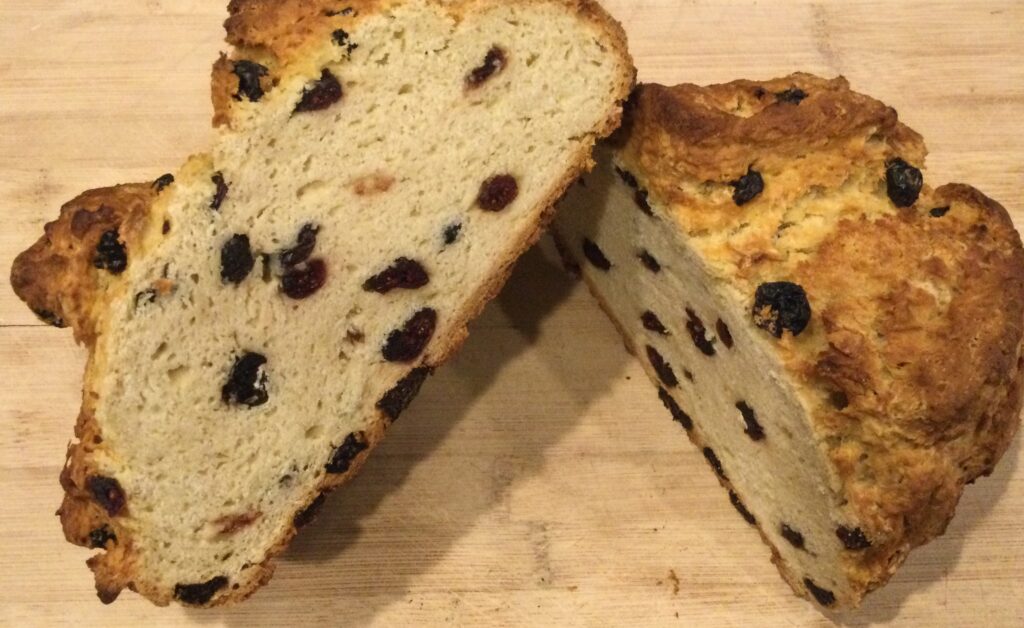 4 cups (17.3 oz.) all-purpose flour
1 tsp. baking soda
1 tsp. salt
1 Tbs. sugar
4 Tbs. unsalted cold butter, cut into little pieces
1-2/3 cups cold whole fat buttermilk
1 cup raisins (optional but very good)
Preheat the oven to 400 degrees. Line a cookie sheet with a piece of baking parchment.
In a large bowl mix together the dry ingredients. Cut the butter into the dry ingredients with a pastry cutter until there are no large pieces remaining. Mix in the raisins. Add the buttermilk, and mix with a dough whisk or large spoon until all the flour is absorbed into a dough. Put the dough on a lightly floured surface. Knead briefly and form into a ball. Put the ball on the baking parchment and cut a shallow x in the top.
Bake about 45 minutes until golden brown and cooked through. (Two tests for cooking through are to insert a toothpick and to have it come out clean or to use an instant read thermometer and to have the internal temperature reach 190 degrees.) Remove the cooked bread from the oven and allow to cool before slicing.