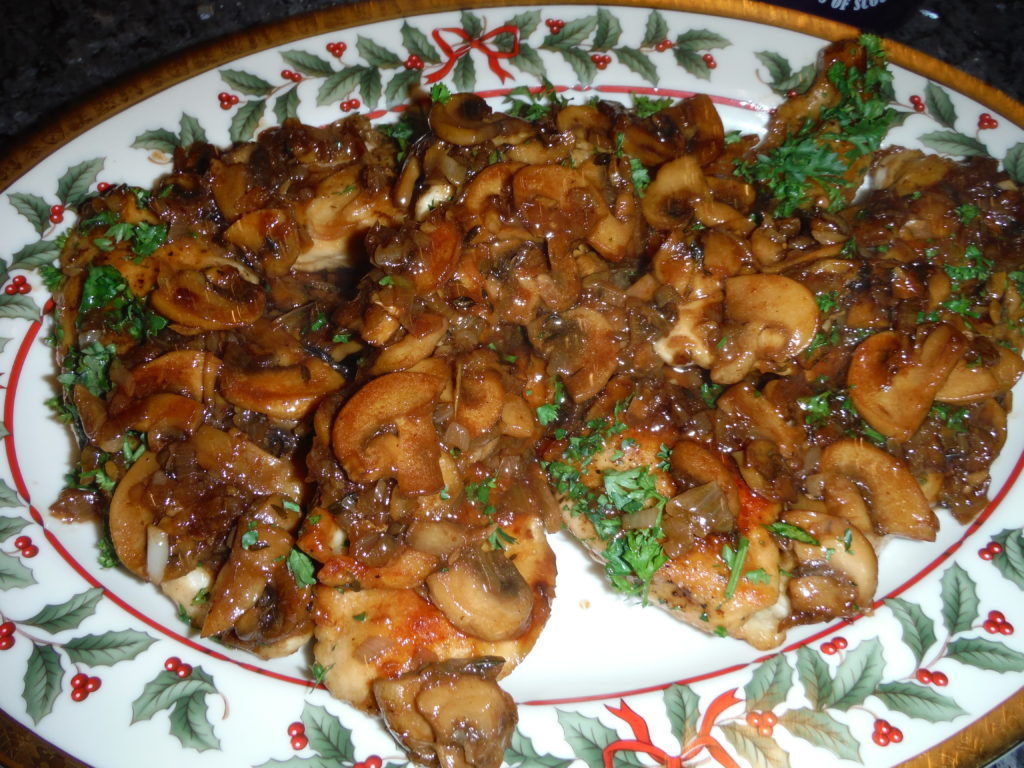 This made an excellent Friday night dinner for company, with chicken breasts providing an economical alternative to the traditional veal. (Turkey cutlets would also work well here.) This recipe, which is an adaptation from Serious Eats, includes the trick of adding gelatin to the liquids to give the sauce a better mouthfeel.
1-1/4 cups sweet Marsala
¾ cup low sodium chicken broth or stock
1 packet unflavored gelatin
1-3/4 lbs. boneless chicken breast cutlets
Salt and black pepper
1 cup all purpose flour
¼ cup extra virgin olive oil
10 oz. mushrooms, sliced
6 oz. shallots, chopped
2 cloves garlic, chopped
1 tsp. fresh thyme leaves
3 Tbs. cold unsalted butter cut into cubes
1 tsp. soy sauce
Wine vinegar or lemon juice to taste (~1 tsp.)
¼ cup fresh parsley, chopped.
Combine the Marsala and stock in a bowl and sprinkle the gelatin on top. Set aside,
Ensure that the chicken breast cutlets are ¼-1/2 inch in thickness, pounding them if necessary. Season with salt and pepper. Put the flour in a pie plate, and dredge the chicken into the flour until well coated. Shake off any excess.
Heat the olive oil in a large skillet, and cook the chicken cutlets in batches, 3 minutes on a side until golden brown. Do not overcook. When finished, remove from the pan with a slotted spoon and drain on paper towels leaving the oil in the pan. Cover to keep the cooked chicken warm.
When the chicken is done, add the mushrooms, and saute until golden, around 10 minutes, adding additional oil if necessary. When the mushrooms are done, add the shallots, garlic, and thyme, and saute until translucent. Add the Marsala and broth mixture, and deglaze the pan well. Bring to a boil and reduce to a simmer, and cook until the liquid is reduced by about ¾. Stir in the butter cubes, which will give the sauce a texture like cream. Add the soy sauce, and a little vinegar to taste to balance the sweetness of the Marsala. Season to taste. Return the chicken to the pan, coat it with the sauce, and ensure that the chicken is fully warmed. Garnish with parsley and serve.