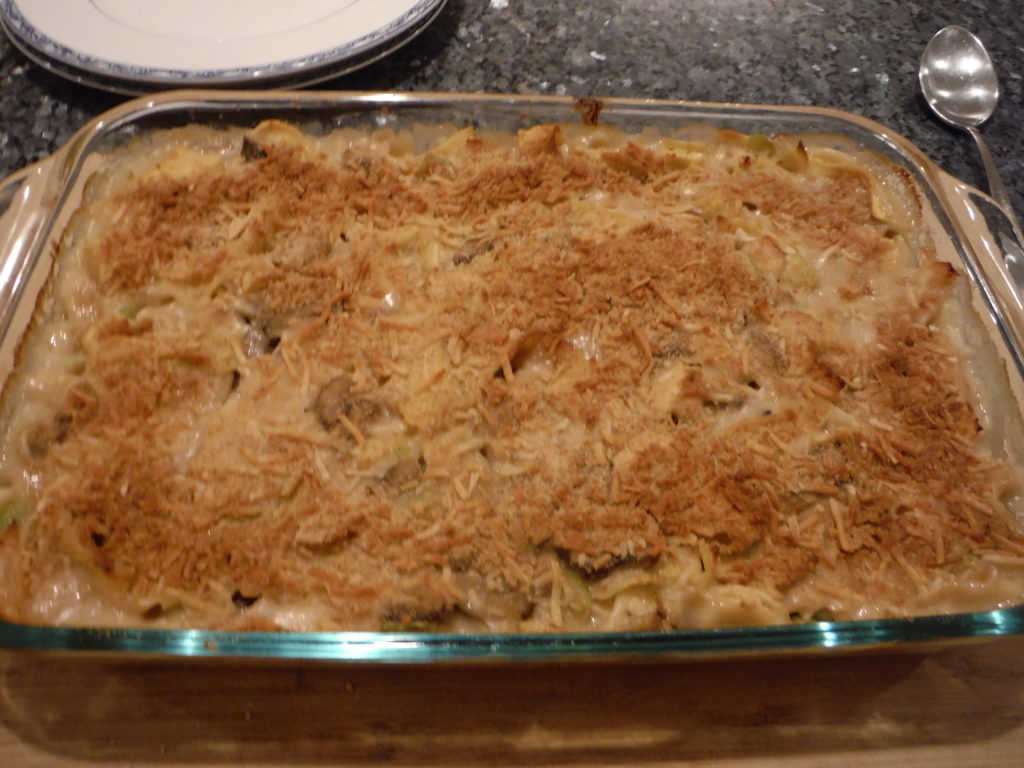 This classic was one of the two ways we used up the leftover turkey from this year's Thanksgiving. This recipe is an adaptation from a recipe on Epicurious.com.
10 oz. mushrooms, sliced
5 Tbs. butter, divided
¼ cup all purpose flour
1-3/4 cups milk
2 cups chicken or turkey stock
¼ cup dry white wine
10 oz. egg pasta
4 cups cooked turkey, diced
1 cup cooked peas
1 cup coarsely grated parmesan, divided
1/3 cup breadcrumbs
Preheat the oven to 375 degrees.
Butter a lasagna pan.
Bring a pot of water to boil for the pasta.
Mix together in a small bowl 2/3 cup of parmesan with the breadcrumbs.
In a large Dutch oven, melt 4 Tbs. of butter and saute the mushrooms until they have released their liquid and it has evaporated away. Stir in the flour, ensuring there are no lumps, and cook over low heat for about 3 minutes until it reaches a blond color. Stir in the milk, stock, and white into a well-mixed sauce. Bring to a boil, and then reduce to a simmer for about 5 minutes. Be careful to stir the bottom of the pot to prevent scorching.
Cook the pasta per the package directions to al dente, and add the pasta to the white sauce. Fold in the turkey, peas, and 1/3 cup of the parmesan. When well mixed, put the tetrazzini mixture in the lasagna pan. Sprinkle on top the parmesan and breadcrumb mixture, and dot the top with the remaining Tbs. of butter. Bake for 30-40 minutes until bubbling and with a nicely browned top.