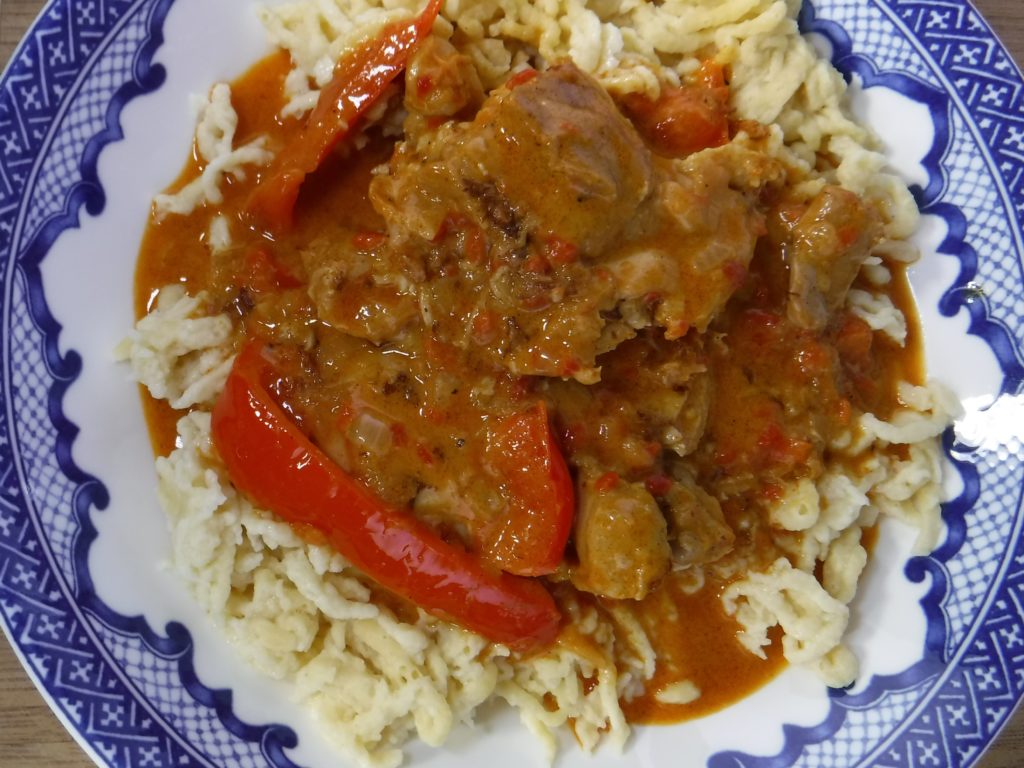 This is an adaptation of Karel's Chicken Paprikash, in Heather Shouse's book Food Trucks. I have made it camping and at home. Last night, I served it with Spaetzle with chickpea flour
It will serve 4 people.
2 Tbs. vegetable oil
1-1/2 lb. boneless, skinless chicken thighs
1 medium onion, sliced
1 red bell pepper, sliced
6 cloves garlic, chopped
3 Tbs. unsalted butter
1 Tbs. paprika
1-1/2 cups plus 2 Tbs. water
½ tsp. black pepper
1 tsp. salt
2 Tbs. flour
¼ cup heavy cream
¼ cup sour cream
¼ cup ajvar (red pepper paste)
Heat one Tbs. of oil in a large sauté pan. Brown the chicken in the oil and then set aside. Add the other Tbs. of oil to the pan, and sauté the onion, peppers, and garlic, scrapping down the browned chicken bits. When the vegetables are cooked, add the butter, melt it, and add the paprika, mixing and sautéing it, but being careful not to let it burn. Then add the 1-1/2 cups of water, return the chicken to the pan, add the salt and pepper, and cover and simmer until the chicken is tender.
Mix the flour into the 2 Tbs. of water and form a paste. Stir it into the pan and cook over low heat until thickened. Remove from the heat and stir in the cream, sour cream, and ajvar.
Serve hot with spaetzle or noodles.