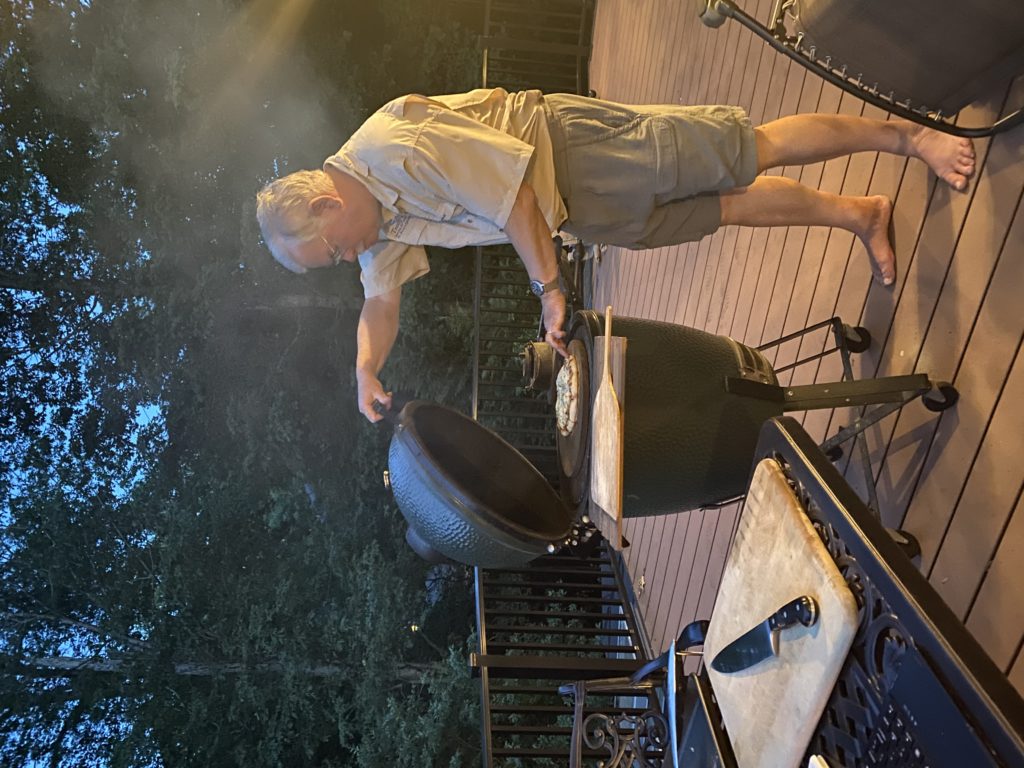 One of the advantages of a Big Green Egg (BGE) is that it can handle a wide range of temperatures. It can get very hot (approaching 1000 degrees F) and can also maintain a low temperature (like 225 degrees F) for a long period of time.
As part of a virtual campout during the pandemic when actual camping trips are not possible, we decided to cook a pizza on the BGE. I have done this before, especially with my son Nick. To do this, a ceramic deflector is installed to create indirect heat, and then the pizza is cooked on a ceramic insert on top of the steel grill.
On those occasions when we have cooked pizza in the past, we cranked it up so hot that there were literally only a few seconds between delicious with little touches of char, and seriously burnt pizza. (I remember when Nick's wife Anna came to visit when they were in college, and he overdid it, presenting her with burnt pizza.)
My objective this time was to get the BGE seriously hot (>700 degrees F) so that we could cook sequentially three pizzas for a few minutes each on the pizza stone.  My naturally conservative instincts got in the way, and I don't think I put in enough charcoal and we were only able to get the fire a little above  500 degrees, and it was slow getting it that hot.  In the end, we did cook the 3 pizzas, and they were delicious.  They took about 12 minutes each. Here is a picture of the Italian sausage and red pepper pizza I cooked for myself.