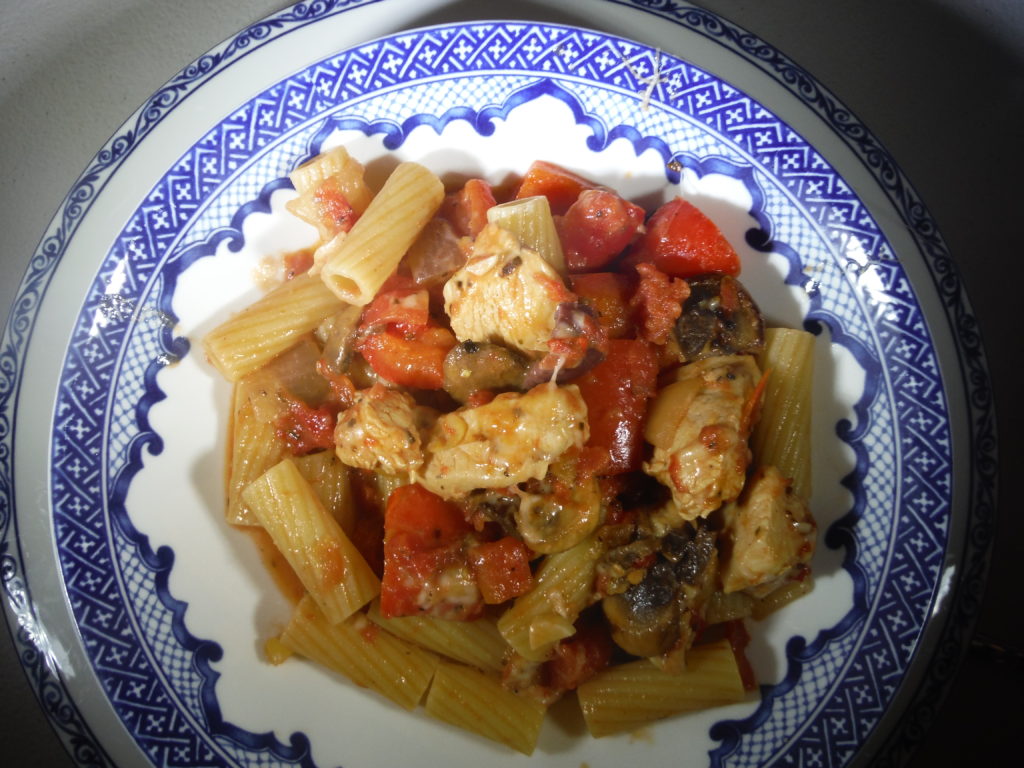 Chicken Riggies is a popular Italian-American dish from the Utica/Rome, NY area. Riggie is the local slang for rigatoni, which together with chicken and peppers are the three essential ingredients to Chicken Riggies. This recipe is an adaptation of the variation in Cook's Country Eats Local.
24 oz. boneless skinless chicken breast, cut into 1 inch cubes
¼ cup chopped hot cherry peppers from a jar, plus 3 Tbs. of the brine, divided
3 Tbs. olive oil, divided
10 oz. mushrooms, sliced
2 red bell peppers, cut into 1 inch pieces
1 large onion, cut into 1 inch pieces
5 cloves, garlic, chopped
1-1/2 tsp. dried oregano
28 oz. can crushed tomatoes
½ cup heavy cream
¾ cup Kalamata olives, pitted and cut in half
1 lb. rigatoni
1-1/4 cups grated romano cheese plus more for the table
Marinade the chicken with 2 Tbs. cherry pepper brine, 1 Tbs. olive oil, 1 tsp. salt in a bowl or ziplock baggie for 30 minutes to an hour in the refrigerator. This can be done while the sauce is prepared.
Heat a Tbs. of olive oil in a large pot until shimmering. Then saute the mushrooms and the peppers for about 8 minutes, until softened. Remove the mushrooms and peppers to a bowl. Add another Tbs. of olive oil, and the onion and cook over medium heat until softened. Stir in the chopped cherry peppers, garlic, and oregano and saute until fragrant, about a minute. Add the tomatoes, cream, ½ tsp. of black pepper and bring to a boil. Reduce heat and simmer for around 10-15 minutes, stirring occasionally until the sauce is thick. Stir in the chicken and the cooked mushrooms and peppers, and simmer until the chicken is cooked through. Add the olives and the remaining Tbs. of pickled pepper brine, stir well and keep warm. Taste for seasoning.
While the sauce is cooking bring to boil in a pasta pot 4 quarts of water and 1 Tbs. of salt. About the same time that the chicken goes into the sauce, cook the rigatoni per the package instructions. When al dente, reserve ½ cup of the pasta water, and drain the pasta.
Add the drained pasta to the pot with the sauce and stir well. Add the grated Romano cheese, stir well, and serve, with additional cheese at the table.