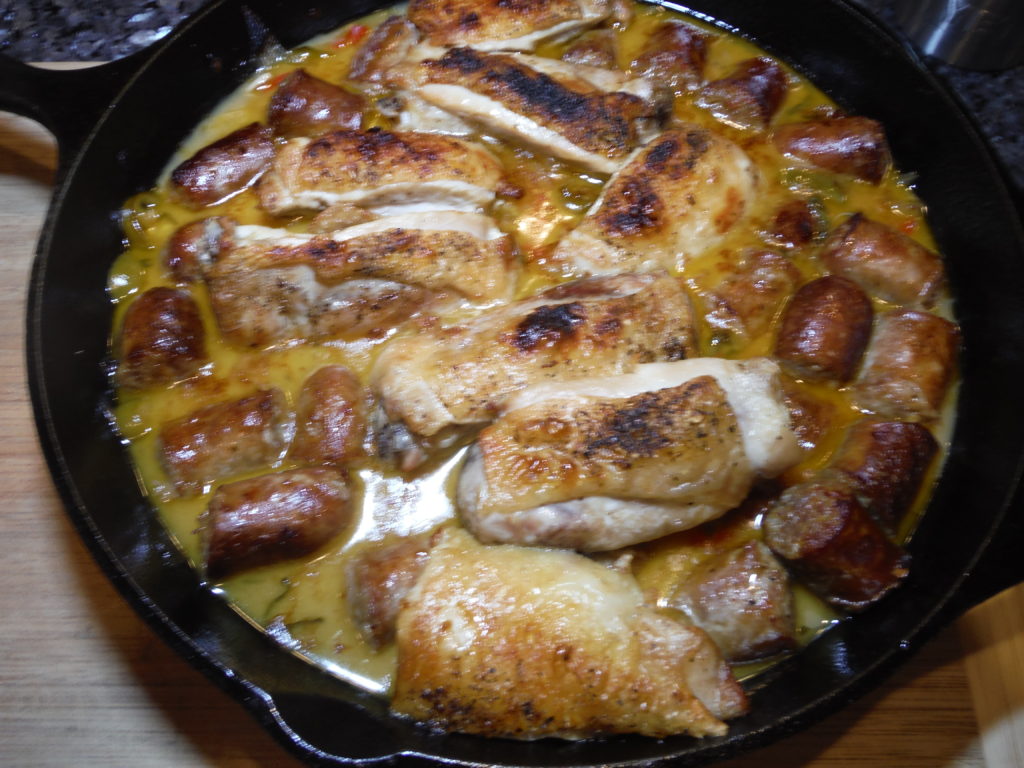 This is an example of Italian-American cooking, chicken and sausage in a sweet and sour sauce. I served it on a bed of orzo. This version is adapted from Serious Eats.
2 1/2 pounds bone-in, skin-on chicken thighs (6 to 8 thighs)
Kosher salt and freshly ground black pepper
1 tablespoon (15ml) vegetable oil
3 to 4 links sweet or hot Italian sausage (about 1 1/2 pounds)
1 medium onion, thinly sliced (about 6 ounces)
1 large red bell pepper, thinly sliced (about 6 ounces)
2 tablespoons finely minced fresh sage leaves (about 1/4 ounce)
6 cloves garlic, thinly sliced
8 hot or sweet pickled cherry peppers, thinly sliced, along with 1/4 cup pickling liquid from the jar
1 cup dry white wine
1 cup homemade or store-bought low-sodium chicken stock
2 tablespoons sugar
Preheat the oven to 350 degrees. Position a rack in the middle of the oven so that it has room for the cooking pot.
Season the chicken with salt and pepper. Heat the oil in a large oven-proof pot, such as a large cast iron skillet (see the photo). When hot, add the chicken, skin side down and saute until well-browned and crisp, about 8 minutes. Turn over, and saute on the other side for about 3 minutes. Move the chicken to a large plate.
Add the sausage, and brown on both sides, a total of about 3 minutes. Put the sausage on the plate to cool. When cooled, cut each sausage into 4 pieces.
Check the amount of oil in the pan and pour off any excess, retaining a couple of tablespoons. Add the onion and bell pepper, and scrape the browned bits off the bottom. Cook for around 4 minutes until softened, and then add the garlic and sage, mix together, and cook until fragrant, about another minute. Add the pickled peppers and their liquid, and stir well. Add the wine, and cook until reduced in half, about 2 minutes. Add the chicken stock and sugar, and mix well. Add the sausage, and mix to combine. Add the chicken so that it is skin side up and they are nestled in the vegetable-sausage sauce.
Bake in the oven about 30 minutes, until the chicken is cooked through. Start the broiler, and broil for about 3 minutes until the skin is nicely browned. Watch it carefully at this stage. Serve the chicken and sauce with pasta, rice, or bread. I used orzo.