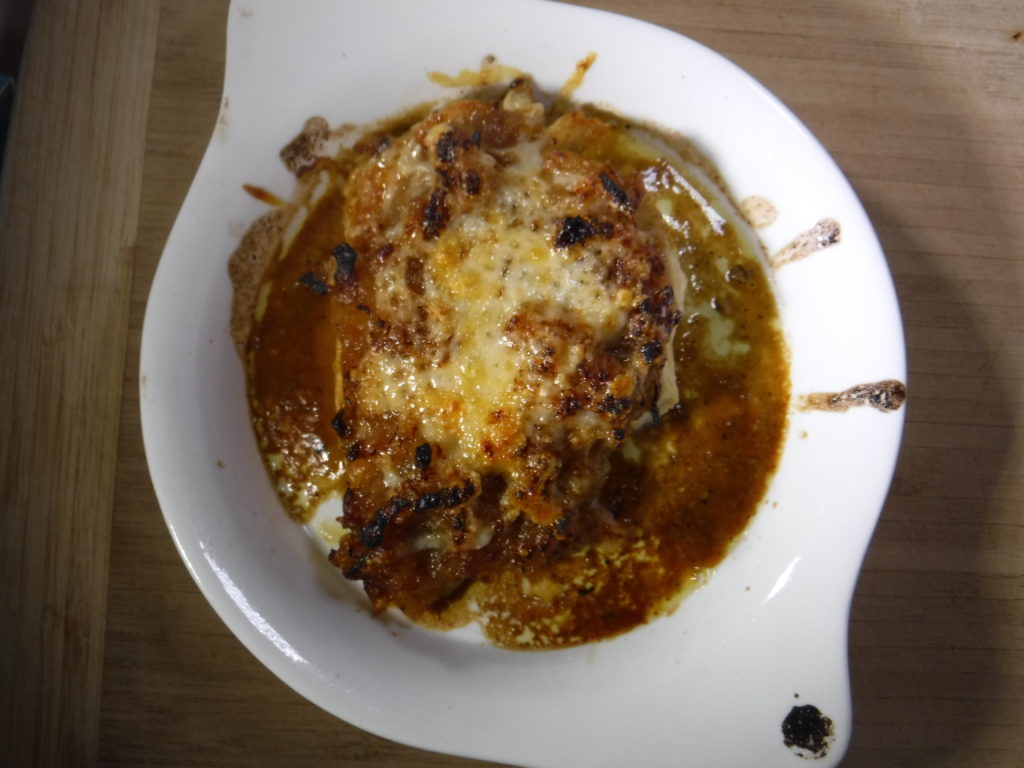 This very tasty dish is adapted from a recipe in thekitchn.com. A key step is accelerating the caramelization of the onions through sautéing them with a little sugar, baking soda, and salt. I finished by broiling the chicken in individual baking dishes (as shown in the photo), but they could be broiled all together in one baking dish.
2 lbs. yellow onions, thinly sliced
2 Tbs. unsalted butter
1/8 tsp. baking soda
1 tsp. sugar
1 tsp. kosher salt, divided
4 boneless, skinless chicken breast cutlets (or 2 boneless, skinless chicken breasted sliced in half)
½ tsp. black pepper
1 tsp. all-purpose flour
2 Tbs. olive oil
2 oz. Gruyere cheese, coarsely shredded
1 cup chicken broth
1 Tbs. Dijon mustard
To caramelize the onions, melt the butter over medium-high heat in a large skillet. Add the onions, baking soda, sugar, and ½ tsp. of kosher salt. Toss and stir occasionally. The onions will quickly give off a lot of liquid, once this has evaporated, the real caramelization will begin. Continue to cook and stir until the onions are golden brown. Remove the cooked onions to a bowl.
Dry the chicken cutlets and flatten them if necessary so that they are no more than ½ inch thick. Sprinkle with the remaining ½ tsp. of kosher salt, black pepper and flour. Add olive oil to the skillet and heat over medium-high heat. Add the chicken cutlets, cooking in two batches if necessary. Brown on both sides, cooking through but not overcooking them. Put the cooked chicken in the baking dish for broiling. Pour any excess fat from the skillet and return the skillet to the stove. Deglaze it with the chicken broth and mustard. Scrape the browned bits into the broth, and reduce in half to form a pan sauce. Remove from the heat.
Turn on the broiler. Add the pan sauce to the baking dish with the chicken. Top each chicken cutlet with the caramelized onions and then with the grated cheese. Broil until the cheese is browned and everything is hot and bubbling. Serve immediately.