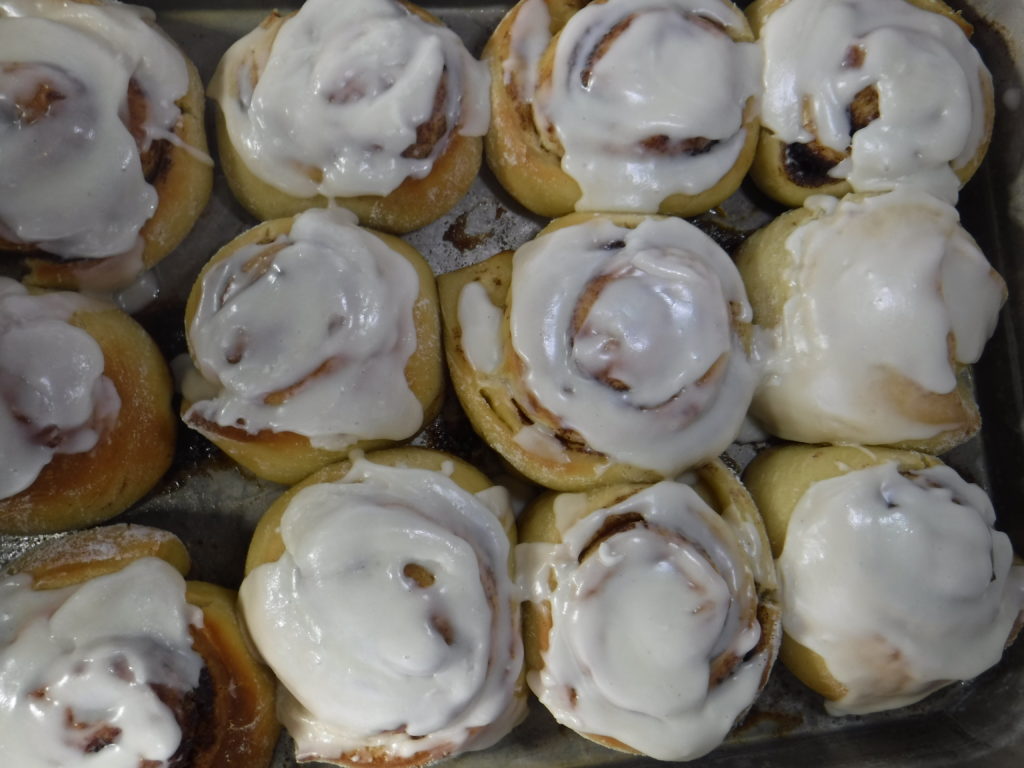 These rolls were popular at this morning's dress rehearsal for a choir Christmas concert tomorrow. The recipe is adapted from Overnight Cinnamon Rolls in tasteofhome.com, although I flipped their process to better fit serving them for breakfast. In my version, the dough is made the night before, and after its first rising is rolled out, filled, rolled up, cut, and then put into pans for a second rising overnight in the refrigerator. It is then baked for breakfast in the morning. This version makes 2 trays totaling 24 rolls. It can be easily halved for smaller groups.
I made this first batch without raisins in the filling. I think ~1/2 cups of raisins would be a good addition.
Picking up a tip from the internet, a quick way to soften butter is to grate cold butter using the holes of a large grater.
Dough
4 tsp. (2 packages) yeast
1-1/2 cups warm water (110 degrees)
½ cup + 1 tsp. sugar, divided
2 large eggs, at room temperature
½ cup butter, softened
2 tsp. salt
19.5 oz. (6 cups) all-purpose flour
Cinnamon Filling
1 cup packed brown sugar
4 tsp. ground cinnamon
½ cup melted butter
½ cups raisins, optional
Icing
2 cups confectioners' sugar
¼ cup half and half
2 tsp. vanilla extract
The night before baking, make the dough. Start with dissolving the yeast and 1 tsp. of sugar in the warm water. Allow the yeast to proof, and then add it to the bowl of a stand mixer. Add the rest of the sugar, the eggs, butter, salt, and flour and mix to form a sticky dough. Do not knead. Cover the bowl with plastic wrap and allow to rise until doubled, around 2 hours depending on how warm the kitchen is.
Grease two 13 x 9 inch baking pans.
Divide the risen dough in half. On a floured pastry cloth roll out half of the dough into a rectangle, at least 12 inches by 18 inches. Brush the dough with half of the melted butter (i.e. ¼ cup) and sprinkle with half of the sugar-cinnamon mixture (plus optional raisins). Roll up the dough, and cut into 12 slices. Space the slices evenly on one of the greased baking pans. Repeat with the other half of the dough and filling.
Cover the pans with plastic wrap and place overnight in the refrigerator.
The next morning, remove the pans from the refrigerator and preheat the oven to 375 degrees. If time permits, let the pans warm on the counter 30 minutes or longer. Bake the buns 20-25 minutes until golden and cooked through. Cool on wire racks.
While the buns are cooling, make the icing by combining the confectioners' sugar, half and half, and vanilla in a mixer. Adjust the sugar or the half-and-half until the icing reaches a spreadable consistency.
After the buns have cooled from hot to warm, spread them with the icing and serve.