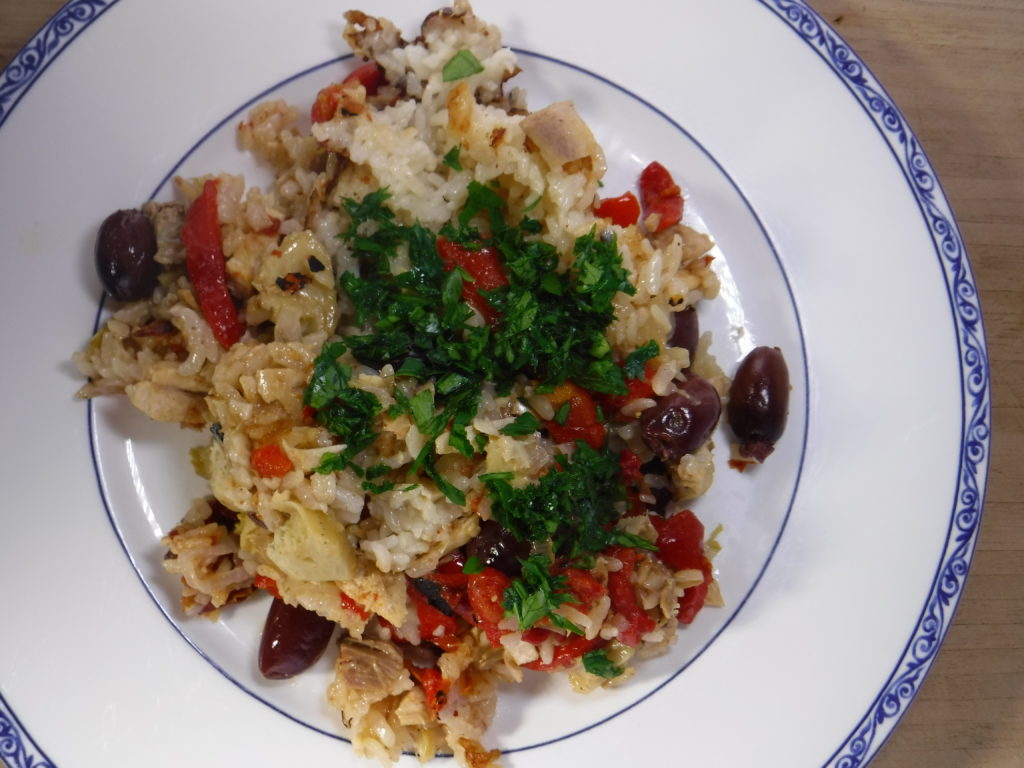 This is an adaptation of an idea in tasteofhome.com for an easy midweek dinner, mainly using pantry staples, and emphasizing Greek flavors. Part of the adaptation was a successful experiment to do almost all of the cooking in my rice cooker. The general idea (which is used in the recipe below) is to start with raw chicken. I actually started with the last of the leftover turkey from Thanksgiving. This will make 4 servings.
1 lb. boneless, skinless chicken breasts or thighs, cut into small cubes
½ large onion, thinly sliced
3 cloves garlic, minced
1 Tbs. olive oil
8 oz. marinated artichoke hearts, cut into smaller pieces
8 oz. roasted red pepper strips
½ cup pitted Kalamata olives
1/3 cup oil-packed sun-dried tomatoes, sliced
~1-1/2 cups raw rice (2 of the measuring cup which comes with the rice cooker)
2 Tbs. Italian parsley, minced
Heat the olive oil in the skillet, and saute the chicken, onion, and garlic. When cooked through, put in a bowl. Add to the bowl the artichoke hearts, red pepper stripes, Kalamata olives, and sun-dried tomatoes. Mix well.
Add the rice to the rice cooker, and add enough water to come up to the marker for 2 measuring cups. Add the chicken and vegetables on top of the rice and water. Turn on the rice cooker and allow to cook until it indicates that the rice is done. Mix together in the rice cooker the rice (which will be on the bottom) and the chicken and vegetables (which will be on the top). Portion on plates and sprinkle with the parsley.