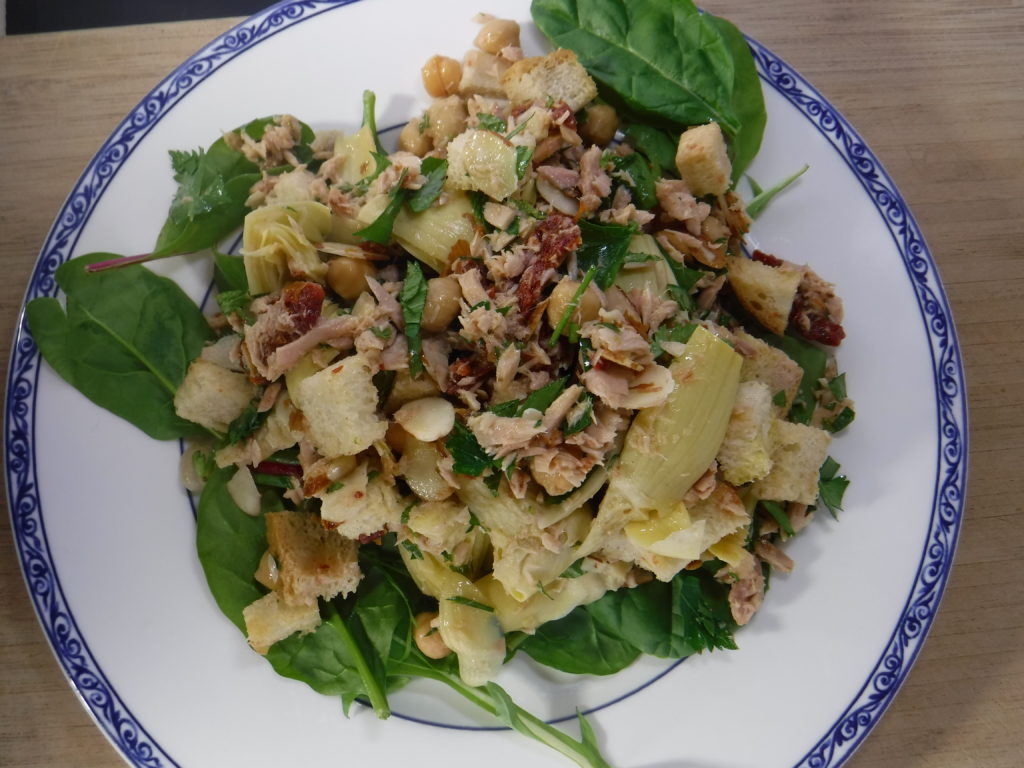 This Italian entrée salad is adapted from Lidia Bastianich's cookbook Lidia's Italy in America. I chose it because Carol is fond of artichokes. I have sized this for 2 servings. I liked the bread cubes in it, but Carol did not. The next time I make it I may simply double the chickpeas and omit the bread cubes.
1-1/2 cups of ½ inch day old bread cubes
10 oz. jar artichokes in brine, drained
8 oz. canned chickpeas, drained
¼ cup sun-dried tomatoes in oil, drained and cut into strips
¼ cup toasted almond slices
1 can Tuna packed in olive oil (5.5 oz. net weight)
2-1/2 Tbs. red wine vinegar
1-1/2 Tbs. olive oil
¼ tsp. kosher salt
1 Tbs. chopped Italian parsley
½ Tbs. chopped fresh mint
Salad green to line the plates
Cut up one or two slices of bread into cubes, depending on the size of the slices. Toast for 8-10 minutes in a 350 degree oven and then cool to room temperature.
In a large bowl, mix together the artichokes, chickpeas, sun-dried tomatoes, almond slices, and bread cubes. Toss together. Drizzle the red wine vinegar, olive oil, and salt, and toss. Mix in the parsley and mint. Toss one last time, and serve on a bed of salad greens.