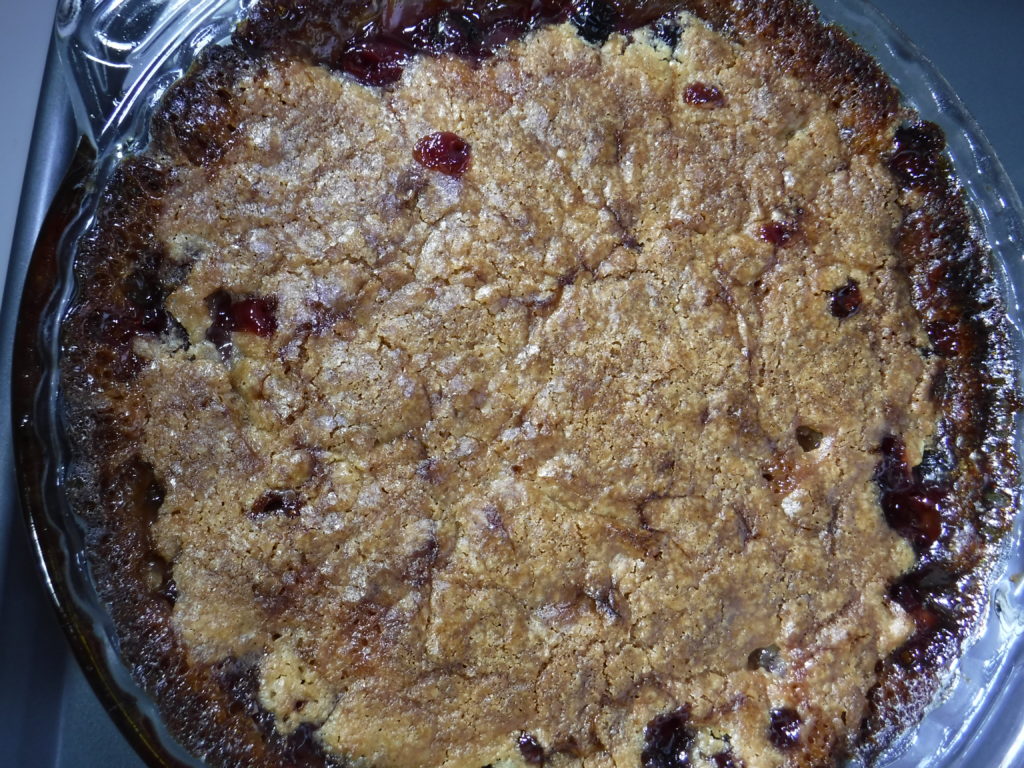 I was at Wegman's a few days ago when I spotted a jar of sour cherries from somewhere in Eastern Europe, and thought I should make a dessert with them. After looking around my recipes for a while, I decided to make a cobbler with a recipe adapted from The Best Recipe from Cook's Illustrated, since it seemed fairly easy. The cobbler turned out well, although Carol and I both thought it could use more fruit. The recipe calls for 24 oz. of cherries, and the jar said that it had 24 oz. net weight, but I suspect that may include the liquid. Next time, I will probably buy two jars.
Filling
24 oz. sour cherries
½ cup sugar
1-1/2 Tbs. cornstarch
1 Tbs. kirsch (or 2 tsp. almond extract)
Topping
½ cup all-purpose flour
¼ tsp. baking powder
Pinch of salt
8 Tbs. unsalted butter, at room temperature
½ cup sugar
1 large egg yolk
¼ tsp. vanilla extract
Preheat the oven to 400 degrees.
Grease a large pie dish. Mix the filling ingredients in a bowl and spread them in the bottom of the pie dish. Cover with aluminum foil, place on a cookie sheet (to catch any drippings) and bake for about 15 minutes, until the cherries have released some liquid.
Mix together the flour, baking powder, and salt in a bowl. In the bowl of a mixer, cream together the butter and sugar. Then mix in the egg yolk and vanilla extract. Stir in the dry ingredients until barely combined. Drop spoonfuls of the toping on top of the fruit, and return to the oven to bake uncovered until the topping is golden brown