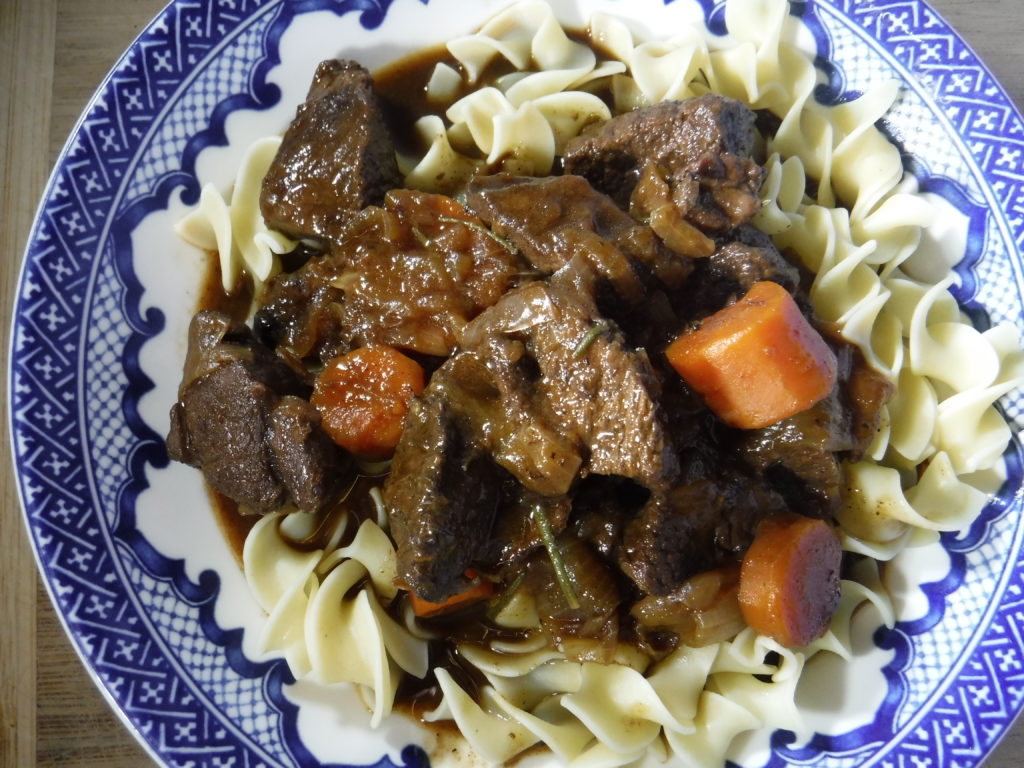 This was the second dish I cooked with a large piece of frozen venison which I was given by one of my fellow Scouters. The first was Venison Chili . This ragout (i.e. stew) was also adapted from Robb Walsh's Texas Eats, and used up the remaining 4 lbs. of venison meat, as well as the 2 lbs. of bone, which I used to make venison stock. Juniper berries are available at Penzey's Spices.
I made the venison stock also using a recipe in Texas Eats. Since I only had 2 lbs. of bones, I enriched the stock with a tsp. of Better than Bouillon.
4 lbs. venison, cut into 1 inch cubes
3 cups red wine, divided
4 yellow onions, peeled and quartered
4 carrots, peeled and thickly sliced
10 peppercorns
1 large bay leaf
15 juniper berries
2 tsp. sea salt
1 rosemary sprig
3 Tbs. all-purpose flour
½ cup vegetable oil
6 cups venison or beef stock
Salt, Magi Seasoning, and/or Fish Sauce to taste
Put 2 cups of red wine and all of the rest of the ingredients through the rosemary in 2 gallon ziplock baggies, and marinade in the refrigerator for 24-72 hours, flipping them occasionally.
When ready to cook, drain the baggies into a colander, throwing out the liquid but keeping the meat, vegetables, and spices. Separate out the meat and pat dry with paper towels. Put the meat on a cookie sheet, and sprinkle with the flour. Toss the meat in the flour to thoroughly coat it.
Heat the vegetable oil in a large pot, and fry the meat in batches until well browned. Add the vegetables and spices, the stock, and the remaining 1 cup of red wine. Bring to a boil, scraping all the browned bits on the bottom of the pan into the liquid. Reduce to a simmer, and cook uncovered for about an hour, until the meat is very soft, and the liquid has reduced into a medium-bodied sauce. Season to taste, and serve with egg noodles or boiled potatoes.